Basketball
Postscripts: Women's College Basketball Growth, Pac-12's Latest, 'Real' Spring Games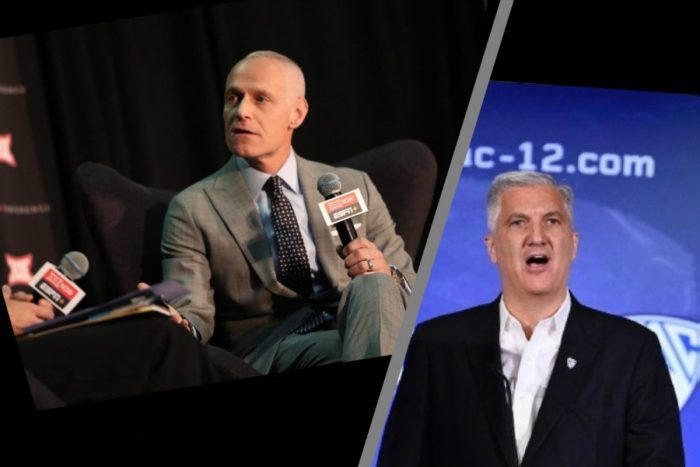 What's going on in the Big 12 and beyond? I expand and explain every Sunday in Postscripts at Heartland College Sports, your home for independent Big 12 coverage.
This week, I explore which Big 12 team Hailey Van Lith should play for, the Pac-12 is working on a Riverdale crossover episode and let's talk real football (well, kind of real football) in the spring.
The Big 12 Hailey Van Lith Fit
If you want to know how far women's college basketball has come in just the last few weeks, that earthquake you felt on Saturday was Louisville star Hailey Van Lith announcing she would transfer away from a program that she has taken to two Elite Eights and a Final Four in three seasons.
As to where she's going, she reportedly has a "do not contact" note on her transfer portal bio, so that would indicate either she's not ready to talk to suitors or, more likely, knows exactly where she's going.
She's a grad transfer, but that hardly matters since Louisville was her first school. I think she's either ring-shopping or wants to be closer to home, which is Washington state.
But, for the sake of argument, let's say Van Lith was interested in joining a Big 12 program. Which one makes the most sense?
If it's the ability to potentially win a title, Texas is probably the best bet. The Longhorns have been to two Elite Eights in three seasons under coach Vic Schaefer. The Longhorns return a solid frontcourt in Taylor Jones, DeYona Gaston and Aaliyah Moore (who was hurt most of the season). The backcourt features Rori Harmon, Shaylee Gonzales and Shay Holle.
Van Lith would give them consistent 3-point shooting, something the Longhorns really need. She would become their leading scorer and it wouldn't hurt the outputs of players like Harmon and Gaston. She's a better defender than she's given credit for. But I have no idea what Schaefer's tolerance is for trash talking.
If it's the potential impact on a team, I would love to see how she could impact Kansas. With the announced returns of Holly Kersgieter and Zakiyah Franklin, the Jayhawks are returning every meaningful piece of their WNIT championship team.
The Jayhawks are loaded with guards. Someone would have to take a back-seat. But Van Lith would give them another weapon from distance to go along with Kersgieter and Wyvette Mayberry, another dribble-drive penetrator to go along with Franklin and Chandler Prater and another reason teams can't double-team 6-foot-6 center Taiyanna Jackson.
Kansas wants to take a jump next season. That's why all of these players are coming back. Van Lith would give them a big boost toward taking that jump.
It's basically a thought exercise at this point. But a fun one. It also shows the ascendance of the women's game when we're thinking of all of the places a gifted player like Van Lith would fit in the same way we would, say, a Fardaws Aimaq (who just announced his transfer to Cal).
This Week in "As The Pac-12 Turns"
So, where to start? Ok, so on Tuesday I came across a story at CBS Sports. Seems Dennis Dodd had spoken with media consultant Jim Williams. He's a seven-time Emmy Award-winning producer who helped create five regional sports networks and has consulted with both college and professional sports leagues on media deals. Knows his stuff.
His question was about whether the Pac-12 could even get 50 percent of its programming on a linear outlet like ESPN at this point.
"I don't know how anybody could sit there and assure you that, 'We're going to have that much on linear,'" he added. "I don't see how they get there."
He suggested the Pac-12 leave no stone unturned, including chatting with outlets you wouldn't expect to want to broadcast sports like the CW.
The next day came the sunshine, courtesy of John Canzano, host of an Oregon radio show and a former columnist with the Oregonian. His sources told him the Pac-12 will end up with a media deal more profitable than the Big 12's, which is $31.6 million per team per year starting in 2025. He also wrote that the "distribution benchmark" doesn't matter (linear vs. streaming) as long as the league lands close to that figure. I think he's wrong about that distribution benchmark not mattering, but hey we only have at least one Pac-12 president on the record saying it does.
"No way. … [You hear talk of] it's going to be all streaming," Arizona president Robert Robbins said last month. "Nobody is going for that. Over 50 percent? No, I don't think so. I think that's too much. It's OK if it's 50-50. … You have to remember, guys our age, people that I went to high school with aren't going to want to deal with streaming."
So if it's all about the money, why not partner with a network known for broadcasting superhero shows and turning Archie comics on its head?
Remember the CW? Yep, The Athletic reported that the CW and the Pac-12 are talking. Now, if you're being an optimist, the CW has national reach, affiliates in every major market and no sports competition on its network so the Pac-12 would basically have carte blanche to do whatever it wants, including setting its game times.
The downside, of course, is that the only sports the CW has is, well, golf. And not even the good golf.
Oh, and remember the Pac-12 presidents that said a deal was "imminent" just a couple of weeks ago? Now, reportedly, it's more like the end of spring or the beginning of summer.
If this all seems like the Pac-12 is driving a clown car, you might be right. Or, maybe this all works out in the end.
But I'm not sure I'd take this PR job. And, by the way, where is commissioner George Kliavkoff and why isn't he talking to, well, anyone?
Additionally, one thing in The Athletic piece that was buried worries me. Here's the note:
Kliavkoff himself has remained mostly quiet about the negotiations and kept his circle tight. Even the schools' athletic directors are being kept in the dark. But the presidents have been regularly briefed, and some of their mixed messaging over the past several months has contributed to a sense of disarray within the conference.
Keeping the athletic directors out of the loop seems like a bad idea. These folks have to budget based on what is negotiated and, even though it's the university presidents that will ultimately sign off on a deal, what the AD's don't know could hurt them. It could also hurt their future relationship with Kliavkoff, should the Pac-12 remain intact.
'Real' Spring Games?
Auburn head coach Hugh Freeze isn't exactly known for his smarts, if his time at Ole Miss was any indication. But, articulating the idea of playing actual spring games against actual other teams was a sharp one.
"The solution is, allow us to scrimmage another team," Freeze said. "Everybody would get out of it what they want. Let's adopt a charity to give all the proceeds too. Let's take foster care in the State of Alabama or orphan care in the State of Alabama. Let Alabama play Troy and we play UAB, or vice-versa, or whoever I don't care, Alabama State or whoever."
I like this. Spring games, as they are right now are, well, blah. They're not even really glorified scrimmages. You're trying to get in two hours of work in front of boosters and high-rollers and trying not to get guys hurt (which usually leads to guys getting hurt). That was part of Freeze's point.
Our Bryan Clinton put some time into figuring out which team each Big 12 team should play in a theoretical exhibition game. It's a fun list, though I see no mention of my Stephen F. Austin Lumberjacks and we'll need to work on that.
Right now the idea is barred by the NCAA. Like a lot of ideas barred by the NCAA right now, this is a good one. I hope, at some point, the NCAA sees it as a viable option.
If so, I might actually go to one of these.
You can find Matthew Postins on Twitter @PostinsPostcard