Baylor Bears
Big 12 Softball Power Rankings: Baylor Rises After Sweep of No. 5 Tennessee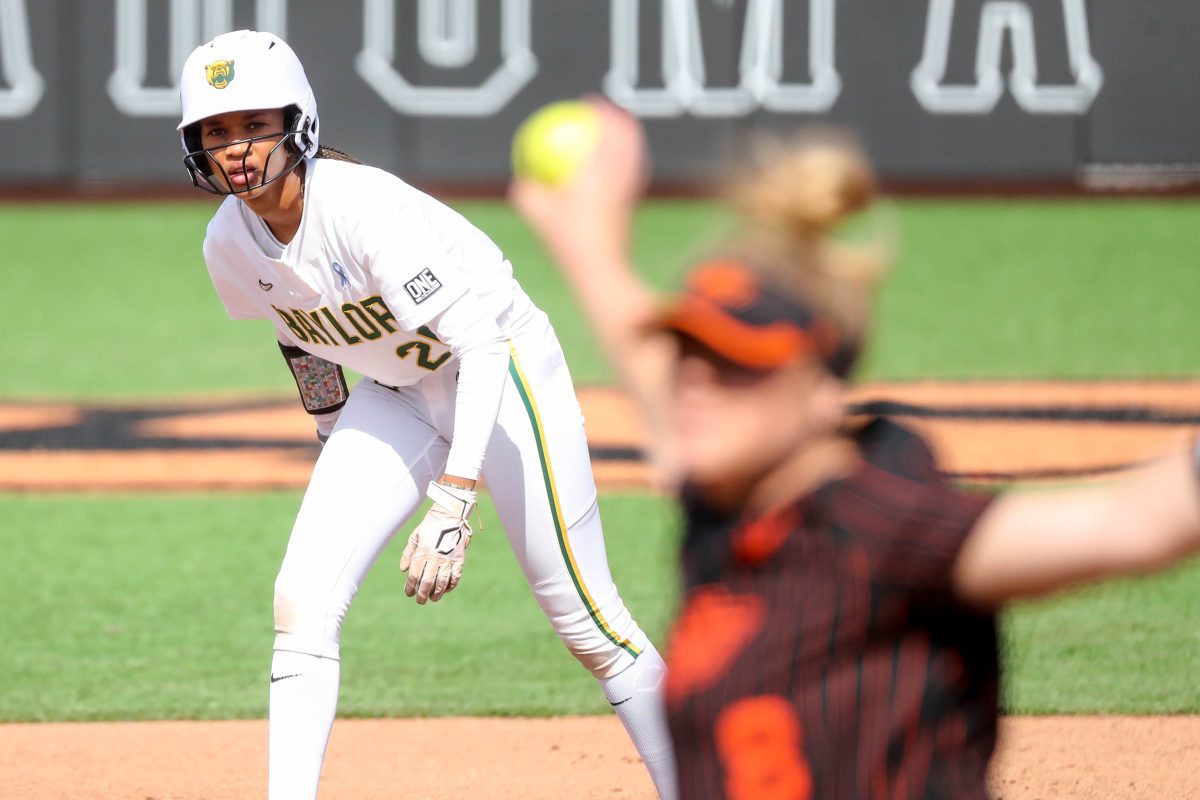 The Big 12 is home to the nation's top two teams, but it appears that the conference just might be home to four teams capable of making deep postseason runs.
The Oklahoma Sooners and Oklahoma State Cowgirls are two of the betting favorites to win the 2023 Women's College World Series, but Texas and Baylor aren't to be forgotten in the postseason race either.
Texas took care of business this weekend with a sweep of Iowa State, but in the biggest surprise of the weekend, Baylor went into Knoxville and swept the SEC's top team, No. 5 Tennessee.
With that, the Bears solidified themselves, at least in our eyes, as a postseason team that should be a lock to make the NCAA Softball Tournament, as long as the wheels don't come off down the stretch.
Here's a look at the Big 12 softball power rankings after Week 9, and what things look like moving forward.
Oklahoma will hang onto the top spot in our Power Rankings until someone dethrones them in a Big 12 series. The Sooners are a certified juggernaut and showed that in a dominant sweep of upstart Texas Tech. The Red Raiders brought one of the hottest offenses in softball into Norman and left without scoring a single run, being outscored 16-0 over three games. OU held Texas Tech to nine hits all weekend, as the Sooners improved their team ERA to 0.91, which ranks second in the nation. With the nation's top offense providing overwhelming run support, it's no wonder this team has won 28 games in a row.
The Oklahoma State Cowgirls responded well to a shocking midweek loss last Tuesday by sweeping Kansas on the road and getting to 6-0 in Big 12 play. The Cowgirls churned out 19 runs while allowing just six runs on the weekend, simply taking care of business before returning home to Stillwater for a six-game stretch ahead of a massive road trip to Austin. Kenny Gajewski's squad has proven that it has staying power among the nation's elite with a series win over Florida State and is building towards one of the biggest series in program history against Oklahoma next month.
Baylor might not have played in a conference series this weekend, but the Bears certainly made up some ground in their quest to get back to the NCAA Softball Tournament. After going into Knoxville and sweeping the Lady Vols, Baylor appears to be a bonafide contender to make a deep run this postseason. The Bears now have two wins over a top-five Tennessee team, as well as a win over No. 1 Oklahoma. Dari Orme has proven to be one of the most electric arms in the country, and with her leading the way, Baylor can push and even beat, the best teams in the nation.
Texas didn't necessarily deserve to fall a spot after dominating Iowa State this weekend, but Baylor's performance on the road was impressive enough for me to jump them over the Longhorns for a week. Texas demolished the Cyclones in Ames, outscoring them 25-2 over three games. Texas was balanced and consistent in the sweep too, winning 8-0, 8-1, and 9-1. Texas' pitching staff was incredible in the series, combining for a 0.37 ERA over the weekend after allowing one earned run.
Texas Tech has had a rough start to Big 12 play, getting swept by both Texas and Oklahoma so far. The Red Raiders had a chance to win the series against Texas, but squandered their opportunity, while the Sooners just proved to be too much this past weekend. The Red Raiders' bats are their biggest weapon, and they couldn't get going this weekend in Norman. Now, they must turn their attention to what might be their biggest series in Big 12 play. If Texas Tech gets swept by Baylor, the Red Raiders likely won't find themselves in the postseason discussion. Oklahoma State is still on the schedule, but that's a whole different discussion. Giving Baylor everything they've got should be TTU's priority right now.
KU showed some life in Game 1 of the Oklahoma State series, just to have their hopes shredded after former Jayhawk Micaela Wark hit a two-run bomb in the top of the seventh to give OSU a 7-5 victory. Kansas has been inconsistent and shaky from the start of the season, and that only continued this weekend. Unfortunately for Kansas (and Iowa State), the Big 12 has incredible talent at the top end of the conference, and teams that don't stack talent like OU and OSU get blistered in conference play.
Iowa State has now lost nine of its last 10 games and seem to have lost any fire that they had coming into conference play. I was hoping the Cyclones had turned a corner after winning four of five at the Rainbow Wahine Classic, but series against Oklahoma, Texas Tech, and Texas have been brutal. Unfortunately for Iowa State, it doesn't get much easier with Oklahoma State and Baylor their next two conference series on deck.