Big 12 News
Iowa State, T.J. Otzelberger Agree to Two-Year Contract Extension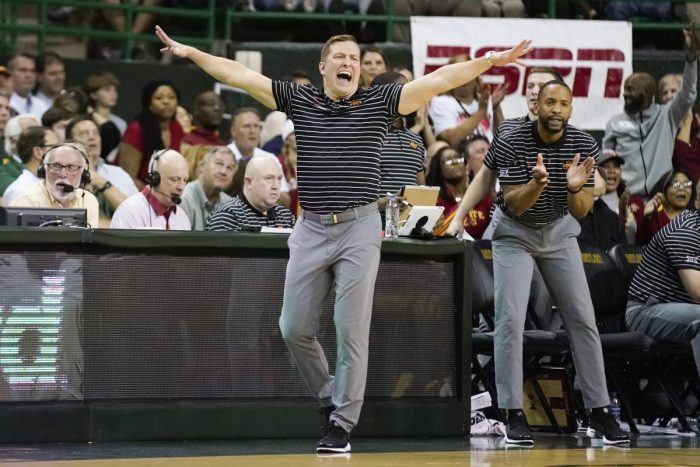 After guiding Iowa State to a second-straight NCAA tournament appearance, head basketball coach T.J. Otzelberger has been given a contract extension that will keep him in Ames through the 2028-29 season.
In addition to the consecutive tournament appearances, Otzelberger also signed the highest-rated recruting class in program history, making the future for Iowa State basketball as bright as can be remembered.
"In just two years, Coach Otzelberger and his staff have reimagined the Cyclone program while instilling a culture which has led to great success in the classroom, on the court and in recruiting," Iowa State AD Jamie Pollard said in a statement. "The complete transformation of our program in such a short time is a testament to Coach Otzelberger's leadership and vision for Cyclone Basketball, and he is most deserving of this extension and a compensation increase.
"When we hired T.J., he agreed to take a lower salary on the front end to help us manage the buyout costs associated with the transition with the understanding that we would increase his salary over the first few years of his contract to be more in line with his Big 12 peers," he added. "This extension allows Iowa State to reward T.J. for the outstanding job he has done first and foremost, while also keeping our promise to him when he was hired. The future of Cyclone Basketball is bright, and I believe even greater success is on the horizon for our program under Coach Otzelberger's direction."
According to a press release from Iowa State, Otzelberger's contract now extends through June 30, 2029, and his total compensation will increase to $2.5M on July 1, 2023, $3M on July 1, 2024 and $3.5M on July 1, 2025, followed by $100,000 increases for each subsequent contract year. All other terms of his original contract remain unchanged.
Otzelberger is just the third coach in Iowa State history to lead the Cyclones to the NCAA tournament in each of their first two seasons, and is coming off a season in which his team led the nation in wins over AP Top 10 teams (six victories). In 2022-23, Iowa State finished 19-14 overall and 9-9 in the Big 12 Conference, good for fifth place in the nation's toughest basketball league.
Iowa State's 2023 basketball signing class ranks ninth nationally according to 247Sports, and is good for second in the Big 12 behind only Kansas. With Otz in charge, it appears that Iowa State basketball is in good hands.