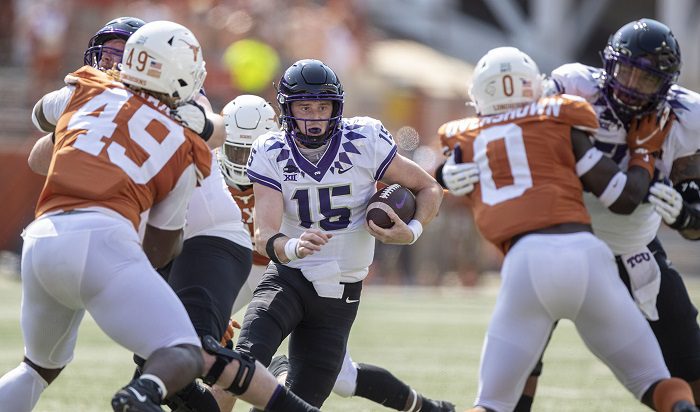 Could Max Duggan end up in the same QB room as Patrick Mahomes? At least one Mock Draft thinks it's a natural fit for both sides.
According to the latest Mock Draft from the Kansas City Star, the TCU quarterback could end up in KC as the Chiefs look to find a replacement for longtime backup Chad Henne, who retired after the Chiefs won the Super Bowl.
The KC Star has the Chiefs taking Duggan in the 7th round, writing, "In the seventh round, teams start to play a little chess, reserving players who might not be available to them as undrafted free agents.
Duggan would fit the mold. Veach talked earlier this offseason about potentially bringing in a QB from the draft to compete with Shane Buechele for the backup job following Chad Henne's retirement. Veach also said he liked bringing high-IQ players into the QB room who could challenge Mahomes and his thinking with football. If Duggan isn't taken at this point, it could make some sense for the Chiefs to take a stab."
Not that we're counting, but that would be three quarterbacks with Big 12 ties on the team, with Mahomes (Texas Tech), Buechele (Texas), and Duggan (TCU).
After winning his second Super Bowl (LVII), Patrick Mahomes likely secured his spot in the Pro Football Hall of Fame after becoming just the 13th quarterback in NFL history to win two Super Bowls as a starter. At just 27, Mahomes has years to continue building his resume, and giving Duggan a chance to be his understudy would be an incredible opportunity for the former TCU quarterback.
In hi breakout 2022 season, the TCU signal-caller completed 64.9 percent of his passes for 3,321 yards and 30 touchdowns with just four interceptions. He also added 404 yards rushing and six touchdowns on the ground, including a 15-carry, 110-yard rushing performance against Kansas State in the Big 12 Championship.
Duggan won the Davey O'Brien Award, given to the nation's top quarterback, and named after the former TCU star. Duggan also finished second in Heisman Trophy voting behind USC quarterback Caleb Williams.
Despite struggling in the national championship game, Duggan had an incredible 2022 season and deserves to have his name called at some point later this month.
The 2023 NFL Draft is set for Thursday, April 27 through Saturday, April 29, with Kansas City serving as the host city for the event.