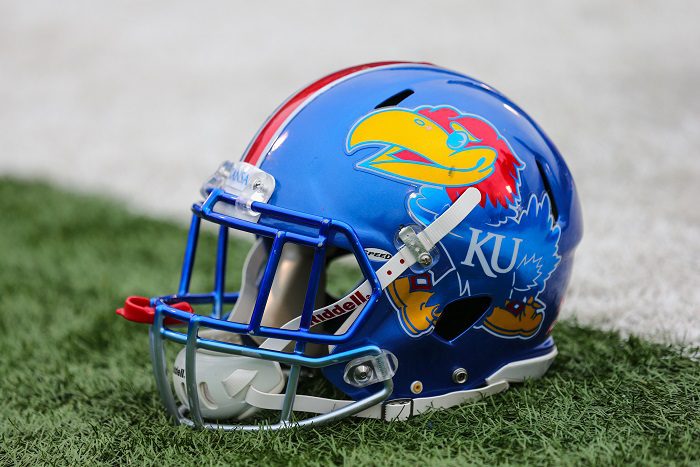 Kansas redshirt freshman quarterback Kai Kunz has decided to enter the transfer portal. He announced the news Tuesday afternoon on his Twitter account.
"After much thought and prayer and talking with my family and friends, I have decided to enter the transfer portal when it opens April 15th," Kunz started. "I want to thank Coach [Lance] Leipold, Coach Z [Jim Zebrowski], and Coach K [Andy Kotelnicki] for the opportunity to play college football at the Power 5 level and to represent my home state of Kansas. I want to thank the strength coaches, EQ team, the athletic trainers, the academic and other staff. Most importantly my teammates who I have built lifelong friendships, I wish you all continued success. God's Plan!! Jayhawk Nation, thank you for everything!!"
Kunz didn't play a snap at Kansas, but he was a standout at Andover (Kan.) Central High School. There, he led the Jaguars to the Class 4A State Championship Game as a senior while setting the school record with 2,512 passing yards. He also set the career completion percentage mark, connecting on 64.65% of his throws.
"Ever since second grade, I've always wanted to go Division I, that's always been the ultimate goal," Kunz told Phog.net when he committed as a preferred walk-on back in February of 2022. "The Jayhawks, it's always been a dream of mine to play for them. And the Jayhawks haven't always been a winning team, it's been hard to watch game sometimes. But just with Coach Leipold and all his staff members, all the people that he's brought in. You can see there's different a different culture now. It's a different vibe at KU."
The 6-foot-2, 205-pound signal caller has four years of eligibility remaining when he arrives at his next stop.