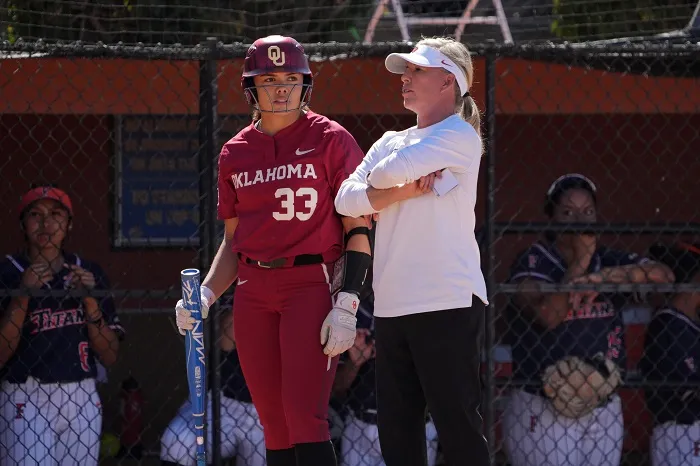 The top-ranked Oklahoma Sooners stepped out of conference for a huge midweek matchup with the 12th-ranked LSU Tigers, and they kept on rolling for their 29th win in a row. Jordy Bahl dealt in the circle, and the Sooners picked up their fourth straight shutout in a 3-0 decision Tuesday evening at Tiger Park in Baton Rouge.
They haven't given up a run since a week ago Sunday in the finale of a Red River Sweep over Texas. Since then, the Sooners have outscored opponents 19-0.
Bahl made sure it would be that way by striking out 13 in a complete game shutout. That included a string of seven out of eight hitters during a stretch from the third to the sixth innings.
LSU pitching settled in in its own right. Relievers Raelin Chaffin, Emilee Casanova and Alea Johnson combined to retire the final 15 Oklahoma hitters after a leadoff walk for center fielder Jayda Coleman in the top of the third.
However, the damage was already done off starter Sydney Berzon. Sooners catcher Kinzie Hansen and third baseman Alyssa Brito greeted Berzon with an RBI single up the middle and two-run homer to right center, respectively, in the top of the second, and that's all the visitors would need.
Now they'll cruise out of Baton Rouge looking to extend their streak into the 30s. The Sooners have been in that territory before, and the chance to get there again comes with a 10 a.m. CT Saturday contest against Oakland in the Miami (OH) Tournament. They'll also face Louisville and Miami in the event.