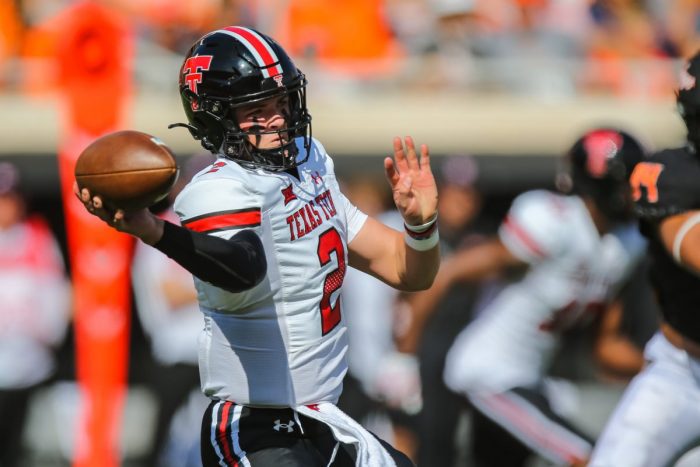 In 2022, Texas Tech had its best football season in more than a decade, finishing fourth in the Big 12 standings and 8-5 overall, capped by a 42-25 Texas Bowl win over Ole Miss.
The Red Raiders are looking to build on that performance in Joey McGuire's second year, but that will likely require a bit more consistency from the quarterback position.
Last year, due to injury and poor play, the Red Raiders were forced to start three different quarterbacks throughout the year: Tyler Shough, Donovan Smith, and Behren Morton.
The 2023 quarterback battle will feature Shough and Morton, as Donovan Smith transferred to Houston where he will likely be the starter this season. According to The Athletic, the situation in Lubbock is delicate too, because keeping both of them could be paramount to Texas Tech's success.
In an article titled, "College football's eight spring QB battles that could set summer's transfer portal market," Max Olsen lists Texas Tech amongst the group. Here's what he had to say about the situation.
"Here's another situation where a sixth-year senior is competing with a promising young passer," Olsen writes. "Shough, a former Oregon transfer, has had tough luck with injuries over the past two seasons but did go 5-0 as a starter in 2022 and finished strong in the Texas Bowl win over Ole Miss. Morton looked terrific at times in four starts against Big 12 foes as a redshirt freshman and has big-time potential. These QBs should greatly benefit from another full offseason of reps in Zach Kittley's fast-paced offense. The Red Raiders can win with both and need to keep them healthy and happy.
With both players having an injury history, and Shough in particular, Texas Tech needs to have both players available in 2023 to avoid a disaster scenario. If Shough wins the battle, and Morton isn't happy about it, that would leave TTU with Jake Strong, Jaden Morris, and Cooper LaFebre.
Strong is a true freshman with upside, Morris is a redshirt freshman, and LeFebre transferred from Houston ahead of the 2022 season and is a sophomore. None of them have any game experience whatsoever.
Keeping Morton and Shough both happy will be a necessary balancing act for Joey McGuire, but that's why they pay him the big bucks.