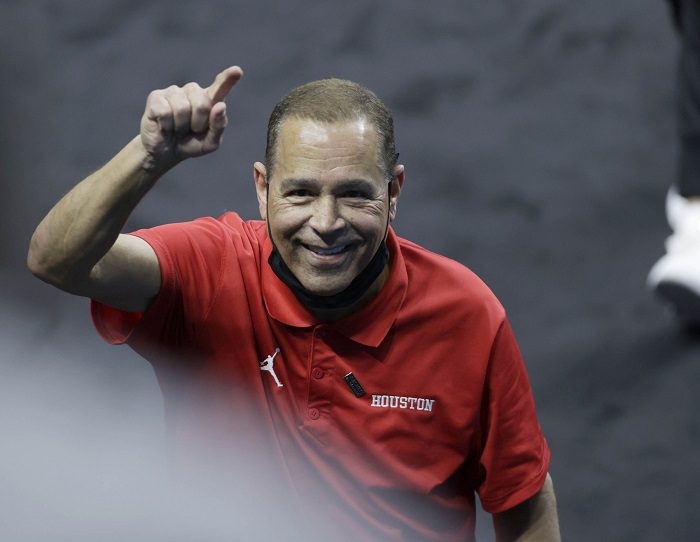 The transfer portal is roiling both Big 12 men's and women's basketball as the regular signing day period is underway.
Each week I'll have some thoughts on what's going on in the transfer portal from a Big 12 perspective, at least until things settle down. Which, frankly, could be never.
West Virginia Winning
So far, one would have to say that West Virginia is winning in the transfer portal.
The Mountaineers have lost just two players so far — guards Josiah Davis and Jamel King. The pair combined to play 14 games.
In comes Kerr Kriisa, an Arizona guard who averaged nearly 10 points per game the past two seasons for the Wildcats. Plus, there are the two transfers from Manhattan — Jose Perez and Omar Silverio.
Perez tried to play with the Mountaineers this season but couldn't get a waiver. He'll be ready next season and he averaged 19 points for the Jaspers two seasons ago. Silverio was caught in the same issue as Perez — a coaching change two weeks before the season started — and committed to the Mountaineers in March. He averaged 11 points two seasons ago. He still needs a waiver to play since he's already transferred once.
But if the Mountaineers get all three players, they'll trade two developmental players for three that combined for 40 points in their last collegiate seasons. That's good value any way you look at it.
Cryer to Houston
L.J. Cryer to Houston is a great move for Cryer and for the Cougars. Cryer stays in a conference he's comfortable with. Houston gets a player who knows the conference well and can help them with the transition. He also gives the Cougars a guard that can shoot 40 percent from the 3-point line. Cryer also wanted to play more point guard, so expect to see that, too.
With Temple's Damian Dunn also coming to Houston, the Cougars just added 30 points to the backcourt. You won't want to minimize the losses of Marcus Sasser and Tramon Mark, but the Cougars are adding those two players to returning guard Jamal Shead. The Cougars are going to be tough to deal with in the Big 12. I wouldn't pick them to win the league. But they'll be competitive. The transfer portal is making sure of that.
Oklahoma State's 'Big' Problem
Since the last update, the Cowboys lost both Moussa Cisse and Kalib Boone to the transfer portal. I'm not certain how Cisse is going to get around it being his second transfer (he'll need a waiver). But the Cowboys have now lost their top two rebounders from a season ago. Add that to Avery Anderson III (the Cowboys' second-leading scorer) and this is now Bryce Thompson's team.
The interesting part is that the Cowboys haven't taken anything in the portal yet. Now, coach Mike Boynton Jr. is taking in a large recruiting class, and Eric Dailey Jr., a Top 50 recruit, just signed on Wednesday. This 2023 Class is ranked in the Top 10 nationally.
Boynton probably needs to find at least one veteran playmaker in the portal to avoid putting so much pressure on his youngsters. Otherwise, this will be a young team trying to make it in the rigors of Big 12 action.
Iowa State's Big Move
The Cyclones took in two players from the portal in the last week — guard Keshon Gilbert from UNLV and guard Jackson Paveletzke from Wofford. These players can do two important things for Iowa State.
First, they can score. Gilbert averaged nearly 12 points for the Runnin' Rebels last season. Paveletzke averaged 15 points at Wofford last season.
Second, they both can hit from the 3-point line. Each shot nearly 40 percent from there last season.
The Cyclones need the scoring and, perhaps more importantly, they need that consistent scoring from distance. This should make them a better offensive team in 2023-24.
Keys to the Offense
One of the biggest women's transfer so far has to be Lexy Keys trading in Oklahoma State orange for Oklahoma crimson and cream.
The guard announced earlier this week she would transfer to Oklahoma. The Tahlequah, Okla., native averaged nearly 10 points last season. She's a solid 3-point shooter but she's also a quality perimeter defender and the Sooners need that. Plus, OU's system — which creates points off the pass — probably suits Keys' game a bit more.
With Keys, holdover Aubrey Joens and incoming Louisville transfer Peyton Verhulst, coach Jennie Baranczyk is creating a team capable of taking the baton from the super-seniors — Madi Williams, Taylor Robertson and Ana Llanusa — and remaining competitive in the Big 12 in the Sooners' final season.
Kansas Losing Some Talent
Even the Kansas women, coming off a WNIT title, aren't immune to the transfer portal. Three players submitted their names after the title — forward Ioanna Chatzileonti, guard Sanna Strom and guard Mia Vuksic. That's five Jayhawks in the portal.
If there is any good news, the Jayhawks still have a full roster of talent from last season and now have a little scholarship wiggle room to attract a transfer or two that could help them compete with the top teams in the Big 12.
Any coach hates to lose players. But in this age it also has to be looked at as a chance to get better.
Oh, and the only current Big 12 women's team without a player in the transfer portal is … checks notes … Texas Tech.
You can find Matthew Postins on Twitter @PostinsPostcard
Big 12 Basketball Transfer Portal
(as of April 12)
Men
Outgoing — Baylor: G Dale Bonner,G L.J. Cryer (to Houston), F Zach Loveday, G Jordan Turner; Iowa State: G Eli King; Kansas: F Cam Martin (to Boise State), F Zach Clemence, G Bobby Pettiford Jr. (to East Carolina), G M.J. Rice, G Joseph Yesufu; Kansas State: G Peyton Ackerman, F Ismael Massoud; Oklahoma: G Joe Bamisile, G Bijan Cortes, F Jacob Groves, F Jalen Hill, G C.J. Noland (to Saint Louis), G Benny Schroder (to George Washington); Oklahoma State: G Avery Anderson III, F Kalib Boone, F Moussa Cisse. TCU: F Souleymane Doumbia, G P.J. Haggerty, F Eddie Lampkin (to Colorado), G Michael Niemann, G Shahada Wells; Texas: G Rowan Brumbaugh (to Georgetown), G Arterio Morris; Texas Tech: F Fardaws Aimaq (to Cal), F KJ Allen, F Daniel Batcho, G Elijah Fisher, F Robert Jennings (returning to Texas Tech); West Virginia: G Josiah Davis,F Jamel King (to Kennesaw State). Cincinnati: G Jeremiah Davenport; Houston: G Tramon Mark, C Kiyron Powell (to Southern Indiana) UCF: G P.J. Edwards, G Tyem Freeman, F Brandon Suggs, C Lahat Thioune, G Jayhlon Young.
Incoming — Iowa State: G Keshon Gilbert (from UNLV), G Jackson Paveletzke (from Wofford); TCU: F Essam Mostafa (from Coastal Carolina),G Jameer Nelson Jr. (from Delaware), G Trey Tennyson (from Texas A&M-Corpus Christi); Texas Tech: F KyeRon Lindsay (from Georgia); West Virginia: G kerr Kriisa (from Arizona), F Jose Perez (from Manhattan), G Omar Silverio (from Manhattan). Cincinnati: F Jamille Reynolds (from Temple); Houston: G L.J. Cryer (from Baylor), G Damian Dunn (from Temple).
Notes: Perez transferred to WVU in November but didn't get a waiver to play in 2022-23. Silverio transferred in March and needs a waiver.
Women
Outgoing — Baylor: F Kendra Gillispie; Houston: G/F Paris Netherly; Houston: G/F Paris Netherly; Iowa State: G Lexi Donarski, G Maggie Espenmiller-McGraw, G Denae Fritz, F Morgan Kane, F Maggie Vick; Kansas: F Ioanna Chatzileonti, F Katrine Jessen, G Sanna Strom, G Bella Swedlund (Toledo), G Mia Vuksic; Kansas State: G Mimi Gatewood, C Taylor Lauterbach; Oklahoma: G Kaley Perkins; Oklahoma State: F Taylen Collins, G/F Macie James, G Lexy Keys (to Oklahoma), F Makyra Tramble; TCU: G/F Evie Goetz; Texas: G Kyndall Hunter (to Texas A&M), F Femme Masudi; West Virginia: F Isis Beh (to Arizona), G/F Wynter Rogers (to Arkansas State), G/F Savannah Samuel; BYU: G Amanda Barcello, F Alyssa Blanck, G Sophia Lee; Cincinnati: G Lojain Elfatairy, G Dais'Ja Trotter; Houston: G De'Myla Brown, G Kendall Brown, G/F Paris Netherly, G Tiara Young.
Incoming — Baylor: F Madison Bartley (from Belmont), G Yaya Felder (from Ohio), G Jada Walker (from Kentucky); Oklahoma: G Lexy Keys (from Oklahoma State), G/F Payton Verhulst (from Louisville); Oklahoma State: F Hannah Gusters (from LSU); TCU: G Madison Conner (from Arizona), F Sedona Prince (from Oregon); West Virginia: G Zya Nugent (from Stephen F. Austin); BYU: G/F Jennah Isai (from Oregon); Houston: F Maliyah Johnson (from Pitt); UCF: G Ashley Foster (from Georgia State), G Kaitlin Peterson (from Indiana), G Timia Ware (from LSU).
Sources: Players' social media accounts, Verbalcommits.com, 247Sports.com, Wbbblog.com