Kansas Jayhawks
Big 12 Baseball: Ranking the Top 3 Series in Week 5 of Conference Play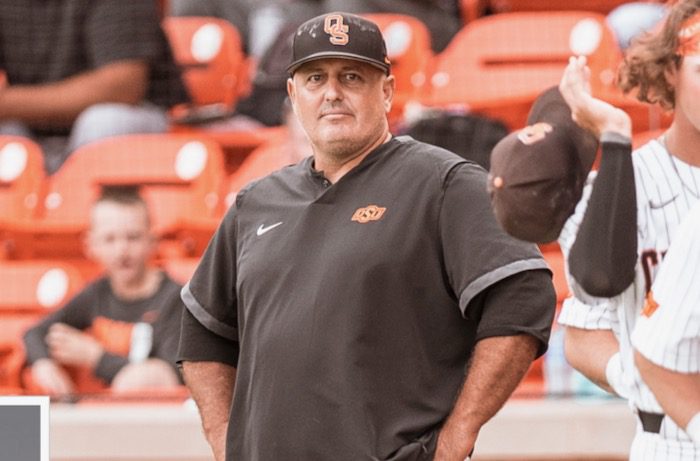 Big 12 Conference play is now at the halfway point, and the race is really heating up. Four league teams are in the D1Baseball Top 25, led by Oklahoma State at No. 18, with Texas just behind at No. 19, Texas Tech at No. 21 and TCU swapping spots in the ranks with West Virginia, at No. 25.
With that said, there are some intriguing matchups for weekend No. 9, which happens to be the fifth weekend of conference play. Here are three series that you shouldn't miss if you are a Big 12 baseball fan.
3. Kansas State (21-14, 6-6 Big 12) @ Kansas (17-15, 5-4 Big 12)
Date: Friday, April 14 | Time: 6 p.m. CT | Location: Lawrence, KS | TV: ESPN+
With a muddied up league race, this matchup still has some impact on what transpires, even if it's two unranked teams and two that aren't likely coming out on top when all is said and done. Too, it's the Sunflower Showdown, so that warrants paying some attention. Kansas State has only one Big 12 series victory in four tries, but it was a sweep of Oklahoma, so that's kept it afloat. Kansas, meanwhile, has won two of its first three series.
It can always be different than what you expect, but expect runs this weekend, given the lack of quality pitching on both sides. Cash Rugely leads the Wildcats charge offensively, with a .340 batting average, five home runs and 25 RBI. Nick Goodwin and Cole Johnson have combined for 15 homers as well. For the Jayhawks, Kodey Shoijinga leads the way, with a .375 average, to go along with five homers. Janson Reeder paces the club with eight round-trippers, while Cole Elvis and Jake English have added seven apiece.
2. No. 21 Texas Tech (23-11, 4-5 Big 12) @ Oklahoma (18-16, 3-6 Big 12)
Date: Friday, April 14 | Time: 6:30 p.m. CT | Location: Norman, OK | TV: ESPN+
If they aren't already, Oklahoma's postseason shots will be Big 12 Tournament Championship or bust with a series loss this weekend. Oklahoma has been as unpredictable as any team in the country, taking two of three from No. 25 TCU and battling Top 10 Stanford to a split, but dropping two of three to Baylor and ultimately sitting last in the conference standings. Texas Tech needs to, at the very least, win this series so as not to fall any further from the top of the league standings.
If the Sooners are to really compete against the Red Raiders, it'll likely be the bats that get it done. That's because the pitching hasn't been great of late and Tech has plenty of pop to make that an issue. Easton Carmichael, Dakota Harris and Kendall Pettis will be relied on to make it happen. For the Red Raiders, Gavin Kash is absolutely killing the baseball right now, hitting just below .400 with 13 homers and 50 RBI. Nolen Hester, Austin Green, Kevin Bazzell and Gage Harrelson are all batting above the .335 mark.
1. West Virginia (23-10, 3-3 Big 12) @ No. 18 Oklahoma State (23-11, 7-5 Big 12)
Date: Friday, April 14 | Time: 6 p.m. CT | Location: Stillwater, OK | TV: ESPN+
Honestly, it's not a real great weekend of matchups as far as the Big 12 is concerned. However, this one is by far the best. Oklahoma State would like to start to seek some separation as one of the top teams in the conference. West Virginia is out to prove itself, given it's 13 games over .500 overall but only .500 in the Big 12, having many question just how good the squad is.
The Mountaineers' JJ Wetherholt (.442), Caleb McNeely (333) and Tevin Tucker (.327) will look to take advantage of a Cowboys pitching staff that's without key reliever Nolan McLean (1.35 ERA, 17 strikeouts). But Pokes starter Juaron Watts-Brown has been fantastic, racking up 73 strikeouts to only 21 walks with a 3.30 ERA, so that alleviates some of that loss. Plus, Oklahoma State has plenty of explosiveness throughout its lineup. It sports the likes of Roc Riggio (.323, 10 homers), Carson Benge (.380), Nolan Schubart (.364) and Chas Adkison (.306).