Trending Now
Urban Meyer Had a Coach on Staff at Ohio State That Watched Michigan Year-Round: 'That's All He Did'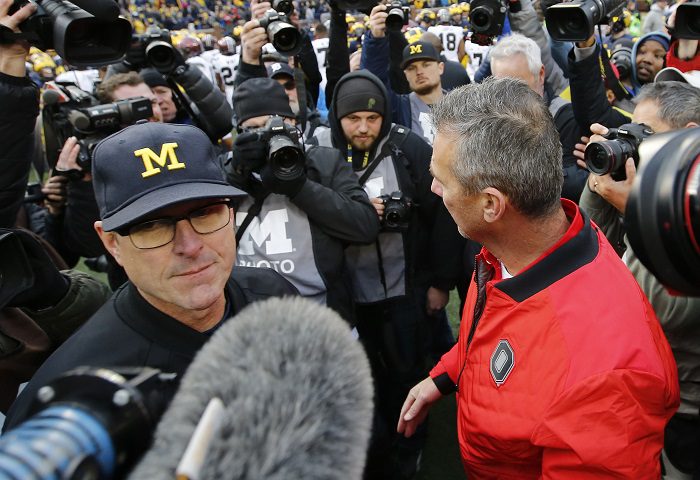 The Ohio State-Michigan Rivalry is one of, if not the best rivalries in all of college football. Mentioned in the same breath at Oklahoma-Texas, Alabama-Auburn, and Army-Navy, there are not many rivalries out there that breed as much animosity and excitement as the Buckeyes and Wolverines.
Michigan leads the all-time series in this rivalry 60-51-6 and has won each of the last two meetings in dominant fashion. However, prior to 2021, the Buckeyes had won 15 of the last 16 matchups, and each of the last eight dating back to 2011.
Urban Meyer, the head coach at Ohio State from 2012-18 was a perfect 7-0 against the Wolverines during his time in Columbus, and recently gave an account of his time coaching against UM.
Interestingly, Meyer claims that he had a coach on staff at Ohio State whose entire job was to keep up with everything at Michigan year-round. Take a listen.
"I'm not sure there's anybody that's ever respected that rivalry more than I have," Meyer says. "I studied it. We had a board everywhere about who they recruited, and what they were doing offensively and defensively. I had one coach, that's all he did is watch them year-round."
Since Meyer left, Ohio State is 2-2 against the Wolverines under his replacement, Ryan Day.
Sounds like Day needs to hire someone who doesn't mind sneaking into the Big House a few times a year.