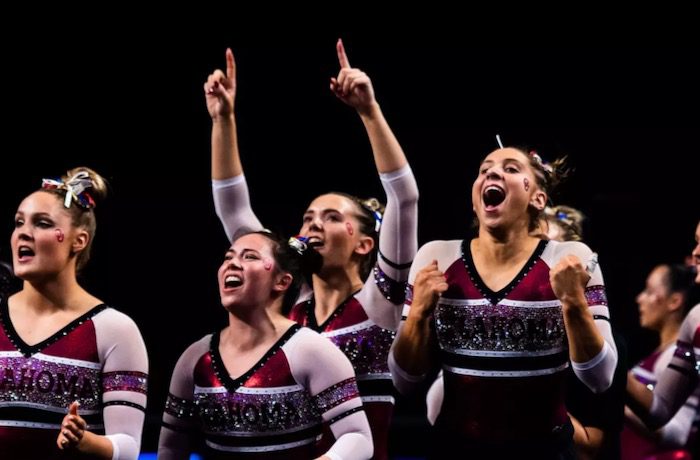 For the second consecutive year and sixth time in the last nine years, Oklahoma stands on top of the women's gymnastics world. The Sooners claimed the national championship once again Saturday afternoon in Fort Worth, topping No. 2 Florida 198.3875-198.2375 in an epic meet.
The Sooners clinched it on the floor with a 49.6750, and more specifically, Danae Fletcher clinched it when she posted a 9.9375. That sent the Crimson and Cream into a celebration that they've experienced many times before but, judging by the reaction, clearly felt just as special this time as in all of those previous instances.
Oklahoma posted scores of 49.5625 on the vault, 49.6375 on the bars and 49.5125 on the balance beam. The middle of those three scores was the second-best in NCAA Championships history in the event.
Olivia Trautman tied her career-high with a 9.950 on the bars, and she finished off her career with an impressive 9.825 on the beam. Allie Stern capped off her career with a 9.900 on the vault. Danielle Sievers put together a career-high 9.950 as part of that clinching floor event. Audrey Davis tied her career high with a 9.950 on the beam. There were obviously many other outstanding performances.
And when you add all of them up, the Sooners defeated the Gators for the second time this season and are once again the champions in the process. Two other teams also fought valiantly, with Utah coming up in third at 197.9375 and LSU in fourth at 197.5250.