Basketball
Postscripts: The Big 12's Direction and the Latest Pac-12 Drama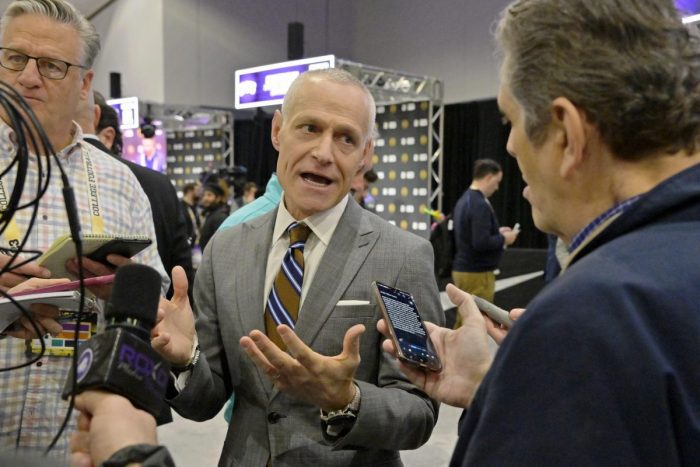 What's going on in the Big 12 and beyond? I expand and explain every Sunday in Postscripts at Heartland College Sports, your home for independent Big 12 coverage.
This week, the Big 12 sheds some light on its 'young and hip' direction, the Pac-12 had a wacky Wednesday night and TCU builds on its basketball legacy.
Takeaways on the Big 12's Direction
One of the things we're all trying to dissect what the new Big 12 is going to be. What will its identity be? What exactly is "young and hip" to the Big 12? Where is all of this going?
Matt Brown at Extra Points, a newsletter that focuses on the business of college athletics, shed a little light on that this week.
He had a conversation with Big 12 Chief Marketing Officer Tyrel Kirkham and I had three takeaways after reading his piece, which is linked above.
First, the partnership with BAPE (A Bathing Ape) wasn't for older sports fans like me (thank goodness because camo is not my thing). In fact, it really wasn't for sports fans per se. It was about creating some marketing credibility with younger people, though Kirkham told Brown that the league "had 100 percent sell-through" of the merchandise, which basically means they ran out (you could look at that as a great thing or the Big 12 underestimating demand). Kirkham also said that student-athletes were interacting with the content.
Next, there is Big 12 Eats. If you follow the site, you know that I and our site owner, Pete Mundo, had the difficult job of sampling all of the dishes at the Big 12 Tournament (with the exception of the pepperoni rolls inspired by West Virginia. You people apparently loved those pepperoni rolls because they were sold out by the time we got around to it).
Well, Kirkham told Brown it was a runaway success in their eyes.
"We didn't think we would sell 5200 units later and have our fans asking for brackets next year and seeing if we can carry it over to other championships. All of a sudden, we're in the culinary business now," Kirkham said.
Third, is basketball, which I've written about quite a bit here. I completely agree with Big 12 commissioner Brett Yormark and his staff — basketball is an untapped resource in college sports. The Rucker Park partnership, announced the same day that Kansas State's Markquis Nowell absolutely went off in the Sweet 16 in Madison Square Garden, may have changed the face of the league (Mundo wrote about it).
Kirkman said that basketball is an international sport, a point that he is absolutely correct about. If you track the sport's growth, one of its most explosive moments was the 1992 Dream Team at the Olympics in Barcelona.
If the Big 12 is the best basketball conference in college basketball, wouldn't it make sense to spotlight that sport outside the traditional Big 12 footprint?
The Big 12 clearly has a plan. Will all of it work? Well, that's to be determined. But, to me, what they've tried so far has worked, though it's been on a small scale. Yormark has said all along that the 'New Big 12' will be on display at Big 12 Media Day in July. So that should be interesting.
But, the Big 12 has a plan. Which is more than we can say for, well …
This Week in "As The Pac-12 Turns"
Wednesday was an off-the-rails night in the Pac-12. We had everything from actual news to not-so-actual news to a Pac-12 athletic director retweeting an anonymous Twitter account disputing news.
So here's what happened. Wednesday evening the media got wind of a special meeting of the Colorado Board of Regents set for Monday at 7:45 a.m. local time. The meeting will be in "executive session." This isn't unusual. Many boards do this sort of thing all the time, typically in between regular meetings.
This meeting comes on the heels of a report earlier this week by the New York Post's Andrew Marchand in which he talked about potential Big 12 expansion and said "watch Colorado." Marchand is one of the best-sourced media writers around.
So, one could connect the dots, right? Well, one Twitter user, @MHver3, did try to connect the dots. If you have followed this saga, you know that this particular user is one that no one seems to know but seems to have "information" related to all of this. All his profile says is that he's based in West Virginia (that graphic with the 1990s era cell phone cracks me up). I follow him mostly for fun. I know the difference between credible and not-so-credible information. But I also enjoy watching how "out there" some folks decide to go.
This user tweeted that he had a source that said the Colorado meeting was about voting on whether or not to join the Big 12. He later deleted the tweet because the "source' asked him to (I have no clue who that source might be). But here's the tweet.
Now you'll notice the fun part of all of this. Colorado athletic director Rick George actually retweeted THIS TWEET and said there was no truth to it.
He had NOTHING to say about the Marchand piece. But he retweets this particular tweet from a user shrouded in anonymity just to dispute it. I mean, seriously? Of all fights to pick?
I wasn't the only one that noticed.
We now know the meeting is about getting legal advice on an athletics matters. Which, again, could be 100 different things.
Well, meanwhile …
The CW's interest in the Pac-12 from a TV standpoint was a small number of games per the Athletic.
John Ourand of Sports Business Journal wrote that the Pac-12 is not a "need or must-have" for ESPN at the moment.
None of this inspires confidence at the moment.
Desmond Bane's Legacy
Before Desmond Bane and the Memphis Grizzlies started the NBA Playoffs, he make a quick trip back to Fort Worth for the unveiling of a mural of him near the TCU campus.
Bane is one of only two TCU players in the NBA right now, but he's quickly growing into the best NBA player the program has ever produced. For now, that honor still belongs to forward Kurt Thomas. Selected No. 10 overall in the 1995 NBA Draft, Thomas played for nine different teams in an 18-year career that saw him average eight points and six rebounds per game.
Bane was also a first-round pick (No. 30 overall) and in three seasons he's averaged 16.1 points and made 42.5 percent of his 3-pointers. He's coming off a regular season in which he averaged 21.5 points, 5.0 rebounds and 4.4 assists per game.
Bane is well worth the mural, and you can bet coach Jamie Dixon and his staff will drive every recruit by it, whether it's a prep recruit or a transfer portal recruit, as long as it's there.
You can find Matthew Postins on Twitter @PostinsPostcard