Baylor Bears
Big 12 Softball Power Rankings: Chaos Ensues, Ensures Little Change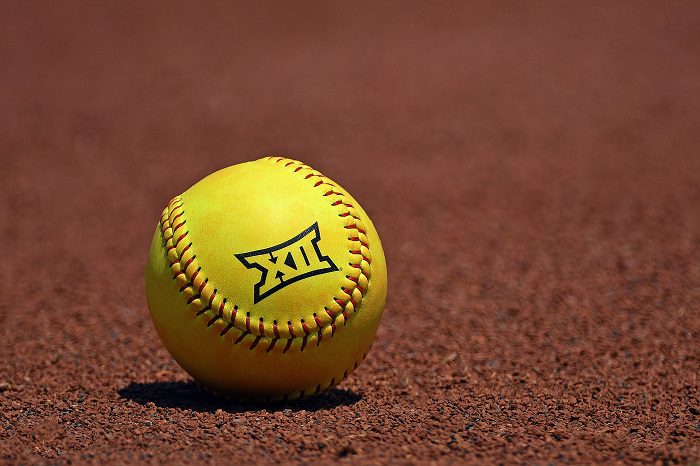 Sometimes in college athletics, we see weeks of chaos and insanity sweep across the nation as rankings and ratings are flipped on their heads and the most unlikely scenarios play out in multiple instances.
This weekend was one of those in college softball, and particularly in the Big 12. The only thing that held firm this week was Oklahoma, as the Sooners played outmatched competition in Louisville and Miami (OH) and come back to Big 12 play unscathed.
Meanwhile, No. 3 Oklahoma State dropped a game to Iowa State, who is 2-10 in Big 12 play. No. 8 Texas was blown out by Kansas at home in Game 1 of its weekend series. Baylor went to Lubbock and saw Dariana Orme get handled by the Red Raiders lineup, but was bailed out by its bats in Games 2 and 3.
It was quite a weekend, but because there was so much chaos, things remain relatively unchanged in our rankings. Here's a look at how we see things after Week 10.
As mentioned above, the Sooners remained the one constant in Big 12 softball this weekend, as OU outscored its opponents 23-2 over two games, both of which ended in run-rule victories. The Sooners lead the nation in batting average (.380), ERA (0.90), and fielding percentage (.988) among several other key statistical categories. Oklahoma sits at 39-1 through 40 games, the exact same record it had through 40 games in 2021 and 2022. Everyone knows what went on to happen in those seasons, and the Sooners look like the betting favorites to make it three titles in a row.
I must say that Oklahoma State's loss to Iowa State was the most shocking loss of the year in the Big 12, and perhaps in the country. As the No. 3 team in the nation, and legitimately so, Oklahoma State should've walked all over Iowa State this weekend in Stillwater, but instead let the Cyclones hang around in all three games. After a 5-2 win in Game 1 and a 3-2 win in Game 2, it was clear that OSU wasn't clicking on all cylinders this weekend and might've gotten caught looking ahead to Texas this week. But, for them to go 11 innings and lose to an Iowa State team that sits at 14-25 in 2023 is inexplicable. There is certainly credit due to Ellie Spelhaug and the Cyclones for their grit and determination on Sunday, but that was a game that OSU should've won. The Cowgirls will need to regroup, as the next three weeks will present tougher challenges.
I decided to keep Baylor in the three-spot this week, and it has some to do with them but also partly due to Texas (more on them in a second). The Bears' pitching staff has been its primary weapon this season, but gave up 26 runs in Lubbock this past weekend. However, Baylor managed 32 runs of its own and won each of the Games 2 and 3 to win the series. It was a heroic performance from Baylor's lineup and showed the BU is capable of winning games even when Dariana Orme struggles in the circle. Baylor has a massive test coming up this weekend, as OU comes to town looking to avenge its only loss of the season.
Now, there could be an argument made that Texas deserves to be at three in our power rankings, and I will listen to that argument. However, against Kansas I saw some of the things that concerned me with this team earl last season. The inconsistency on offense allows teams, even like Kansas, to stick around in ball games. UT's pitching staff is way better than I thought they would be this season, and Mac Morgan has all the intangibles of an ace, but Texas needs to be more consistent if it is going to make another run to the WCWS. Here's the good news Texas fans: No. 3 Oklahoma State is coming to town this weekend, giving the Longhorns a chance to jump not one, but two spots in these rankings.
Well, this weekend went just about how I would've scripted it for Texas Tech. Up against another team with all kinds of momentum, Texas Tech was more than competitive and took Baylor to the wire. The Red Raiders' 26 runs against Baylor are the most that Baylor has surrendered in a three-game stretch this season, and Texas Tech was in every game all the way until the final inning. TTU showed resilience and grit in this series, but I'm just not sure they can make up enough ground to get into the NCAA Softball Tournament at this point, coming in at No. 69 in the RPI.
Kansas went into Austin and was very competitive in two of three games this weekend, winning one of them going away by a score of 9-3. The series between Kansas was as consistent as there was in the country this weekend, with each team winning a game in dominant fashion and then Game 3 being tightly-contested throughout. The Jayhawks aren't making the NCAA Tournament, but this win was something for them to hang their hats on going into the last stretch of Big 12 play. This week, a home series with Texas Tech is on the docket, and seeding for the Big 12 championship is on the line.
Iowa State still remains as the last-place team in the conference power rankings, but what a win it was for the Cyclones. Going into Stillwater and leaving with a win is not easy, but after an 11-inning Game 3, that's exactly what Iowa State did. No, they can't make up ground to beat any of the top four teams in th conference as far as seeding goes, but they could ride the momentum to take a series against Baylor or Kansas to finish the regular season on a high note.