Baylor Bears
Baylor's Ana Watson, Texas' Mac Morgan Garner Big 12 Weekly Honors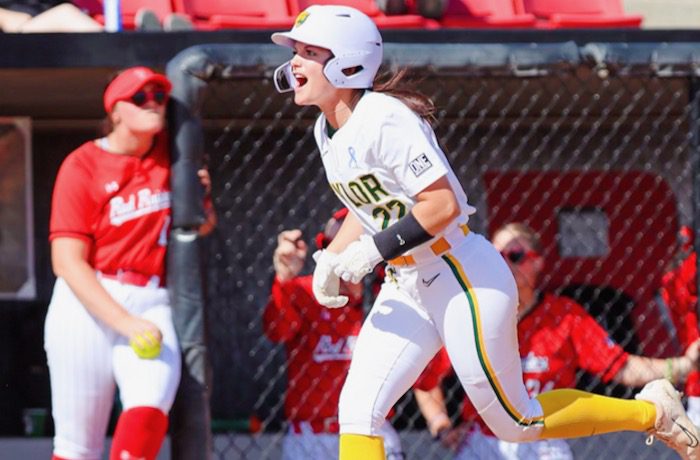 The Big 12 Conference announced its weekly honors for softball Tuesday, and both Baylor and Texas have a representative. Outfielder Ana Watson, of the former, was named the league's Player of the Week, while Mac Morgan, of the latter, was tabbed the Pitcher of the Week.
Both were spectacular in their own right. Watson, who blasted her first home run of the season and clubbed three total, led the conference with 12 RBI. One of those round-trippers came in the form of a grand slam that helped propel the 15th-ranked Bears to a 16-11 game two victory over Texas Tech.
She hit .438 while slugging an incredible 1.063, as Baylor eventually used her charge of a three-run bomb in game three to secure an 8-5 win and, ultimately, the series win over the Red Raiders. In total, she accounted for for 33% of Baylor's run production during the week, as the Bears finished 3-1, with a triumph over Abilene Christian mixed in there.
For the ninth-ranked Longhorns, Morgan didn't mess around in becoming the only league pitcher with multiple complete-game shutouts and going 3-0 in the process. She shut out Texas State in seven innings, before blanking the Kansas Jayhawks in five innings of a 10-0 victory.
Her .140 opponent batting average served as the lowest by any Big 12 pitcher who faced 50-or-more batters, and she was the only conference pitcher to log more than nine innings with an unblemished ERA. Morgan has tossed a career-high 20 consecutive innings of scoreless softball over her past four appearances.
Watson and the Bears get back to action when they host No. 1 Oklahoma this weekend. Morgan and the Longhorns return to action with a critical home series against the other Bedlam squad, No. 3 Oklahoma State.