Baylor Bears
Five Big 12 Teams in Top 25 of Initial ESPN FPI for 2023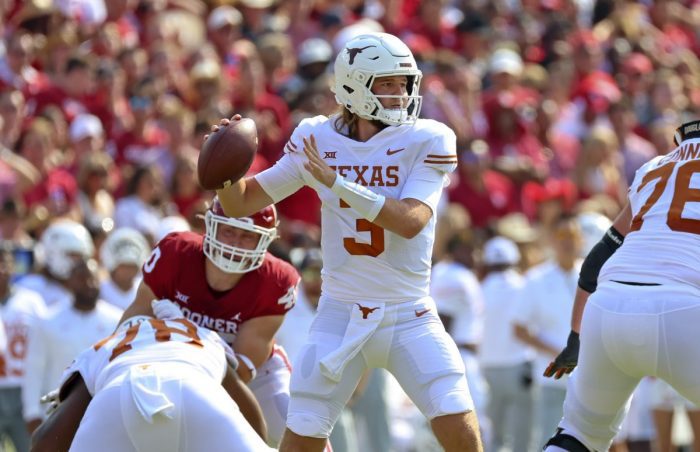 ESPN's first Football Power Index (FPI) rankings for the 2023 season have been released, and the Big 12 is well represented as things currently stand.
Five Big 12 programs are listed among the Top 25, with seven in the Top 30 and 13 of 14 teams ranking inside the Top 60 of college football.
The Texas Longhorns lead the way for the Big 12, coming in at No. 5 in the initial FPI rankings. The Longhorns were substantially better in Year 2 under Steve Sarkisian and are hoping to make a jump into playoff contention in 2023. Texas should be one of the best teams in the Big 12 this season, and has the makings of a potential playoff team, but can they get there? We will have to wait and see.
Perhaps the biggest surprise in the first FPI rankings is how high Oklahoma comes in, sitting at No. 11. The Sooners are coming off their worst season in decades, a 6-7 record in Brent Venables' first season. With an elite recruiting class and top ten transfer class, the Sooners will hope to get back to Big 12 Championship contention, and if ESPN's FPI is correct, they should do just that in 2023.
TCU is the third-highest Big 12 team in ESPN's FPI, coming in at No. 17. The Horned Frogs made a magical run to the national championship game last season but lost the vast majority of the playmakers that got them there. Sonny Dykes has his work cut out for him if he hopes to take TCU back to the Playoff in his second year.
A fast-rising and red-hot Texas Tech team comes in at No. 22 in the FPI and will be a trendy "dark horse" contender in the Big 12 in 2023. Joey McGuire has folks in Lubbock believing that they can take the next step and get to a Big 12 Championship Game appearance for the first time in school history, and with several key returners, they just might have a shot at it.
Baylor is the final Big 12 team in the FPI's Top 25, coming in at No. 23. Dave Aranda's squad was the preseason favorite to win the Big 12 last season, but ended the year 6-7 and 4-5 in the conference. If Baylor can get the offense rolling again, I trust that Aranda's defense will look more like its former self in 2023.
Here's a look at the entire Big 12's FPI rankings, courtesy of ESPN.
| Team | FPI | Rank | Proj. W-L | Win Out % | 6 Wins% | Win Conf % | Playoff % | Make NC % | Win NC % |
| --- | --- | --- | --- | --- | --- | --- | --- | --- | --- |
| Texas | 21.9 | 5 | 10.1-2.6 | 2.9 | 99.9 | 54.4 | 34.2 | 14.5 | 5.7 |
| Oklahoma | 16.9 | 11 | 9.7-2.8 | 2.1 | 99.7 | 24.5 | 10.7 | 3.2 | 1.0 |
| TCU | 13.0 | 17 | 8.1-4.1 | 0.1 | 96.0 | 5.7 | 1.2 | 0.3 | 0.1 |
| Texas Tech | 10.8 | 22 | 7.5-4.6 | 0.1 | 90.8 | 3.8 | 0.5 | 0.1 | 0.0 |
| Baylor | 10.7 | 23 | 7.4-4.7 | 0.0 | 90.0 | 3.2 | 0.2 | 0.0 | 0.0 |
| UCF | 10.0 | 26 | 7.7-4.4 | 0.1 | 92.5 | 2.5 | 0.2 | 0.0 | 0.0 |
| Kansas State | 9.8 | 27 | 7.4-4.7 | 0.0 | 88.7 | 2.9 | 0.1 | 0.0 | 0.0 |
| Oklahoma State | 6.9 | 38 | 7.5-4.6 | 0.0 | 89.9 | 2.0 | 0.0 | 0.0 | 0.0 |
| Iowa State | 5.6 | 43 | 5.8-6.2 | 0.0 | 57.7 | 0.3 | 0.0 | 0.0 | 0.0 |
| Cincinnati | 4.9 | 48 | 6.3-5.7 | 0.0 | 68.9 | 0.6 | 0.0 | 0.0 | 0.0 |
| Houston | 2.5 | 54 | 5.2-6.8 | 0.0 | 42.2 | 0.1 | 0.0 | 0.0 | 0.0 |
| West Virginia | 1.4 | 57 | 4.3-7.7 | 0.0 | 20.1 | 0.0 | 0.0 | 0.0 | 0.0 |
| BYU | 1.0 | 60 | 4.9-7.1 | 0.0 | 32.9 | 0.0 | 0.0 | 0.0 | 0.0 |
| Kansas | -1.2 | 68 | 4.1-7.9 | 0.0 | 16.0 | 0.0 | 0.0 | 0.0 | 0.0 |