Baylor Bears
Big 12 Baseball: Which Team Has the Best Chance to Win the Conference?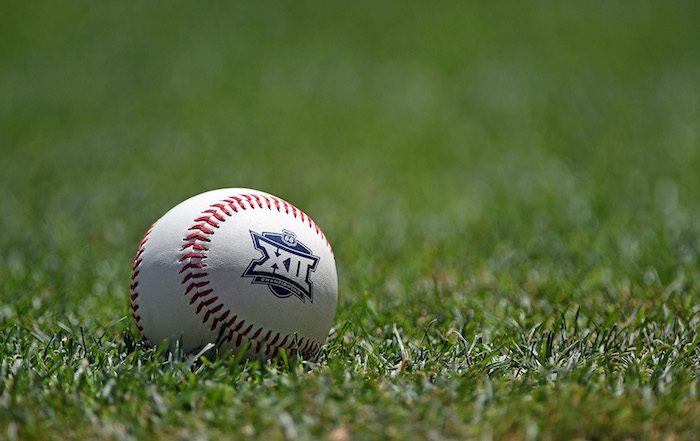 We are a little over the halfway point of conference play in the Big 12. Despite being several weeks in, this conference appears to be a wild mess as nobody has really separated themselves from the rest of the pack. While this may end up hurting the Big 12 when selection time rolls around, it does make for some entertaining weekend matchups. Here is how I see the Big 12 shaking out as I list which team is most likely to win the conference and which team is least likely to win it.
10. Iowa State (Big 12 Record: 0-0)
Obviously, since Iowa State doesn't have a baseball team, they can't win the Big 12 this season despite not losing a game in over 20 years.
9. Oklahoma (Big 12 Record: 4-8)
The Sooners are currently in last place as they have a 4-8 record in conference play. They have been extremely inconsistent this year and they still have a few big series ahead as they will face Texas, West Virginia, and Oklahoma State before the Big 12 tournament. And speaking of the tournament, this team may find themselves on the outside looking in.
8. Kansas (Big 12 Record: 5-7)
Kansas was a great story after taking down West Virginia in Morgantown a couple of weeks ago but now they have hit a little bit of a wall. They were just swept by Kansas State last weekend and their pitching has been awful at times. While I do like the pop in their lineup with Janson Reeder (8 home runs), Jake English (8 home runs), and Cole Elvis (7 home runs), the pitching just isn't there for me to become a believer.
7. Baylor (Big 12 Record: 5-10)
I get that their 5-10 record in Big 12 play isn't good, but I will tell you something. Head Coach Mitch Thompson is getting a lot out of this team. No, they aren't very good, but they are fighters. They beat Kansas State to open conference play and then struggled against Kanas and Oklahoma State before taking down Oklahoma. However, they looked extremely competitive against Texas and nearly took the series. Kolby Branch and Hunter Teplanszky have been bright spots who continue to come up big in key moments. The problem for them is that they don't have any pitching.
6. Kansas State (Big 12 Record: 9-6)
Kansas State is one of only two Big 12 teams that have a winning percentage at .600 or above in conference play. They have just three series left but they certainly have their work cut out for them as they will face TCU, Oklahoma State, and Texas Tech over the next few weeks. I really like some of the bats in this lineup with Roberto Pena, Brady Day, Nick Goodwin, and Cash Rugely. They rely a lot on the long ball as they are second in the Big 12 in home runs. But much like some of these other teams, their pitching leaves a lot to be desired.
5. West Virginia (Big 12 Record: 5-4)
I know this team is coming off a big series win in Stillwater, but their schedule picks up big time over the next few weeks. West Virginia still has TCU, Texas Tech, and Texas left on their schedule along with a scrappy Baylor team in Waco. With that said, this team still has a chance to prove itself over the next couple of weeks. Blaine Traxel and Ben Hampton are one of the best pitching duos in the conference and JJ Wetherholt looks like one of the best hitters in all of college baseball. Plus, he has some help with Caleb McNeely, Tevin Tucker, and Landon Wallace.
4. TCU (Big 12 Record: 7-5)
Make no mistake about it, this team has plenty of talent to make a run, but they haven't been consistent enough for me to put them any higher on this list. Anthony Silva has been great offensively for TCU and so has Cole Fontenelle. Even Brayden Taylor has had some great moments this year as he leads the team with 13 home runs. When you combine their talent on offense with pitchers Cam Brown and Kole Klecker then this team could be dangerous. The problem is that this team has yet to really put it all together, but the good news is that the schedule gets lighter from here on out.
3. Texas Tech (Big 12 Record: 6-6)
The only reason that I am high on Texas Tech is because of their offense. Their pitching has been questionable at best but their bats more than make up for it. Gavin Kash is one of the best hitters in college baseball and the Red Raiders have four other guys in their lineup batting over the .320 mark. If they can get better on the mound, then Texas Tech may be good enough to get to Omaha.
2. Oklahoma State (Big 12 Record: 8-7)
Much like Texas Tech, Oklahoma State has the offense to compete with anybody in the country. Carson Benge, Roc Roggio, Nolan Schubart, and David Mendham are excellent hitters that can keep this team in any game. But the pitching has been a bit of a concern for a while now. Juaron Watts-Brown and Isaac Stebens have been their go-to guys on the mound but the injury to Nolan McLean really hurt this pitching staff. However, I do like Oklahoma State's pitching more than I like Texas Tech's. I wouldn't be surprised to see this team host a regional.
1. Texas (Big 12 Record: 8-4)
I must admit that I had my doubts about this team early in the season, but it seems like the Longhorns are finally hitting their stride. The trio of Peyton Powell, Porter Brown, and Eric Kennedy at the plate has been big for this team. Even Dylan Campbell and Garret Guillemette have been hitting well as of late too. But the reason I really like this team is because of their pitching to go along with their offense. Lucas Gordon looks like the best pitcher in the Big 12 and Lebarron Johnson Jr. has been a key player for them as well. Texas has several solid arms in their bullpen which makes me feel great when it comes to the postseason. Right now, I believe that Texas is the best team in the Big 12.