Kansas Jayhawks
Barstool Sports: Lance Leipold 'One of the Top 10 Coaches in the Country'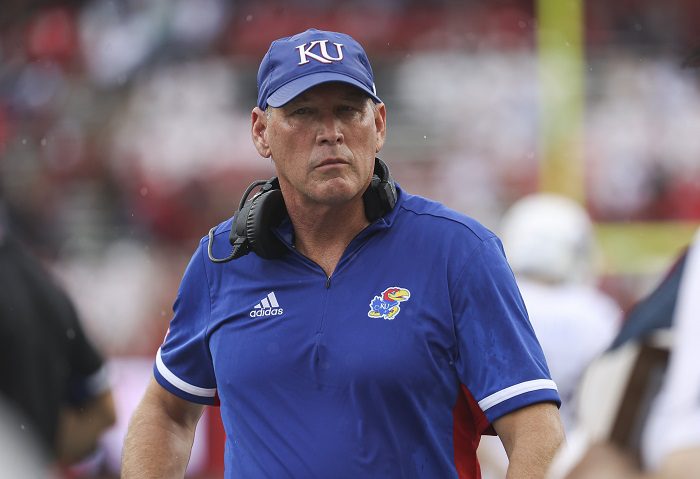 Kansas football is on the rise after a 6-7 season in 2022 and the Jayhawks are hoping to build upon that success going forward in 2023. Hope is abound in Lawrence, Kansas, and that is thanks, in majority, to head coach Lance Leipold.
Leipold inherited a program that hadn't been to a bowl game in well over a decade, and one that had all kinds of internal and external factors that kept it from rising from the ashes for many years. However, Leipold didn't fail as his predecessors did. No, instead he tightened his chinstrap and ran through the glass ceiling that had been placed above the Jayhawks for so long, and finally shook the rust off a program that had been dormant for years.
For his success in year two, Leipold was in the discussion for all kinds of "Coach of the Year" honors, and if it weren't for Sonny Dykes' amazing run with TCU, he might have wons a few of them. However, people haven't forgotten what Leipold did in 2022, or the weight of his success.
Recently, the Unnecessary Roughness Podcast, an affiliate of Barstool Sports, discussed what Leipold did in 2022 and even went as far as to call him one of the best coaches in America. Take a listen.
"Lance Leipold has not won a national championship (in D-I football)," Brandon Walker started. "He has not won a Big 12 Championship. What'd he go, 6-6 last year? Ended up going 6-7. He did that at Kansas. He is a fantastic coach.
"He has changed everything about that program in a little bit of time. He got to a program that was not only dead, they were below dead. They weren't six feet under, they were 60 feet under. They hadn't won more than three games in a decade and he walks out there and he beats Texas in year one. He's competing with everybody in year two, he's beating teams in year two.
"He is a good coach. I think he's one of the top ten coaches in the country."
If Kansas can build on last year's success and finish 2023 with a winning record, I'm not sure that Leipold will be around in Lawrence anymore. If that happens, we're talking about a turnaround that can only be likened to what Bill Snyder did 85 miles east of Lawrence. That's high praise, but it would be an incredible moment for the Jayhawks, and I would venture to say that the success would be worth the wait.