Baylor Bears
Big 12 Baseball Weekend Preview and Picks: A Showdown in Morgantown Awaits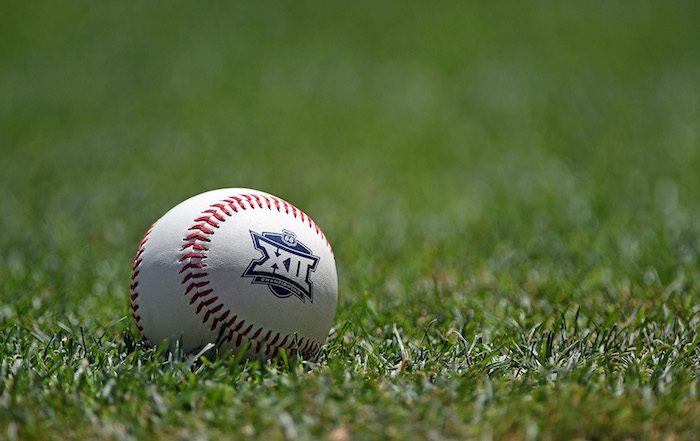 Big 12 baseball is officially in full swing as we are starting to get a feel for how the conference hierarchy is going to play out this season.
It felt like just yesterday that opening weekend was here and now we are entering the sixth weekend of conference play.
Let's take a look at the upcoming weekend for Big 12 baseball.
Oklahoma at #14 Texas
I know this is a big rivalry, but I am not so sure Oklahoma fans will like the results from this series. The Sooners are currently in last place in the Big 12 and I have a tough time seeing them climb out of the cellar here. Antony Mackenzie has been solid for this team and Bryce Madron is starting to get hot at the plate too, but their pitching has been questionable at best. Keep an eye on Braden Carmichael because he looks like a guy who is starting to find his groove on the mound which is something the Sooners desperately need.
As for Texas, this team is going in a completely different direction than their rivals from the north. The trio of Peyton Powell, Porter Brown, and Eric Kennedy at the plate has been big for this team. Even Dylan Campbell and Garret Guillemette have been hitting well as of late too. Plus, Lucas Gordon looks like the best pitcher in the Big 12 and he's got some help around him as well.
My Pick: Texas
Baylor at #16 Texas Tech
I know Baylor doesn't have the best record on paper, but they are a scrappy team. They beat Kansas State to open conference play and then struggled against Kanas and Oklahoma State before taking down Oklahoma. However, they looked extremely competitive against Texas and nearly took the series. Kolby Branch and Hunter Teplanszky have been the leaders for them but there is one problem. They have no reliable pitching.
The same can be said for Texas Tech but there is one key difference. The Red Raiders have much more firepower on offense. Gavin Kash is one of the best hitters in college baseball and this lineup has four other guys over the .320 mark as well with Austin Green, Gage Harrelson, Kevin Bazzell, and Nolen Hester. I will take Tech's offense to win this series.
My Pick: Texas Tech
TCU at West Virginia
If you can only watch one series in the Big 12 this weekend, then look no further because this one is it. TCU has been one of the toughest teams in the conference to figure out because they are wildly inconsistent from week to week. They were dominated by UNC Wilmington at home as both Cam Brown and Kole Klecker struggled on the mound. Although they need some bounce-back performances with their starting rotation, Anthony Silva and Cole Fontenelle have been big offensively for this team and Brayden Taylor has some pop in his bat as well. I am just waiting for this team to finally put it all together because they have the talent to compete with anybody in the nation.
While TCU struggled last weekend, West Virginia went on the road and took a series from Oklahoma State. Blaine Traxel and Ben Hampton are one of the best pitching duos in the conference and JJ Wetherholt looks like one of the best hitters in all of college baseball. Outside of JJ, this team also has Caleb McNeely, Tevin Tucker, and Landon Wallace who have all been key contributors this season. This is a huge series for both teams, but I am going to go with West Virginia at home here. I trust this team a little more right now than TCU.
My Pick: West Virginia
Oklahoma State at Kansas
Kansas was a great story earlier in the season, but that time is over. While the Jayhawks have a bit of power in the lineup with Janson Reeder, Jake English, and Cole Elvis the pitching just isn't there for me to take them seriously as a Big 12 contender. This should be a series Oklahoma State dominates because they have the bats to really pile on the runs. Carson Benge, Roc Roggio, Nolan Schubart, and David Mendham are excellent at the plate, and they also have a little help from Juaron Watts-Brown and Isaac Stebens on the mound. Don't be shocked to see a sweep here.
My Pick: Oklahoma State
Kansas State at UC Irvine
The Wildcats are taking a break from Big 12 action, but they have a big trip ahead of them as they head out to California to take on UC Irvine. The Anteaters are an interesting team. They don't really scare you with their offense or their pitching because they are average in both of those areas. However, they are first in the Big West when it comes to on-base percentage, so you know they are making every at-bat count. UC Irvine beat UC Santa Barbara in a three-game series last weekend and put a beatdown on a top-25 UCLA team on Tuesday.
Pitching will be key for Kansas State because their starters haven't been that great over the last few outings. Their ace Owen Boerema has struggled as of late which means Kansas State will need some other guys to step up. The good news for the Wildcats is that they have some power in their lineup with Roberto Pena, Brady Day, Nick Goodwin, and Cash Rugely. They rely a lot on the long ball as they are second in the Big 12 in home runs. Both of these teams are playing well right now and I am a bit torn here. With that said, I am going to show some Big 12 bias here and take Kansas State.
My Pick: Kansas State