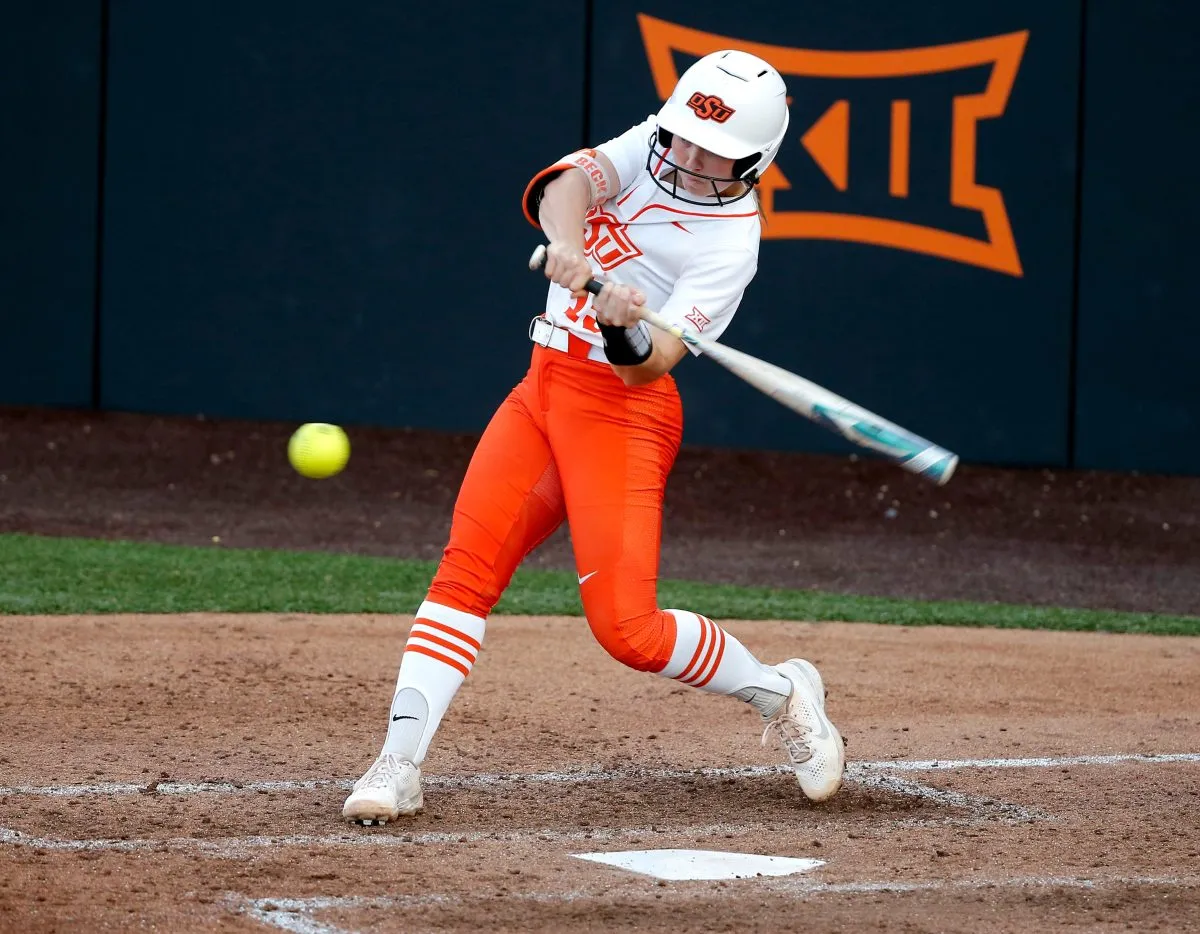 Week 11 of the 2023 college softball season is here and the Big 12 race is heading into the final stretch as there are just three weekends of action left before its tournament time.
Oklahoma (39-1, 9-0) and Oklahoma State (39-5, 8-1) are well ahead of the pack right now, but Texas (36-9-1, 8-4) is still within striking distance of grabbing second place.
There are three critical series this weekend in terms of Big 12 tournament seeding, with two series being matchups between ranked opponents.
With that in mind, here are the three Big 12 softball series of the weekend, ranked.
DATE: APRIL 21-23 | TIME: 5 PM, 2 PM, 12 PM | LOCATION: LAWRENCE, KS | TV: ESPN+
This series doesn't have the hype that the others do, but it is equally as important when it comes to Big 12 tournament seeding. The Red Raiders are currently 3-9 in conference play and 1.5 games ahead of the Jayhawks in Big 12 play. If TTU can win this series, it would keep them with at least a game and a half lead on KU and ahead of Iowa State, who is 2-10 in Big 12 play. However, if Kansas can take two of three games, it would mathematically have a one-game lead on the Red Raiders with two series left to play.
An interesting note on this game is that one of these teams is close to being on the NCAA Tournament bubble, and it's likely not the one you would think. Kansas currently sits at 56th in the RPI, while Texas Tech comes in at No. 70. If KU could've won Game 1 against Oklahoma State and taken the series from Texas, we'd likely be looking at a fringe tournament team in Kansas, which is astounding.
DATE: APRIL 21-23 | TIME: 6:30 PM, 2 PM, 1 PM | LOCATION: WACO, TX | TV: ESPN+
The Oklahoma Sooners have lost one game all season long, and it was all the way back on February 19 in Waco, Texas, when the Bears triumphed in a nonconference tournament game, 4-3. Since then, Oklahoma has won 31-straight contests and has been the most dominant team in softball. The Sooners have had this trip to Waco circled on their calendars for just about two months, but they'd better expect a dogfight again in Waco.
Baylor went into Knoxville and swept Tennessee a couple of weeks ago and has been terrific at home in 2023, posting a 21-3 record inside Getterman Stadium. Oklahoma's bats have been hot, and the Bears just gave up 26 runs to Texas Tech last weekend. There might be some fireworks in Waco this weekend, and it will definitely have the feel of postseason softball with two teams of this caliber.
DATE: APRIL 20-22 | TIME: 8 PM, 4:30 PM, 12 PM | LOCATION: AUSTIN, TX | TV: ESPN2, LHN
The biggest series in the country this weekend is taking place in Austin (TX), as the seventh-ranked Longhorns play host to the No. 3 Oklahoma State Cowgirls. OSU enters this series on a two-game skid, their first of the 2023 season. Kelly Maxwell and the pitching staff have been strong, but the Cowgirls bats have gone cold as of late. That's not something that can continue of they want to win a vital series against UT this weekend. Texas' lineup ranks sixth nationally in batting average (.338) and 13th in scoring (6.63) and is capable of pouring it on if Oklahoma State can't get it going again offensively.
The good news for the Cowgirls is they have the mental aspect of this matchup on lockdown. Texas hasn't beaten Oklahoma State in a regular season series since 2016, and this might be the best team they've had since then. If Kenny Gajewski's squad can get just a little bit of life from their lineup this weekend, OSU is good enough to win this series and inch even closer to hosting through super regionals in the tournament next month.