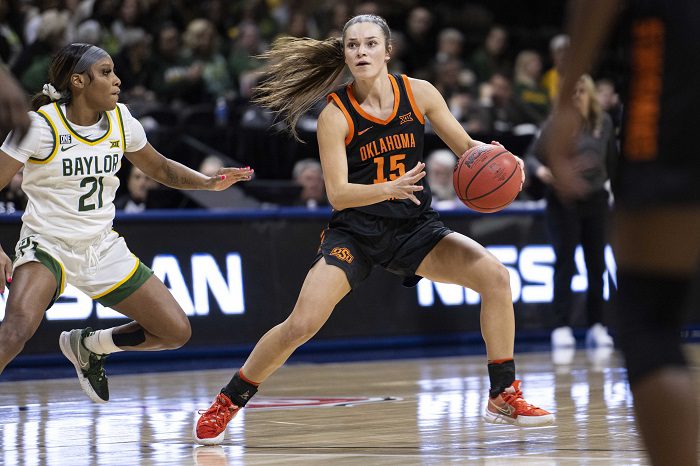 The Oklahoma Sooners have officially signed Oklahoma State transfer guard Lexy Keys, head coach Jennie Baranczyk announced Thursday afternoon.
"We're ecstatic to add Lexy to our Oklahoma family," Baranczyk said. "Any time we get the opportunity to add one of the top players from Oklahoma, we want to do that. She's a tremendous player and competitor on both sides of the floor, and we know Sooner Nation is going to love cheering her on."
Keys arrives after having started all 32 games for the Cowgirls this past season and averaging 9.4 points, 3.5 rebounds and 1.9 assists per game. She logged a team-high 31.5 minutes per contest and shot it 36.3% from the field, including 31.5% from 3-point range.
Over the course of her two-year career in Stillwater, Keys averaged 9.0 points, 2.9 rebounds and 2.0 assists per game. She's hit 33.8% of her attempts from the floor and 31.3% from beyond the arc.
She recently revealed her transfer to Baranczyk's squad just more than a week ago on Twitter.
"God's the Author of my story….here's to a new chapter!" Keys exclaimed in her tweet.
Keys brings with her multiple years of eligibility still remaining. And she'll step into a roster that's now without the services of the NCAA all-time 3-point leader in Taylor Robertson, as well as guard Madi Williams, just drafted Monday evening by the Seattle Storm, and Ana Llanusa.
Oklahoma finished with a 26-7 overall record during the 2022-23 season, including a 14-4 mark in Big 12 play. As for Keys' former team, Oklahoma State finished with a 21-12 record, including a 10-0 mark in league play.