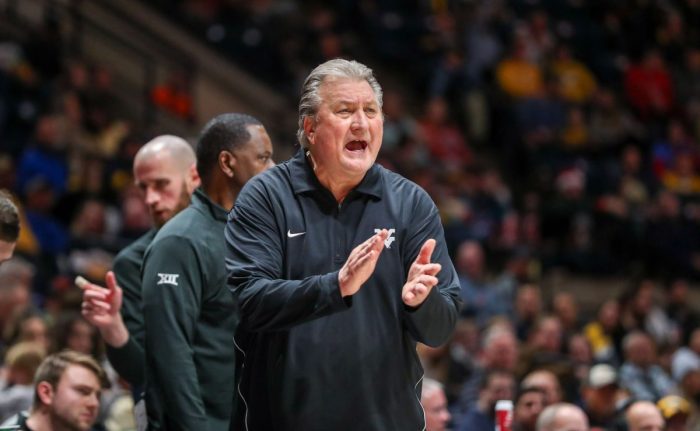 West Virginia's 2023-24 men's basketball non-conference schedule is out, as the Mountaineers' Department of Intercollegiate Athletics announced it Thursday. It'll feature nine games at West Virginia University Coliseum, starting with a Nov. 6 season opener against Missouri State.
Monmouth is then set to visit the Coliseum for the second time and first since 2014 when it comes to town on Nov. 10. The Mountaineers are 2-0 all-time against Monmouth.
They close out an three-game opening homestand against Jacksonville State on Nov. 14.
West Virginia hits the road for the first time in the Fort Myers Tip-Off in Fort Myers, Fla., on Nov. 20 and Nov. 22. It'll be joined by Virginia, Wisconsin and SMU in the two-game event. Matchups will be determined later on down the line.
The Mountaineers then embark upon a four-game homestand, beginning on Nov. 26 against Bellarmine. In the lone meeting between the two, they defeated Bellarmine 74-55 on Nov. 30, 2021.
On Dec. 1, they host St. John's in the BIG EAST-Big 12 Battle. This will mark the 39th time the two former Big East participants meet each other.
After that, the Mountaineers host Pittsburgh for the Backyard Brawl on Dec. 6. In a rivalry in which West Virginia has claimed six straight, this serves as the 190th overall meeting.
Drexel is the fourth and final foe in this stretch on Dec. 9. The Dragons will arrive in Morgantown for the second time and first since 1980, an 89-62 West Virginia victory.
From there, the Mountaineers square off against former Atlantic 10 rival Massachusetts in Springfield, Mass., on Dec. 16 as part of the Basketball Hall of Fame Classic. The two programs will match up for the first time since the 2007 NIT, but the 42nd time in school history.
Former Mountaineer great Darris Nichols brings his Radford Highlanders to the Coliseum on Dec. 20. The 'Eers hold a 7-0 series lead in that series.
West Virginia and Toledo are set to meet for the first time since 1942 on Dec. 23. It'll become Toledo's first visit to Morgantown.
Finally, the Mountaineers close out non-conference play against Ohio State on Dec. 30 in Cleveland. The two teams last met back on Dec. 29, 2019, also in Cleveland, with West Virginia taking down the then-No. 2-ranked Buckeyes 67-59.
Additionally, the Mountaineers will play one exhibition game, to be announced this summer.