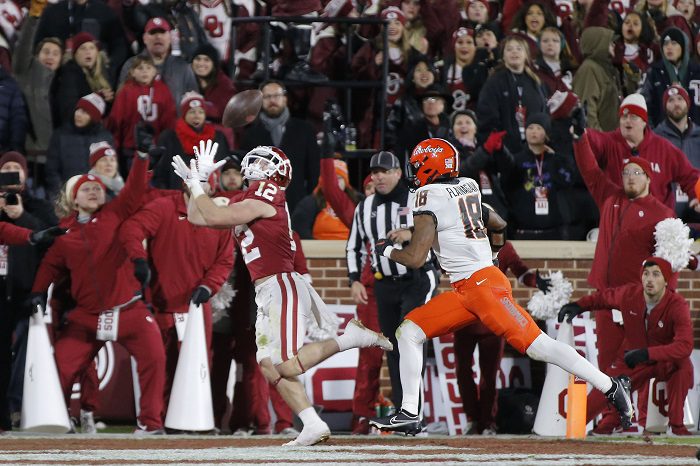 The Oklahoma Sooners are set to take the field for their annual Red-White Spring Game Saturday, as the viewing public will get its first look at Brent Venables' second team for the first time. With that in mind, here are three things to keep an eye on.
Has the defense taken a step from year one to early year two?
Brent Venables' defense is complex. There's no doubt about it. Because of that, the install takes multiple seasons. The install requires putting everything in place and getting the right personnel to utilize the system. The Sooners are now a year down the line in both of those regards, and it's expected they'll make a jump from the first season to the second. This is a chance for that unit, at all three levels, to show that indeed has happened.
How good is Jackson Arnold going to look?
There's been plenty of discussion about No. 10 since he arrived on campus a few months ago. And Sooner Nation is about to see him on full display for the first time. Arnold brought with him from Denton (Texas) Guyer the nation's No. 8 overall ranking, No. 8 ranking at quarterback and No. 4 mark in the Lone Star State, with a five-star and 0.9963 rating, according to the industry-generated 247Sports Composite. He threw for more than 7,000 passing yards and 67 touchdowns to only eight interceptions while going 28-3 in two seasons as a starter. He also added 1,580 rushing yards and 36 scores on the ground during that pair of campaigns. Some have suggested he could step in and challenge Dillon Gabriel right away. It's less about that, honestly though, and more about just how he settles in and debuts in front of a huge crowd in Norman.
Where does the wide receiver group stand?
Oklahoma's leading returning receiver finished with all of 461 yards last season. That's Jalil Farooq, who did haul in five touchdowns. However, the team is without 1,000-yard pass catcher Marvin Mims, who is on to the NFL Draft. Gone, too, is Theo Wease, who recorded 19 catches for 378 yards and four scores. So, there's plenty of uncertainty surrounding this group and what it might produce in 2023. The talent certainly seems to be there, featuring the likes of proven veteran Drake Stoops, along with Jayden Gibson, Nic Anderson, LV Bunkley-Shelton and J.J. Hester, among others. But it's an unproven unit, which begs the question who will step up?
Kickoff for the event is set for 2:30 p.m. CT. It'll also feature a Kyler Murray Heisman Trophy ceremony, so make sure and stay tuned right here for coverage of that, as well as everything else around the Big 12.