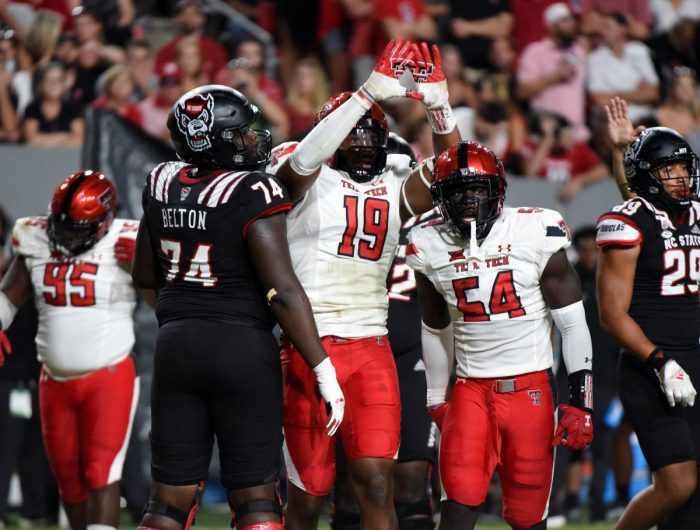 Texas Tech defensive end Tyree Wilson is creeping up the mock draft boards and is in position to be one of, if not the top defensive player taken in the 2023 NFL Draft next week.
The former Red Raider has all the intangibles to be an elite pass rusher at the next level, and his 32 tackles for loss and 17 career sacks help attribute to that point.
Recently, Wilson did an interview with The Jim Rome Show and was asked a few questions ahead of the biggest week of his life.
One of the questions that Wilson faced was if he emulates his game after any current NFL players, and he listed off several of the game's top pass rushers.
"I just look at a lot of great pass rushers like Myles Garrett and Von Miller," Wilson says. "The Bosa brothers, J.J. Watt, Demarcus Lawrence, dudes that I can use their moves to better my moves."
It's likely not a coincidence that Wilson named off two former Texas A&M Aggies first, as he landed in College Station out of high school before making the transition to Texas Tech.
Miller (33 sacks) and Garrett (32.5 sacks) rank fifth and sixth all-time in Texas A&M history, but have made names for themselves as pass rushers in the league. Miller leads all active players with 123.5 sacks in the NFL, ranking 19th all-time. Garrett, in five seasons, has 74.5 sacks and ranks 88th all-time.
When Wilson is drafted though, it will be out of Texas Tech, and with that he hopes to pave the way as the best pass-rusher to ever come out of Lubbock.
Rome asked what it was about Texas Tech that made Wilson decide that Lubbock was a better opportunity for him as a place to finish his career, rather than sticking around in College Station.
"Really, just the relationships I built in the transfer portal," Wilson said. "It was during COVID so relationships and being able to trust the coaches was big. I came here and they helped develop me and took me to another level and the rest is history."
As a projected top-five pick, Wilson is well on his way to being a trailblazer for Texas Tech in the NFL, who has been known for its offensive prowess for years with names like Patrick Mahomes and Kliff Kingsbury. Now, Wilson hopes that he can be the best defensive player out of Texas Tech since Zach Thomas dominated backfields in the early 2000's.
The 2023 NFL Draft is set for Thursday, April 27 through Saturday, April 29, with Kansas City serving as the host city for the event.
Click HERE for the full interview with The Jim Rome Show.