Football
Colorado Spring Game Another Sign This Program Belongs Back in the Big 12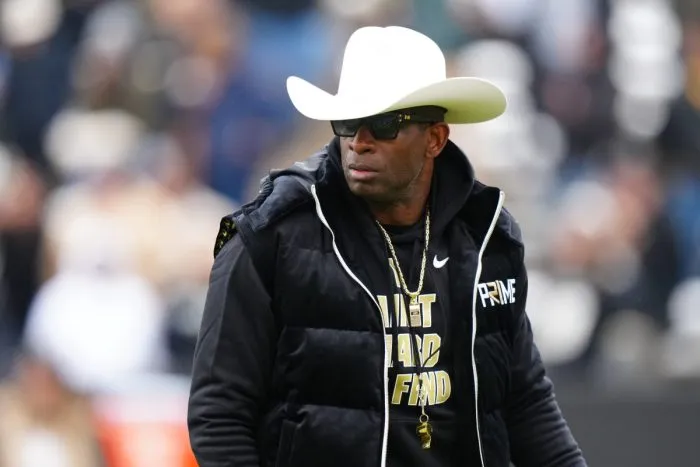 There's no guarantee that the Colorado football program is destined for greatness under Deion Sanders. But it's indisputable that the program will be entertaining as ever to follow under Coach Prime. And Saturday's spring game, which was broadcast on ESPN (the only college football program to do that), was another sign that this football program is in a position its never been in its history.
The entire event was another sign that this program belongs in the conference that is the most creative, innovative and entertaining conference in the country right now: The Big 12 Conference.
And incase you need visual evidence of the hype this program is receiving, check out the fan support of this team from its 2022 spring game vs. the 2023 spring game on Saturday.
Now we've seen Deion Sanders win at Jackson State (27-6, 19-2 in conference), an HBCU, with far superior talent to his competition. How will he do in a Power 5 Conference when his talent gap isn't nearly as wide? I have absolutely no idea. And I'm not going to pretend I have a clue.
But I know it's going to be filled with entertainment, by a guy who is, and always has been dating back to his playing days in college and the NFL, a showman.
Here's a reminder of just that on Saturday.
Now, I have never been a believer in adding a new conference member because of a head coach. In fact, that's one of the reasons I'm leery of adding Gonzaga in basketball.
But Colorado makes sense for the Big 12, regardless of Prime Time. However, having Coach Prime in the mix only makes the pairing that much more obvious for all parties involved.
Colorado has been the "team to watch" for weeks in possible Big 12 expansion. Of course, there's been no movement, and there may never be.
But if Colorado wants to make sure its protected as part of a legitimate Power Conference for years to come, they would be wise to jump ship first, just like they did from the Big 12 to the Pac-12 over a decade ago. No one is going to save them, if the ship ultimately does sink.
And plus, the conference the Buffaloes would theoretically be joining is one they know well, fit into with old rivalries, while exploring new ones (BYU-Colorado comes to mind).
The league is led by a visionary in Brett Yormark who will do everything in his power to promote Deion Sanders and this football program in a way the Pac-12 couldn't even begin to comprehend. The Brett Yormark-led Big 12 is the absolutely perfect opportunity and fit for what Deion Sanders is looking to do with Colorado football. This pairing, from a marketing and promotional perspective, has the potential the lift the Big 12 in unforeseen ways. I believe the Big 12 understands this, and has obvious interest, but is Colorado going to understand this as well before it's too late?
Let's hope not. Everyone has a chance to win, and win big, if these pieces fall into place. And they should, sooner than later.