Big 12 News
Texas Secures Super Sized Sweep over Oklahoma State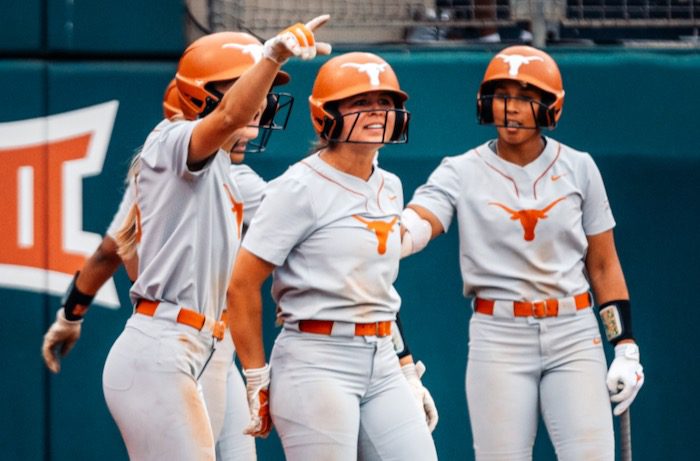 The seventh-ranked Texas Longhorns made a serious statement towards hoping a Super Regional with what they did this weekend. They finished off a three-game sweep of the third-ranked Oklahoma State Cowgirls and moved into second place alone in the Big 12 Conference standings with a 5-2 victory in the second half of a doubleheader Saturday afternoon at Red and Charline McCombs Field.
It's their first series sweep over the Cowgirls since 2016. Earlier in the day, they earned their first series win over the Cowgirls since that same year.
"I'm exhausted, so I don't know how the players feel because these doubleheaders and high-pressure situations are tough," said Texas head coach Mike White. "But I feel really good, really proud of this team for the way they battled this weekend. I thought the pitching staff did an outstanding job against a phenomenal offensive team. Their [offensive] numbers are crazy and Rachel Becker should be an All-American this season the way she swings the bat. She was a tough out the whole weekend, but our kids just stuck to their guns. We got down in the first game and found a way to come back to get the win and that was so phenomenal."
Texas (39-9-1, 11-4 Big 12) struck first in the bottom of the second, as Ashton Maloney singled up the middle to bring home catcher Katie Cimusz. It doubled the lead in the third on center fielder Mia Scott's RBI single to right.
In the fifth, the Longhorns added three more. Second baseman Leighann Goode ripped a two-run single to right, and an error allowed another runner to race home.
Oklahoma State (39-8, 8-4 Big 12) got two back in the top of the fifth courtesy of an error by Texas third baseman Camille Corona, but it was still too little too late.
Estelle Czech picked up the win for the Longhorns, tossing 5.1 innings with two runs, but none earned, on five hits and three walks. She struck out five.
Kyra Aycock suffered the loss for Oklahoma State while allowing five runs, four earned, on eight hits and a walk. She fanned a pair.
Earlier on in the day, catcher Reese Atwood led the Longhorns to a second straight walk-off over Oklahoma State. Atwood ripped a three-run, walk-off homer in the bottom of the seventh for a 3-2 victory Saturday afternoon.
And with that, the Cowgirls lost four games in a row in the final inning. That included three in extras and a seven-inning decision in which they carried a two-run lead into the last frame.
Oklahoma State ace Kelly Maxwell carried a no-hitter into the bottom of the seventh and seemed to be poised to put an end to it easily and send the two to a rubber match. But Texas had other ideas. Scott led off with a single, then Goode singled with one out. That set the stage for Atwood's consecutive days of heroics after she recorded a walk-off single less than 24 hours earlier.
The Cowgirls took a 1-0 lead in the top of the third when right fielder Katelynn Carwile singled home left fielder Tallen Edwards. Given Maxwell's dominance, they went up by a seemingly insurmountable 2-0 count in the sixth on an RBI double by catcher Taylor Tuck.
However, that was clearly not the case. Maxwell suffered the loss despite being so strong throughout, eventually permitting three earned runs on three hits and a walk. She struck out nine Texas hitters. Sophia Simpson earned the win in relief while throwing a scoreless seventh. Starter Citlaly Gutierrez lasted six innings and gave up two earned runs on six hits and three walks, fanning three.