Big 12 News
Dylan Disu Returning to Texas for Final Season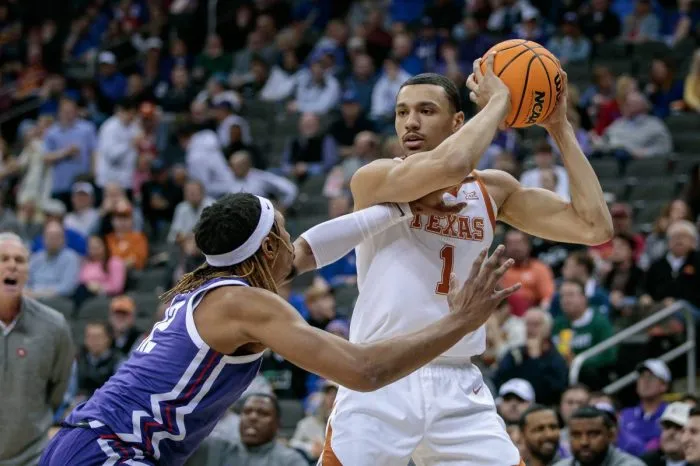 Texas forward Dylan Disu announced his return for his additional year of eligibility Sunday afternoon, providing a huge jolt for the Longhorns in the 2023-24 season.
"The show goes on!" Disu said in a post on social media.
If it weren't for a foot injury he re-aggravated just 90 seconds into the Sweet 16 game against Xavier, Disu just might have helped carry the Longhorns to the Final Four. He had really come alive the past few weeks down the stretch, averaging 22.5 points and 10 rebounds per game in the first two rounds of the NCAA Tournament, while shooting 71% from the floor.
In the win over Penn State in the Round of 32, he put together his best game of the season, scoring 28 points and grabbing 10 rebounds. He set the Texas NCAA Tournament record for most field goals made in a game (14), topping Kevin Durant.
That was part of a stretch of five postseason games, three of those in the Big 12 Tournament Championship run, where he poured in a team-best 17.8 points to go along with a team-high 9.0 rebounds in 25.8 minutes per contest. During those five outings, he knocked down 72.2% from the field and 84.6% from the free throw line.
Altogether, Disu played in all 38 games, with 36 starts, and led the team and ranked second in the Big 12 with 46 blocks. His rebounding average of 4.4 per game ranked second for Texas, while his 8.8 points per game stood fifth.
Throughout his career, which has included stops at both Vanderbilt and Texas, he's played in 111 total games, 84 of those starts. He has posted career totals of 908 points (8.2 ppg), 579 rebounds (5.2 rpg) and 118 blocked shots (1.1 bpg) in 2,370 minutes played (21.3 mpg).