Big 12 News
Neal Brown Non-Committal on WVU Quarterback Situation After Spring Game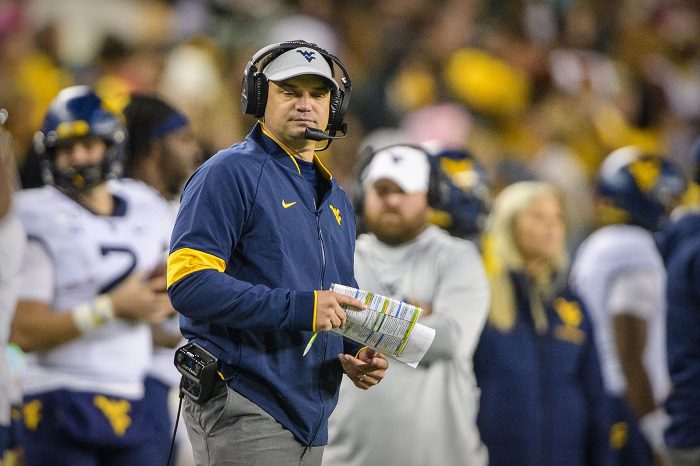 While West Virginia's spring game was mostly for the fans to get excited about the future of Mountaineer football, some actual areas of focus were highlighted in between field goal contests and pass blocking drills.
In the ongoing quarterback battle at West Virginia between Garrett Greene and Nicco Marchiol, both players had decent days in the eyes of head coach Neal Brown, despite Greene outplaying Marchiol on the stat sheet.
Brown did mention that, while Greene won the day, he is still not putting all of his eggs in one basket, as there is still a lot of plays yet to be seen from his quarterbacks.
Brown praised Marchiol to members of the media by saying, "I thought Nicco threw two really nice deep balls and our receivers did not play the ball very well, but without having the chance to watch it's hard to tell. I thought they protected Garrett a little better, which was unfortunate for Nicco, but this is going to be the long game, regardless of what happens today or the first 14 practices."
Greene led the day with a little bit of everything. Greene went 8-for-11, throwing for 156 yards and a score, as well as a 40-yard TD catch on a trick play. He also added another touchdown pass to a young fan participating in on field games and activities. Marchiol, on the other hand, struggled while going 6-for-12 for just 58 yards. And while this may mean a lot for some fans, it didn't show much to Brown.
The Mountaineers quarterback battle is going to be one to keep an eye on this offseason as the two continue to clash. West Virginia kicks off their season on September 2 against Penn State, and Big 12 play on September 23 against the Texas Tech Red Raiders.