Baylor Bears
Postscripts: Pac-12's Quiet Week, Changes Needed for Big 12 Baseball and Softball Trash Talk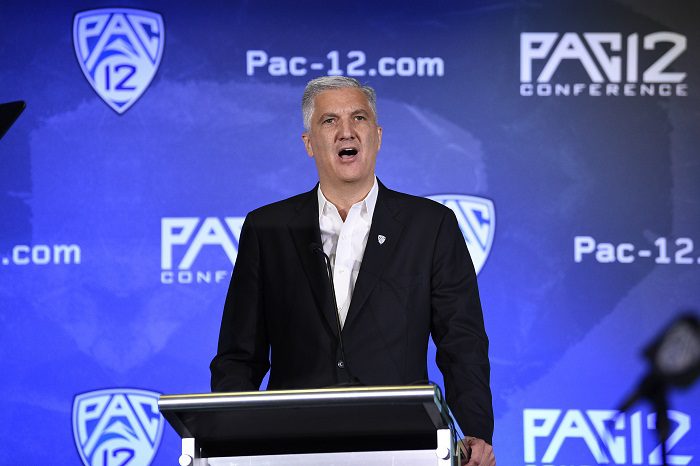 What's going on in the Big 12 and beyond? I expand and explain every Sunday in Postscripts at Heartland College Sports, your home for independent Big 12 coverage.
This week, softball has bulletin board materials, Pac-12 media rights goes nearly radio silent and I say it's time for the Big 12 baseball tournament to make a change.
Check The Bulletin Board on Your Way Out
There are rules to trash talk. One is, when you win you get to talk. So Baylor softball player Ana Watson leaned into that as the Bears were preparing to face the No. 1 Oklahoma Sooners this weekend.
"It gives us a cool little leg up this time," Watson told KCEN6 News. "We're 1-0, so I think they're the ones that are a little intimidated at this point."
If you know anything about college softball, Watson's comment sounds borderline absurd. Not Dillon Brooks poking LeBron James to the point of bruising absurd, but absurd nonetheless. You don't poke the Bear, so to speak. And there isn't much to poke Oklahoma about.
Oklahoma has lost eight games since the start of the 2021 season. The Sooners have won two national titles in a row. They've not invincible, but they're darned close. Coach Patty Gasso's machine doesn't need extra fuel.
So then why did Watson get to talk before the game? Because Baylor handed the Sooners their one loss this season, a 4-3 non-conference meeting in February at Baylor's Getterman Classic. It was the rare non-conference matchup between conference rivals. Programs actively try to avoid that.
So, yes, Watson gets to talk that talk. Those are the rules. And when Oklahoma beat Baylor, 7-0, on Friday, then Watson doesn't get to talk anymore. And then, there was the sweep, which was completed on Saturday.
For the record, Baylor is a Top 25 softball program. While our Bryan Clinton and Joey Helmer don't have the Bears in our latest Women's College World Series projections, there is no question the Bears can make a run.
Perhaps the Bears should let their play do the talking moving forward?
This Week in "As The Pac-12 Turns"
So Monday's special meeting of the Colorado Board of Regents came with no news. That was to be expected. Executive session meetings like that don't have public minutes or public comment. We know the meeting is about getting legal advice on an athletics matters. You'll just have to let your imagination run wild, I suppose.
This week was oddly quiet on the Pac-12 front. No comments from school presidents, few updated reports about negotiations and the like. But news could be coming next month, but it might not be the news everyone is hoping for.
Most conferences have an end-of-year meeting, typically either in late May or early June. Historically the Big 12 has its meeting in late May. This meeting is important for several reasons, but one of the key pieces of information is a rough idea of the team payouts from revenue sharing for the athletic year. In this case, it would be the 2022-23 athletic year.
That number typically isn't final, but it's close and a good barometer for what each team will receive.
For example, Big 12 programs received $42.6 million in revenue sharing for the 2021-22 athletic year. Much of that comes from the current media rights deal.
As for the Pac-12, well, we don't know how they did in 2021-22 because it hasn't released those numbers. Based on previous reporting, that should happen in May. It doesn't look like the Pac-12 releases an estimate like the Big 12 does. It waits until well after the end of the fiscal year. So if we don't see the Pac-12's number for 2022-23 next month, I wouldn't read anything into that.
One thing I believe is that the Big 12's number will go up a little bit. It's not because of basketball. It's because of TCU's football team reaching the CFP Championship Game. The Big 12 gets a $6 million bonus for that, along with its base payout of $74 million.
Expect the Big 12 to have a healthy financial report next month. As for the Pac-12, it will be interesting to see their 2021-22 financials and see if we can get any clarity around their 2022-23 financials.
How much of that plays a role in whether the Pac-12 holds it together or not is anyone's guess.
On Friday, Jim Williams, whom I've written about here before ( a former Emmy winning sports producer who still consults) had this to Tweet.
He went on to explain that Apple would still look for a linear partner (like an ESPN or FOX) to broadcast games, much like what it does with MLS. It sounds like sub-letting an apartment, honestly. But if the Pac-12 still gets money and exposure, does it really matter at this point?
Time for Big 12 Baseball to 'Bag the Double'
I've been planning my spring and summer in terms of coverage for Big 12 events (heck, fall too — coming to see you for that Big 12 football opener, BYU). As I compared the Big 12 softball and baseball tournaments, I was struck by something.
The Big 12 softball tournament is three days and single-elimination. The Big 12 baseball tournament is five days and double-elimination.
I covered the baseball tournament last year. Personally, I'm not a fan of double-elimination tournaments. Once you get past the openers for each team, the schedule can get wonky, games can drag on and pitching staffs can empty. It would be one thing if this was the end of the season for all teams. But it's not. There's still the NCAA Tournament. It's not like it's the World Series.
I think the Big 12 should move to a single-elimination baseball tournament. There are scheduling benefits for players and fans. But it would also help coaches manage pitching staffs with a bit more certainty. We're in the era of player safety and managing pitcher load. I saw some teams last year burn their bullpen just to win an extra game that, frankly, they didn't need to win. Some pitchers were totally overmatched. It was unnecessary and in some ways unsafe, especially for those players with Major League futures.
The basketball and softball tournaments are single-elimination and work just fine. It's for baseball to bag the double and get with that program.
You can find Matthew Postins on Twitter @PostinsPostcard