Trending Now
Recruits Rave About Colorado Football Following Spring Game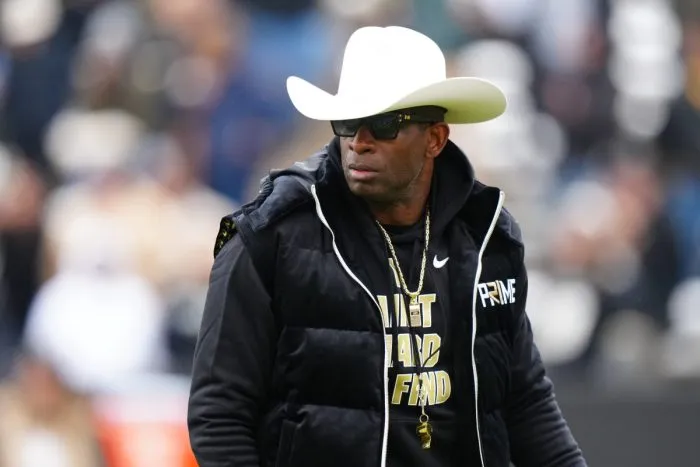 To say business is booming in Boulder is an understatement at this point. After bringing in head coach Deion Sanders to lead the football team through the rebuilding process, dividends are already paying off, as evidenced by the difference in spring game attendance.
With a sold-out crowd for the 2023 spring game in Boulder, the Buffaloes fanbase has already hit a massive switch from the previous season. Last year, the Buffs were one of the worst teams in college football history, and less than one year later, the team is hosting some of the top recruits in the nation, and wowing them with their culture.
With a full stadium and incredible energy among fans, the Buffs decided to have some of their top recruits visit to feel the sensation that comes with having a packed house. Multiple big name prospects sang praises of the program, like four-star athlete Boo Carter, four-star commit Ju'Juan Johnson, four-star recruit Aaron Butler, D'Antre Robinson, Jordon Johnson-Rubell, Talan Chandler, Kelden Ryan, Lamason Waller and Isaiah Mozee, who all happen to be three-star prospects or better on 247Sports.
Three-star quarterback Kelden Ryan spoke about the experience of visiting Colorado and witnessing the sold out spring game by saying, "The environment was electric. Colorado has a great fanbase and they showed up today. It was more like game day energy. What stands out the most to me about the program right now is just the excitement and optimism from everyone: players, coaches, fans, media. It seems as if all of college football is watching to see what the Buffaloes will do."
Ryan hit the nail on the head, as the entire world is eagerly awaiting to see the Coach Prime-led Buffaloes in the upcoming season. And with potential talks of a move to the Big 12 in the future, all eyes will be glued to the screen when Colorado takes the field.