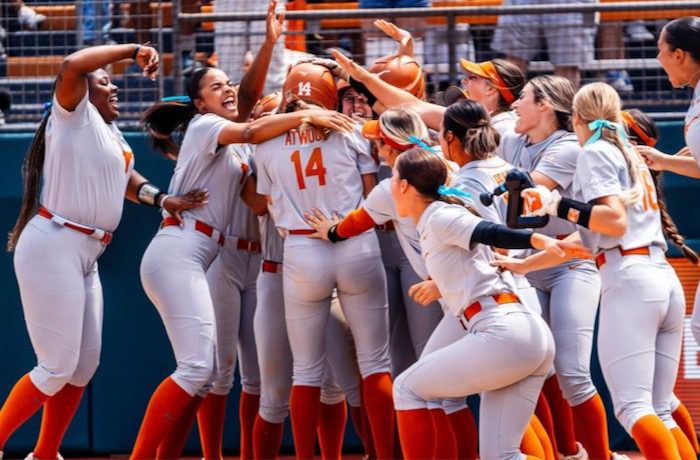 The seventh-ranked Texas Longhorns hosted the third-ranked Oklahoma State Cowgirls for a critical three-game series that had major implications as to how the league and national outlook shakes out in the coming weeks. And the result was, probably to most, a surprising one, with the Longhorns sweeping the Cowgirls. With that in mind, here are three thoughts on what took place.
Texas' Super sized statement
The Longhorns were on the fringe of hosting a Super Regional in our HCS Bracketology heading into the weekend. They're now hosting one, if the season ended today. That's how large this sweep was. Just two out of three would already have put the 'Horns in good position to host both rounds of the NCAA Tournament before the Women's College World Series, but this is icing on the cake. Assuming they take care of business and don't trip up against either UTSA or Sam Houston, then if they're able to win their final Big 12 series at Baylor, it's hard to see how they wouldn't be one of the top eight.
Where has all the offense gone?
Oklahoma State scored all of four runs the entire weekend. It's scored all of seven runs in the last five games, which greatly explains this current five-game losing streak. Even dating back to its last win over Iowa State, it's scored all of 10 runs in the last six games. The Cowgirls' offense has simply been nonexistent. And this is from a lineup that put together a string of five straight and seven out of eight games of 10-plus runs earlier on this season. It defeated Florida State by a 9-1 count back in March as part of a series win. For whatever reason, though, the offense just isn't producing right now, and that's a major, major problem.
Streak busted
While we're on the topic of streaks, we need to address one that's been snapped. This is the first time Texas has beaten Oklahoma State in a series in seven years. Of course, one could sort of count last year's WCWS where Texas defeated Oklahoma State twice on elimination, but that wasn't a true series setup. The Cowgirls had won five straight best-of-threes between the two, but the Longhorns had other ideas. They also got greedy in so doing for their first sweep since that 2016 season as well.