featured
Big 12 Baseball: A Better Alternative for Future Conference Tournaments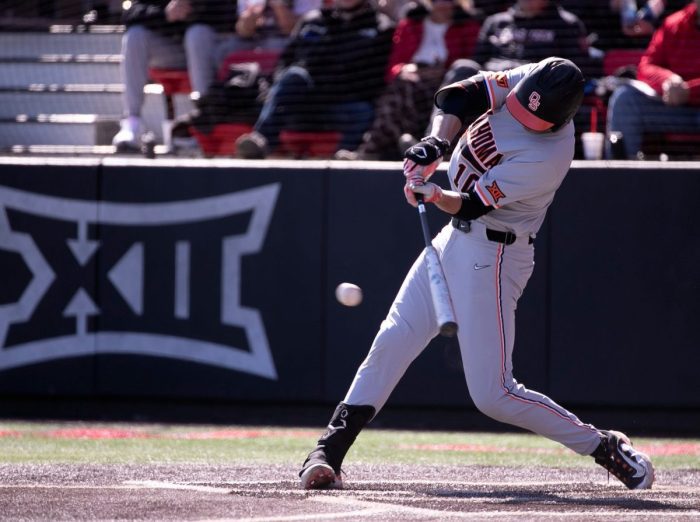 We are officially nearing a 13-team baseball conference, and that's certainly exciting. No longer will teams be forced to scramble to fill their schedules. The expansion should certainly help the conference and its NCAA Tournament seedings as a whole.
The NCAA Baseball Tournament seeding is based largely on RPI, and that's been an issue for some schools recently, as a small conference schedule makes it tougher to boost their RPI. Last year TCU won the Big 12 and was a No. 2 seed, while Texas Tech was a No. 3 seed, despite being a game away from the title. 
One thing the Selection committee certainly doesn't factor in is the Big 12 Tournament. Quite frankly the only people that care less about the Big 12 Tournament than the Selection Committee are some of the managers, especially Tim Tadlock.  Despite being a power under Tim Tadlock, and making four College World Series, they have yet to make the Championship game in the Big 12 Tournament. Sure, it's fun, it's baseball all day, and it is a fun thing to toss on at work, to keep an eye on. But is it really worth it, or is there a better alternative?
Problems With The Big 12 Tournament
Perhaps I'm being a bit hard on the Big 12 Tournament, which I do enjoy watching, however, it stinks. You have baseball games starting at 9:00 am, which is absurd. Texas Tech and TCU fans will remember back in 2021 when both teams were battling for a Super Regional hosting spot, they squared off for seemingly a must-win, at 9 AM. TCU prevailed, and Tech really didn't try too hard in the game immediately after, as they lost to a Kansas State team that was on the bubble. In the end, it wouldn't matter, TCU still got their top 8 seed, as did Texas Tech, and Kansas State who then beat TCU in their next game, would miss out on the tournament. 
The selection committee doesn't care about it, and sure the SEC tournament is amazing, but that's because the eight teams that make the double elimination, are likely headed to the NCAA Tournament. I get arguments from fans of teams that may be on the bubble that this presents a good chance to pad their resume, and an auto bid is at stake. However, unless you win the auto bid, the committee doesn't care, back to 2021 Kansas State. This tournament was fun, but it's time to scrap it and move on to something better. For a lot of tournament-bound teams, this tournament isn't worth winning, sure Tim Tadlock pitched his best against TCU in 2021, but once they lost, he gave it to his low-leverage guys, knowing they'd have to play six games on the week to win, after dropping one.
My Solution
Sure, I complained a lot there, and I stand by all those complaints, but I'm not just here to complain, no I'm not just a blowhard with no solutions, am I a blowhard? You decide for yourself, but I have ideas. No, it's not a complete bye week or an extra weekend of conference games. In 2025 we will have 11 Big 12 baseball teams, some good, some average, and some bad. My solution is two baseball-only divisions, and have a three-game series between the two division winners. The best part? The best record hosts it, but you call it the legitimate Big 12 Championship and don't even give out a trophy for the Regular Season. "One True Champion" or so the Big 12 used to say, and it's a good slogan when you have a football round robin, double round robin in basketball, or round robin in baseball. Then again the Baylor-TCU tie ruined it for football, then baseball, and basketball both have conference tournaments. 
Let's cut it out, and get two divisions that have an old-school pennant race for the division. Then the top two teams play in a three-game series for the conference title, make it Thursday, Friday, and Saturday, all primetime, on an ESPN network, and get an extra day off before the selection show. Also, let's double down on the drama, and say if any teams tie for their division title, then the winner of their regular season series hosts a one-off tiebreak game on that Tuesday. 
Just imagine the drama of a Tuesday sudden-death game, the drama of a three-game series for the Big 12 crown, with the top three pitchers going for both teams. Imagine the drama in the final weekend of a tight division title race, or the drama of the divisions being decided, and a race for who gets to host. If Texas Tech is heading into the final game with a one-game lead, I'll have flashbacks of 2015, where I was flipping back and forth between the Rangers and Astros games, where a win by either would send my Astros back to the postseason (thank you Rangers, hope you get a Wild Card spot this year). Yes, I'm a Texas Tech guy, but sub in the team of your choice, even West Virginia would be in a heavy pennant race this year, and would've just taken a massive series in Stillwater.
The Problems
Just like all my master, and may I say genius plans, this one has flaws, and arguments against that are reasonable. One flaw is that nine teams will have nothing to do, so I have a makeshift plan here as well. The teams between three and six in the overall standings meet for a round-robin, where the top three pitchers go for all teams, to stay warm. Then the same with seven through ten, for number eleven? Sorry, be better next year. If managers want to use this to test pitchers for the Regional, then go ahead, the committee won't care anyways. If you aren't making the dance, let your young guys throw, but either way, you can keep your bats hot if you are tournament-bound.
Another problem is that you could get uneven divisions, it's pretty clear that at first there'll be three premier teams in the new Big 12 with Oklahoma State, TCU, and Texas Tech. So one of them would be in a division by themselves. However, West Virginia, and Kansas State are programs that tend to punch up and contend from time to time. Here's how I'd do the divisions, with current RPIs in parentheses and the bottom line being the division's average RPI.
| North | South |
| --- | --- |
| Oklahoma State (24) | Texas Tech (65) |
| Kansas State (67) | TCU (50) |
| West Virginia (23) | Baylor (159) |
| Kansas (127) | Houston (101) |
| Cincinnati (188) | UCF (118) |
| BYU (197) | |
| Average RPI: 104.3 | Average RPI: 98.6 |
Another issue would be the three premier programs may not play each other every year. My solution is to make them sure it could hurt competitive balance, but it's worth it. It'd also appeal to each program if they're guaranteed to play one of the other two at home once a year. Plus, making Oklahoma State play both Texas Tech and TCU every year could lead to more competitive races in the North division.
It's Time to Scrap Two Conference Champions
Playing a series against all eight other teams, and crowning a champion was a great solution with just nine teams, then the Big 12 Tournament was fun. But unless you want every team playing eight series it's time to change that. This would lead to competitive division races and new rivalries. It'd also scrap a meaningless end-of-season tournament for potential one-game playoffs for a division, and an intense three-game series for the Big 12 Title, in front of sold-out crowds.