Baylor Bears
Big 12 Softball Power Rankings: Texas Makes Massive Jump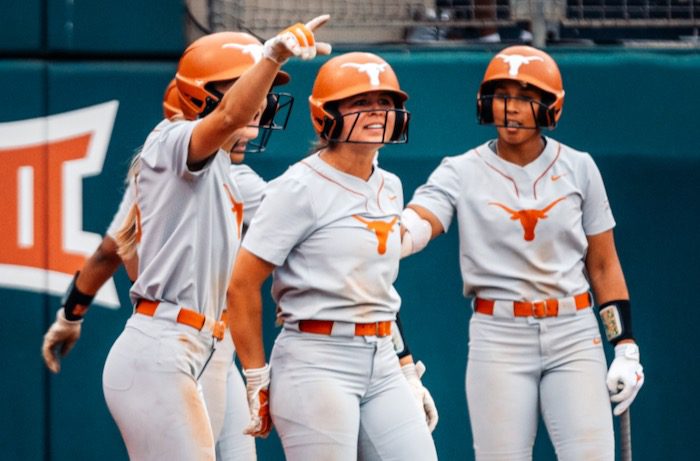 Week 11 of the 2023 softball season has come and gone, and what a week it was. Oklahoma's trip to Waco provided the Bears with some comeuppance after some pre-game jabber, while Texas made perhaps the biggest statement in the country this week with a sweep over Oklahoma State.
The Big 12 race took an interesting turn this week with Texas' dominance in Austin, shooting the Longhorns into second place with a three-game lead on OSU. Baylor fell to 4-8 on the year in Big 12 play after being swept by Oklahoma, but it could still be a team that hosts a regional series if it can beat Texas in just a couple of weekends.
There are still two weeks of the regular season left and plenty can change between now and then, but here are the latest power rankings based on what we've seen to this point.
The Sooners continued their dominance of the college softball world as they absolved their only blemish of the season by sweeping Baylor in Waco over the weekend. Oklahoma now sits at 42-1 with just two weeks left in the regular season, and a perfect 12-0 in Big 12 play. A home series against Kansas this week provides the Sooners with a chance to win its 11th consecutive regular-season Big 12 title just before Bedlam to end the year. It's hard to imagine anyone else but OU being the top overall seed in the NCAA Tournament, and at this point, it's hard to see another team leaving OKC triumphant over the Sooners.
What. A. Statement. The Longhorns saw an opportunity to pile on a struggling Oklahoma State squad and it did just that, winning its first series against the Cowgirls since 2016, and in sweeping fashion no less. Texas proved that it is capable of excellent pitching over a three-game series, as well as a rock-solid offense that can challenge nearly any staff in the country. While they climbed to No. 2 in our power rankings, the Longhorns made an even more important jump this weekend. With a sweep of then-No. 3 Oklahoma State, Texas is squarely in position to grab a top-eight seed and host through Super Regionals next month.
Well, it's all up from here, right? Things can't get much worse for the Cowgirls, as they've now lost five straight games after their offense has gone ice cold. The Cowgirls scored four total runs against Texas and have scored just seven runs in their five-game skid. The unfortunate truth of the matter for Kenny Gajewski's squad is that it doesn't get much easier from here. A three-game series against Texas Tech awaits this weekend, and then the top-ranked Sooners come to town. Oklahoma State is a lock to claim a top-16 seed, but getting back into the top eight is likely to be a steep climb.
At this point, Baylor is a lock to make the postseason tournament. However, the question is, can they find a way to host or will they be destined to hit the road after the Big 12 Tournament? Two series remain for the Bears with Iowa State coming up and Texas to finish the regular season. The Longhorns provide a springboard for Baylor to find a top-16 seed, but winning that series in Austin will not be easy. After all, Texas just swept the OSU team that beat Baylor soundly in a three-game series earlier this year. The chance is there, but it will be tough.
Kansas took down Texas Tech on Monday to secure the series against the Red Raiders, the first Big 12 series win of 2023 for the Jayhawks. Kansas shut out the Red Raiders offense in Games 2 and 3 just a week after TTU totaled 26 runs against a terrific Baylor pitching staff. As things stand, KU is floating around 60 in the RPI rankings, which is outside the tournament bubble. However, that's a massive improvement from a season ago.
While Texas Tech has improved dramatically from 2022, the Red Raiders play in one of the most difficult conferences in America. Nearly 60% of the conference is headed to the postseason tournament, with three teams vying to be Super Regional hosts. Texas Tech just dropped it fourth Big 12 series of the year against a Kansas team that it probably should've beaten. However, should've's and could've's don't equal wins, and Texas Tech simply doesn't have enough of those to sneak into the NCAA Tournament right now.
Iowa State split a four-game series with Colorado State this weekend, but it likely won't find a way to climb out of the bottom spot of our power rankings, unless it can sweep Kansas in a couple of weeks. The win over Oklahoma State last Sunday will be the high point of the 2023 season for the Cyclones, and it was a great moment. However, I'm not sure that there is much for Iowa State after the regular season comes to an end.