Big 12 News
Deuce Vaughn Says He Spoke With Kansas City Chiefs for 'Two Hours' After Local Pro Day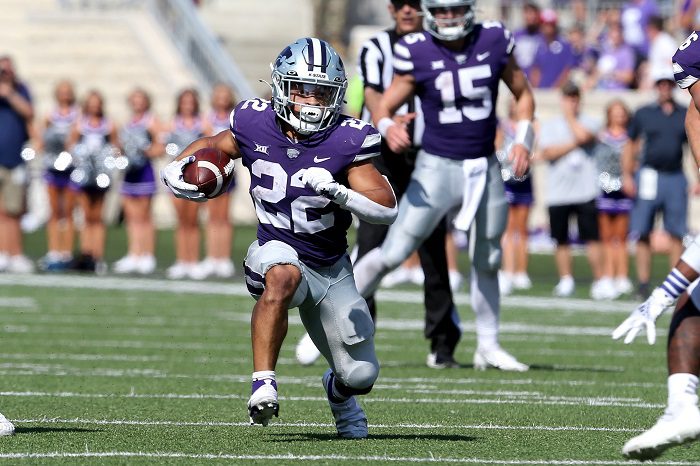 As someone who has watched as much Big 12 football as anyone over the course of the last three seasons, I can tell you that Deuce Vaughn is one of the most electric and natural playmakers that the conference has seen over the last decade.
When the ball was in No. 22's hands, anything was possible for the Kansas State Wildcats, and more often than not he made things break in their favor.
Vaughn isn't getting the attention from NFL scouts or teams that he probably should, being graded as a mid-tier Day 3 player in most circles, but he certainly has what it takes to be a playmaker at the next level. It also plays in his favor that the reigning Super Bowl champions play just short drive from where he played college football.
Recently, Vaughn sat down with the Kansas City Sports Network to discuss a local pro day with the Chiefs that seemed to go really well, all things considered.
"I actually got to go up to the [Kansas City Chiefs] local pro day," Vaughn told KSCN's John Kurtz. "I worked out with their running back coach (Todd Pinkston), worked out with the special teams' coordinator (Dave Toub) and felt like I did really, really good."
Perhaps the most intriguing part of Vaughn's time in Kansas City though, was what happened after the on-field workouts.
"I was able to go upstairs and talk with Matt Nagy, talk with the running backs coach, and speak to Andy Reid a little bit," Vaughn said. "I just got to learn about their offense and pretty much portray myself and my football knowledge to them as well. I was in their film room up in their office for about two hours after that workout. The football prowess and the knowledge that they have as an offensive staff, not only Andy Reid but Matt Nagy as well, and their running backs coach. It was huge to even be up there talking football with them. They're genuises on that side [of the football]. You can see why they've won a couple of Super Bowls and why they're gonna win a lot for years to come."
The 2023 NFL Draft is set for Thursday, April 27 through Saturday, April 29, with Kansas City serving as the host city for the event.