Big 12 News
TCU OL Steve Avila on Former QB Max Duggan: 'I Would Die for Him'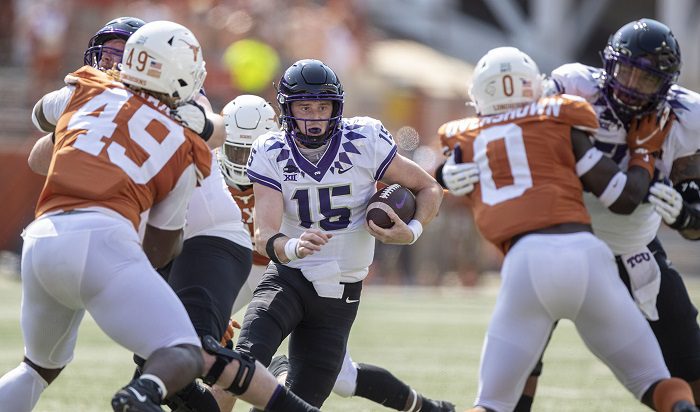 Max Duggan might be the Big 12's most likable quarterback and if you ask TCU offensive lineman Steve Avila his thoughts on the topic, it's no contest.
With the NFL Draft just days away from kicking off in Kansas City, many players have been going through interview gauntlets with media members, NFL coaches, and scouts alike, and with an interview from an unnamed NFL coach, TCU product Steve Avila revealed just how high people should be on Max Duggan.
"I talked to the guard (Steve Avila) from TCU. He would not shut up about Max Duggan. 'Like I would die for him.' I was like I get it. 'No, you don't understand we LOVE him.' I think people will say that about Bryce. I don't see that about Levis."
With the topic of which quarterbacks should be selected early, Steve Avila went all in on his former quarterback saying that he would die for Duggan.
Max Duggan is currently a mid-round NFL prospect that quickly became a fan favorite last season for the Horned Frogs and the entire Big 12 Conference in their run to the National Championship game. While Duggan may not be a top prospect in the NFL Draft, he does have the added benefit of a relationship with last year's Mr. Irrelevant turned NFL star Brock Purdy.
Whichever team decides to add Max Duggan to their quarterback room, his future looks bright, and he will always have supporters in his corner.