Baylor Bears
Texas Breaks Into Top Five of Latest ESPN Softball Top 25 Poll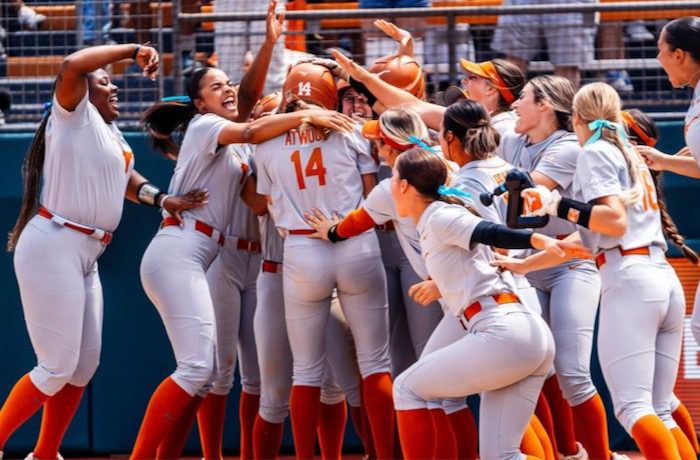 After a three-game sweep of Oklahoma State last weekend, Mike White and the Texas Longhorns are moving up in the latest ESPN Softball Top 25 Poll.
Texas (39-9-1) rose to No. 5 in the latest poll, its highest ranking of the 2023 season. The Longhorns have this weekend off from Big 12 play but close their regular season up at Baylor next week.
The only Big 12 team to defeat Texas in a series this season is Oklahoma (42-1), who remained the unanimous selection at No. 1 after sweeping the Bears in Waco. The Sooners are a perfect 12-0 in Big 12 play and have just two series left on the schedule with Kansas this weekend and at Oklahoma State next weekend.
The Cowgirls are in the midst of a five-game skid, but find themselves at No. 7 in the latest poll. Oklahoma State (39-8) will have a chance to get things right against Texas Tech this weekend before taking on Oklahoma in the final series of the season.
Baylor (34-13) fell just one spot in this week's poll to No. 20 after getting swept by Patty Gasso's Sooners this weekend. The Bears will try to right the ship this weekend against Iowa State before hosting Texas in the regular season finale.
Here's a look at the entire ESPN Softball Top 25 Poll.
| RANK | TEAM | RECORD | POINTS | PREVIOUS RANKING |
| --- | --- | --- | --- | --- |
| 1 | Oklahoma (25) | 42-1 | 625 | 1 |
| 2 | UCLA | 43-4 | 598 | 2 |
| 3 | Tennessee | 37-5 | 571 | 4 |
| 4 | Florida State | 39-8 | 548 | 5 |
| 5 | Texas | 39-9-1 | 517 | 7 |
| 6 | Clemson | 44-5 | 491 | 6 |
| 7 | Oklahoma State | 39-8 | 483 | 3 |
| 8 | Stanford | 34-10 | 415 | 8 |
| 9 | Duke | 40-8 | 414 | 10 |
| 10 | Washington | 33-10 | 411 | 9 |
| 11 | Georgia | 37-10 | 386 | 11 |
| 12 | Arkansas | 34-13 | 347 | 12 |
| 13 | Oregon | 31-11 | 281 | 16 |
| 14 | LSU | 37-11 | 277 | 15 |
| 15 | Florida | 32-12 | 247 | 14 |
| 16 | Alabama | 34-15 | 242 | 13 |
| 17 | Auburn | 35-14 | 239 | 21 |
| 18 | Northwestern | 30-10 | 216 | 17 |
| 19 | Utah | 30-10 | 196 | 18 |
| 20 | Baylor | 34-13 | 156 | 19 |
| 21 | Wichita State | 40-8 | 132 | 23 |
| 22 | Kentucky | 27-15-1 | 111 | 20 |
| 23 | Texas A&M | 29-17 | 58 | 24 |
| 24 | Virginia Tech | 33-15 | 49 | 22 |
| 25 | Louisiana | 36-13 | 47 | 25 |
Others receiving votes: Central Arkansas (29), California (16), Arizona (8), Arizona State (7), South Carolina (4), Louisville (2), Missouri (1