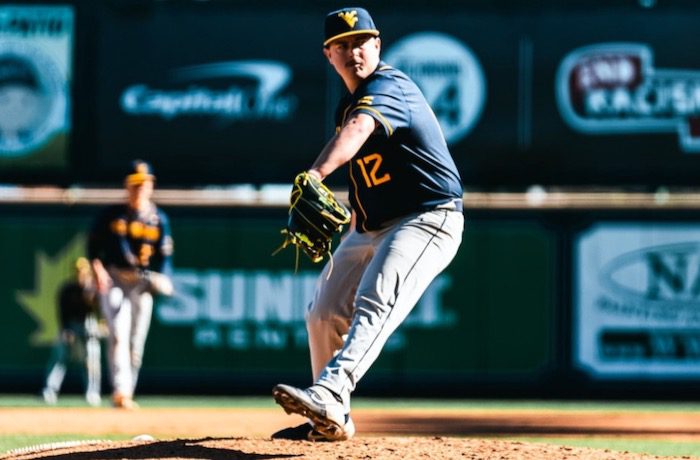 The West Virginia Mountaineers baseball team have been the surprise of the Big 12 and college baseball season thus far. WVU finds itself in first place, and big reason why is pitcher Blaine Traxel, who is spending his first season in Morgantown after the California native transferred in from Cal State Northridge.
Traxel has been one of the best pitchers in the league, ranking Top 5 in wins and ERA, while already posting four complete games on the season. He joined Pete Mundo for a Q&A, which you can also find on the Heartland College Sports podcast, or listen to below.
1. How about just how this season has gone, how all the pieces have come together in Morgantown?
Yeah, I mean, you saw it coming in, everybody that they were getting in and everybody that was here. All the pieces were kind of lining up. The puzzle was looking good. It was really about this team just clicking all at the same time. We've got a lot of good players. The hitters are some of the best hitters in the country. And then the pitching staff goes really deep, one of the best pitching staffs probably in the country. And then we have a lot of veteran guys that the younger guys look up to. So, it's just a great, great puzzle that's going together and all the pieces just work perfect with it.
2. I think about where we're at right now in the game baseball and how often guys last five innings or less and starters just do not go as long as you have gone. Your first six starts, you threw four complete games. What do you attribute your length in games to?
Honestly, back to my freshman year of college, my first coach was Greg Moore. He told me that if you ever want the ball, you gotta want to fight for it and prove to the coaches why you need it. And then moving forward it was my other coaching staff with Dave Serrano, they just always wanted me to go as far as I could in games. And throwing complete games is part of that, but just trying to get quick outs and feeding the defense, letting the team work honestly is just how you could do that and going deep in the games.
3. I know you changed your release, your arm slot. What has that done for you as you've continued to progress as a pitcher and obviously become one of the go-to guys as it comes to success rate in the Big 12?
Yeah, I mean, it's just me pitching. Just the way that I've always done things. I kind of read people's swings and what I want to do, and I just have to be able to locate and do things. Switching up arm slots is just part of that. I'm not a guy that throws super hard. So, making the ball move and switching stuff up, keeping hitters off balance is kind of the name of the game for me because I'm not gonna really overpower guys. So, I have to keep them off balance.
4. The confidence of this team has really been impressive. As you look at what this season has looked like, with some of the huge series wins and finding yourselves in first place now, how has that confidence grown as a team throughout the season?
I mean, honestly we have all the guys that just kind of don't really care about the standings and all that stuff. We have a lot of guys that don't really look at that stuff. It's cool to see if we're ranked and stuff like that. But we've got a lot of players that just want to come out and win every single day. It doesn't matter what the standings are, who we're playing, all that. It's just kind of us versus us and we don't really care who's in the other dugout. So, it's more of just like a mindset going into things that we just don't really care who we're playing against and we just go every day and give our best effort.
5. But this is uncharted territory for West Virginia baseball, especially in the Big 12 era. So, how is the fan base, the student body embracing you guys during this run you've had?
Yeah, I mean, I think this past weekend, we had an attendance record for the weekend, and then yesterday just against Penn State during the midweek game I think we had like the sixth-best crowd ever at the stadium. So, I mean, you can see the fans are all coming together and loving it. They're definitely supporting the team. We've got people all over Twitter, all over the fan bases, like the Shirtless Bandits and Spit Cup WVU, all that stuff that are really just everywhere supporting all the boys. And it's just great to see it with everybody behind us.
6. How about Coach Randy Mazey and the impact he has had. He's been there for a decade now and you guys are having all this success. What has his role been in all this, what has his approach been and how has it changed throughout the season?
Yeah, I mean, we have Coach Mazey, as well as the other coaches, rest of the coaching staff, and they just tell us to be humble, be hungry and be ready to play every single day. So, we come out with fire on our backs and just ready to roll and the whole team is just ready to go and don't really worry about all the other stuff that's going around it, just kind of focus where we're at and be where our feet are with it.
7. It's pretty amazing right now, but West Virginia obviously in first place, you've got the best RPI in the Big 12 and there's a chance you host in the NCAA Tournament. So, how much of that at this point is a goal for you guys when you look at what you hope to achieve?
Yeah, I mean, hosting a regional is always a goal. Just getting into the postseason is always beneficial. And then hosting a regional would be awesome just because seeing our fan base coming out when we're doing what we're doing as of late, we know that would be a great crowd and everything with it. I definitely think it'd be a really cool thing just for college baseball to see because Morgantown is one of the most beautiful places. And I think it'd be—it's a very big goal within the team as of right now.
8. You mentioned some of the cool things that the fan base has been doing and the Spit Cup WVU. What is that? For those who are not in Morgantown, what is that? What is the fan base doing to develop its own identity around this baseball team?
Yeah, we just have—there are basically Twitter and Instagram pages that are supporting us. They're tweeting out live updates. Some things are actual updates, and some things are a little bit more funny. They're always just behind us with everything that we're doing. And then the other thing I was mentioning was the Shirtless Bandits that are coming out. They kind of create the crowd. They're really rowdy when we're there. They get the guys going, and it makes the fan base just more fun whenever we're out there.
9. If it's not football or basketball, you want to develop this cult like following that then extends to the rest of the fan base and the student body, and it certainly seems like that is happening this year with this team there in Morgantown?
Yeah, definitely. I mean, when you show up to our games, we have a pretty decent sized crowd. It feels like a football game. You've got people yelling everywhere. It's just a real rowdy group that gets pretty fun. And then they're just like a really nice fan base for us to play in. And the players love it. So, the more that come out, the better. We love to see it. We love the support. And it just feels like we're not playing for just ourselves. We're playing for the whole state of West Virginia, which makes it awesome.
10. When you look at you and your transition to Morgantown, you come from the West Coast you're a California guy and then you end up in West Virginia. What's the backstory on how you picked West Virginia and the thought process on going there?
Yeah, the thought process was that I had one year and I wanted to do something cool with it. And when I was in the portal, everybody that I talked to, I only had one thing really on my mind and it was looking for a postseason opportunity. And looking at our team, we had all the pieces. Like I was saying earlier, we had a lot of great hitters, a great pitching staff, and then they were still in the recruitment of getting some more guys. And it was just great to see. You could see the passion behind everything. And then when I visited Morgantown, I really loved it. I just felt like everything kind of clicked. It was the right fit for me. I really loved the coaching staff, the atmosphere here, how everything was.
11. You mentioned some of the hitting there. JJ Wetherholt is the best hitter in the country. What is it, as you watch from the other side, that has made him so special this year and so impressive?
I mean, it's really just the work ethic off the field. It's the things that people don't see. It's showing up super early to the field. It's doing his rehab with the training staff, doing all his workouts with the whole, the whole lifting program, just everything that we do. He's one of the hardest working guys that I know, and it's just well deserved, honestly. When you look around, it's just it's well deserved. He's just a guy that's always working on and off the field. And it's the things that people don't see are the things that are rewarding him the most.
12. When you look at it right now, do you feel like yourself, along with Ben Hampton, are the best one-two punch in the Big 12 on the mound?
Me and Ben Hampton are roommates, and we said it from pretty much one of the first days in the fall when we got out here that we had the opportunity to be the one-two punch. And it was a real big goal for us to kind of be the one-two punch moving forward. And we were saying we think we could take anybody in the country. I mean, it's not just the Big 12. It's just the confidence going into things that we should be able to play against anybody and it doesn't really matter who we're playing against, as long as we stay with ourselves and our approach going into things. I mean, we're two high competitors and we just always want to win.
13. Were you guys buddies out of the gates? Did he kind of take you under his wing? Was there somebody that did that when you came to campus?
Yeah, I think honestly, he used me as a veteran and just looking up to me, as far as everything with stuff like that. And then I think he kind of took me under the wing for the Morgantown stuff, and I took him under the wing for kind of being the older guy around college, college baseball for so long. So, I think both of us just being veterans in different ways was a good jump for us, and we had a great relationship right away.
14. We know that baseball guys are notoriously superstitious. Is there something you do before the game that falls within that superstitious nature?
Yeah, I'm not too, too superstitious with things. I just jump over the line and look at the foul pole. That takes me back to my freshman year, my coaching staff told me whenever I need to clear myself just always look at the foul poll and kind of clear your mind. You get specific with what you're looking at and it just makes it a little bit of like a clear your head thing. So, whenever I run out to the mound every inning I just kind of jump over the line, then I glance to the foul pole, and itt's kind of a reminder just to clear my head and stay loose when I'm doing things.
15. You guys have got a series coming up this weekend against Baylor. Baylor has had a rough season so far. So, how do you make sure you don't have any letdown series this weekend in Waco?
Yeah, we're going in and we're not really playing against the other team. We're playing against ourselves. We're just gonna go out and try to out compete everybody. It doesn't really matter who we're playing against. We're just playing against ourselves and trying to have fun while we're doing it. It doesn't really matter who we're playing. We're just gonna go at them and compete.