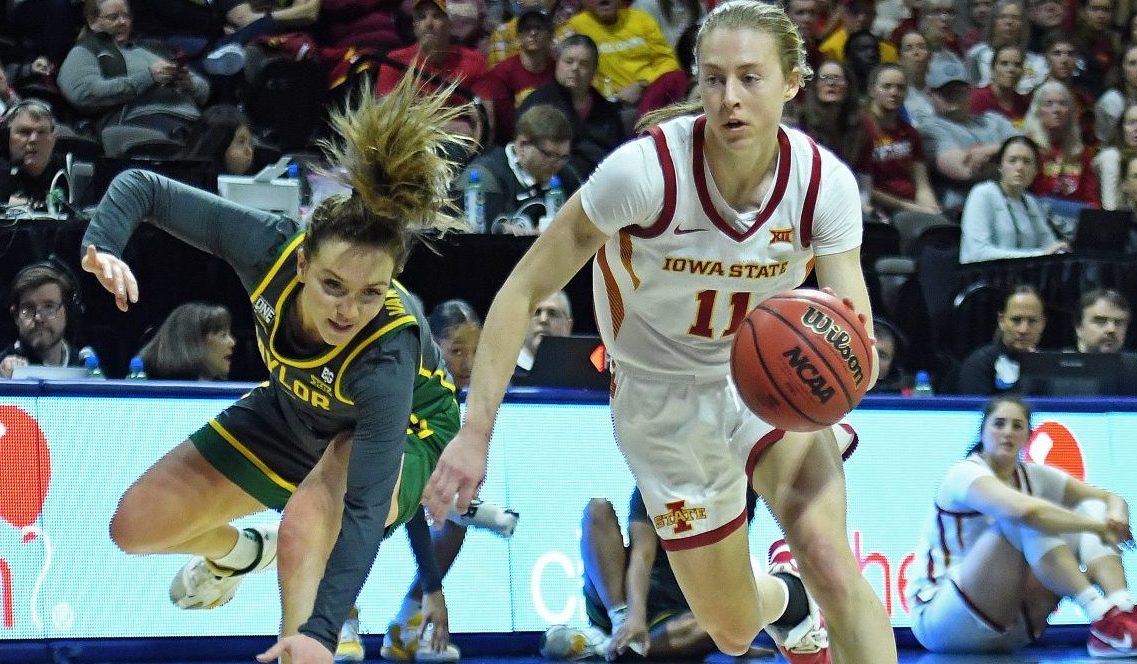 The Iowa State Cyclones are working on assembling their 2023-24 women's basketball roster and we'll track every move here throughout the offseason.
Departures
G/F Ashley Joens: The Cyclones' all-time scoring and rebounding leader left school as one of 14 players to score at least 3,000 points in her career. She is preparing to start her WNBA career with the Dallas Wings. She averaged 21.6 points and 9.7 rebounds last season.
C Stephanie Soares: After playing just 13 games and missing the rest of the season due to an ACL tear, Soares was unable to secure a medical waiver to return for 2023-24. She was selected in the first round of the WNBA Draft by the Dallas Wings. She averaged 14.4 points and 9.9 rebounds in 13 games.
G Denae Fritz: After two seasons with the Cyclones and spending last season as a starter, Fritz announced on April 25 that she would transfer to Baylor. She averaged 6.8 points last season.
G Maggie Espenmiller-McGraw: Espenmiller-McGraw opted to transfer after the season ended and will play for Montana next season. She averaged less than two points per game last season.
G Lexi Donarski: Donarski spent three seasons with the Cyclones and was the 2022 Big 12 Defensive Player of the Year. She averaged 12.1 points last season. She announced on April 24 that she was transferring to North Carolina.
F Beatriz Jordao: Jordao medically retired at midseason.
F Morgan Kane: Kane announced she would transfer after the season. She has committed to Division II Nova Southeastern. She re-assumed her starting role at midseason and averaged 5.9 points and 4.4 rebounds.
Arrivals Via Transfer
G Hannah Belanger: The two-time Division II All-American announced her transfer from Truman State. She averaged 21.3 points per game and shot 47.1 percent from the 3-point line last season.
F Isnelle Natabou: A two-time Big Sky Conference award winner averaged a near double-double — 15.8 points and 9.4 rebounds — last season for Sacramento State.
In the Portal
F Maggie Vick: Vick, a little-used forward, submitted her name to the transfer portal after the season. She played in eight games.
Expected to Return
F Nyamer Diew: Diew slid into a part-time starting role and averaged 6.1 points and 4.1 rebounds per game.
G Shantavia Dawkins: The freshman — the only member of the Cyclones Class of 2022 — played in just 12 games. She should have an opening to produce next season.
G Emily Ryan: She's the only returning double-digit scorer. She averaged 10.6 points and 5.4 rebounds last season, along with dishing out a team-leading 204 assists.
G Mary Kate King: She played in 10 games last season and should have a better chance to produce next season.
F Izzi Zingaro: Zingaro assumed a bigger role after the Soares injury. She played in 24 games and averaged 3.2 points and 2.0 rebounds last season.
Class of 2023 Recruits
F Addy Brown, 6-foot-2 (Derby, Kan.): The highest-ranked recruit in a class that is considered a Top 10 class by ESPN, Brown is a three-level scorer with passing ability.
F Jalynn Bristow, 6-3, Rider (Wichita Falls, TX): The No. 47 player in the country scored more than 1,000 points for his career and earned All-State honors multiple times.
F Audi Crooks, 6-3, Bishop Carrigan (Algona, Iowa): Crooks scored more than 2,000 points for her high school career and gives the Cyclones a post presence to go along with its transfer center.
G Arianna Jackson, 5-8, Roosevelt (Des Moines, Iowa): Jackson was one of the best 3-point shooters in the state of Iowa during her prep career.
G Kelsey Joens, 5-9 (Iowa City, Iowa): The next Joens sister to join the Cyclones, she previously earned All-State honors and was coached by her older sister, Courtney.
You can find Matthew Postins on Twitter @PostinsPostcard