Big 12 News
Oklahoma-Tulsa Rescheduled for Tuesday, May 2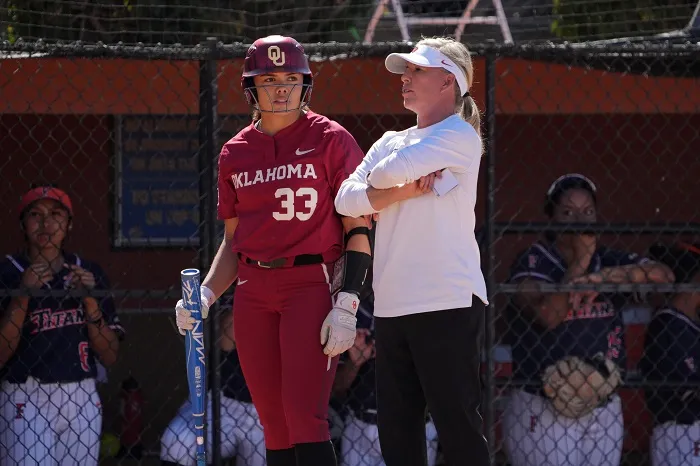 There indeed will be a makeup for Wednesday night's cancellation between Oklahoma and Tulsa. The two will now play next Tuesday, May 2, with first pitch set for 5 p.m. CT, Tulsa announced this evening.
The Sooners and Golden Hurricane were supposed to meet at Collins Family Softball Complex tonight before a washout changed plans. No makeup date was immediately scheduled, but now we know the two will get the game in, unless there's any further weather next week.
This week, Oklahoma was also unable to hit the road to take on No. 23 Wichita State Tuesday because of torrential rain. Unlike this matchup between the Sooners and Golden Hurricane, according to a press release from Oklahoma, it's already been determined that that game will not be rescheduled.
The Sooners are coming off a three-game sweep of No. 19 Baylor, the lone team to defeat them. They're riding the wave of a 34-game winning streak and currently sit at 42-1 overall.
That's heading into a senior weekend series against Kansas at Marita Hynes Field. The three-game set begins Friday with a 6 p.m. CT first pitch. Saturday's contest is slated for 2 p.m. CT, with the Sunday finale set for 1 p.m.
As part of the weekend's events, Oklahoma will host a celebration honoring its four super seniors, Grace Green, Haley Lee, Grace Lyons and Alex Storako. It will take place following the conclusion of Sunday's game.
The entirety of the series will be broadcast on ESPN+ and 107.7 The Franchise in Oklahoma and nationwide on The Varsity Network app.