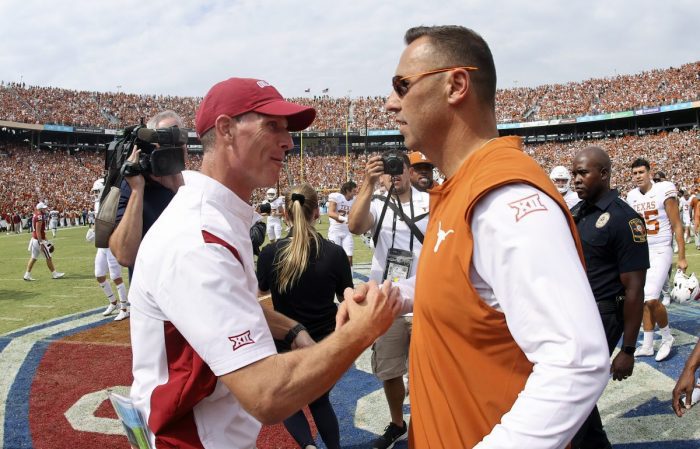 The Texas Longhorns are headed to the SEC along with their arch rivals, the Oklahoma Sooners, a year from now, but that's all in the future and they're living in the present. Head coach Steve Sarkisian stressed that Wednesday at the Houston Touchdown Club, as documented by Horns247's Chip Brown.
"I don't hear anything about the SEC from our players," Sarkisian said. "They're focused on winning a Big 12 Championship. And, you know, I think we've won three. So this is a pretty big task at hand for us to go accomplish something in our final year in the Big 12."
Yes, the Longhorns have won three of them. But they haven't since 2009, when they defeated Nebraska 13-12 in a controversial ending. Their latest attempt came up short when those arch rival Sooners denied them 39-27 during the 2018 season in Arlington.
So, Sarkisian would be right in stressing how difficult it is to finish atop the Big 12.
"So I think our focus is on the Big 12," Sarkisian said, per Brown. "We will deal with the SEC and those challenges when that time comes, but we've got a we've got a time here in my opinion to do something pretty special. And we want to make sure we're exhausting all of our energy into that and not worried about what's down the road."
In its attempt, Texas returns 10 starters on offense and six on the defensive side of the ball from a 2022 team that finished 8-5. It'll get going when it hosts Rice on Sept. 2. Texas then heads to Alabama after that for the return of a home-and-home, before concluding its non-conference slate Sept. 16 against Wyoming.