Baylor Bears
Big 12 Baseball Weekend Preview: K-State's Postseason Hopes on the Line vs. Texas Tech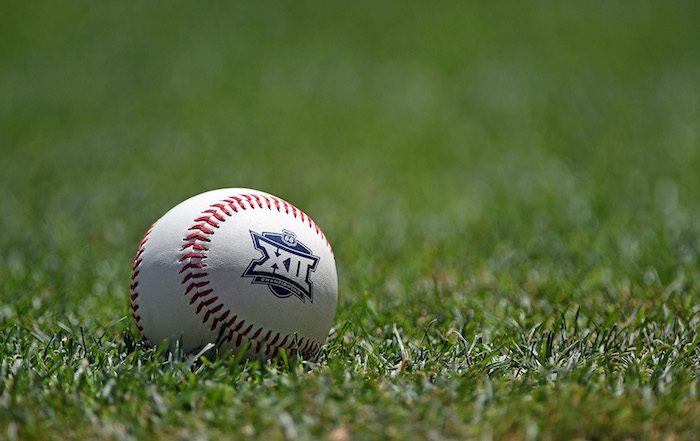 Big 12 baseball is officially in full swing as we are starting to get a feel for how the conference hierarchy is going to play out this season.
It felt like just yesterday that opening weekend was here and now we are entering the seventh weekend of conference play.
Let's take a look at the upcoming weekend for Big 12 baseball.
#18 West Virginia at Baylor
Is there a better Big 12 team than West Virginia right now? I don't think there is. The Mountaineers have been hot as of late winning seven out of their last eight games. They swept TCU last weekend and now will travel down to Waco to take on Baylor. I have said it before, but I believe they are the most balanced team in the conference. Offensively, JJ Wetherholt is arguably the best player in college baseball, and they also have Tevin Tucker, Caleb McNeely, and Landon Wallace hitting the ball well too. On the mound, Blaine Traxel and Ben Hampton appear to be the best duo in the Big 12.
As for Baylor, they are just trying to make the Big 12 tournament at this point. Hunter Teplanszky and Kolby Branch have been bright spots for the Bears and Hunter Simmons has been good as well. But they just don't have the arms to keep up in this conference right now so I will take West Virginia in this series.
My Pick: West Virginia
#14 Texas Tech at Kansas State
Outside of the Texas/TCU series, this matchup may be my favorite of the weekend. Texas Tech needs all the help they can get because despite being a top 15 team in the country, their RPI is in the 60's. The Red Raiders have been led by their offense which features Gavin Kash who is one of the best hitters in college baseball. But Texas Tech has plenty of bats around Kash with Kevin Bazzell, Nolen Hester, Gage Harrelson, and Austin Green who are all hitting above the .330 mark. The only question I have about the Red Raiders is their pitching. Mason Molina pitched a gem last weekend against Baylor so it will be interesting to see if he can do it again against Kansas State.
Much like Texas Tech, Kansas State has some pitching issues as well. Owen Boerema has been their ace, but he has struggled this month and they are going to need some help against the Red Raiders because their offense is elite. This series is likely to be high scoring so the Wildcats will need their trio of Brady Day, Nick Goodwin, and Cash Rugely to keep up. On top of that, Kansas State needs this series to keep any sort of postseason hope alive.
My Pick: Texas Tech
Texas at TCU
This is going to be a series to keep a close eye on because both of these teams are heading in the wrong direction. TCU has been a bit of a mess over the last two weeks and their starting pitching has seemed to have fallen off a cliff. The good news for them is that their offense has been better as of late with Anthony Silva, Cole Fontenelle, and Karson Bowen. Plus, Brayden Taylor can hit the long ball too.
As for Texas, they were swept by Oklahoma at home last weekend. Lucas Gordon was phenomenal as usual, but the rest of the starting rotation needs to get better because they got off to some slow starts against the Sooners. But much like TCU, their offense has been playing well with Peyton Powell, Porter Brown, Eric Kennedy, and Garret Guillemette. While TCU is playing at home, I trust Texas a little bit more right now.
My Pick: Texas
Oklahoma State at Michigan
The Cowboys take a break from Big 12 play as they travel north to Ann Abor to take on Michigan. The Wolverines have struggled this season with a 21-18 record and nothing about them really jumps off the page to me. They have the third worst ERA in the Big Ten (5.96) and the third worst batting average (.254) as well. The lone bright spot in their rotation has been Connor O'Halloran who has the best ERA in the Big Ten (2.49) and leads the conference in wins (7). As far as hitting goes, Jonathan Kim has been the go-to man at the plate and Ted Burton has some power to go alongside him.
As good as Connor O'Halloran has been on the mound, he is going to face a monster Oklahoma State lineup. Carson Benge, Roc Riggio, Nolan Schubart, Chase Adkison, and David Mendham are all dangerous hitters, and I am not sure that Michigan can handle them for a full weekend. I know Oklahoma State's pitching is questionable outside of Juaron Watts-Brown, but I will roll with the Cowboys here.
My Pick: Oklahoma State
Kansas at Oklahoma
This is a big weekend for the Sooners. After sweeping Texas last weekend, they are right back in the mix for the Big 12 title race. Anthony Mackenzie, Kendall Pettis, and Bryce Madron have been hitting well. Meanwhile Braden Carmichael is starting to really find his groove on the mound and has become the best pitcher for the Sooners.
Kansas shouldn't be much of a threat to Oklahoma as they have the second worst ERA in the conference. While they do have some nice players in their lineup with Chase Jans, Cole Elvis, and Kodey Shojinaga, I just don't see them having a ton of success against Oklahoma.
My Pick: Oklahoma