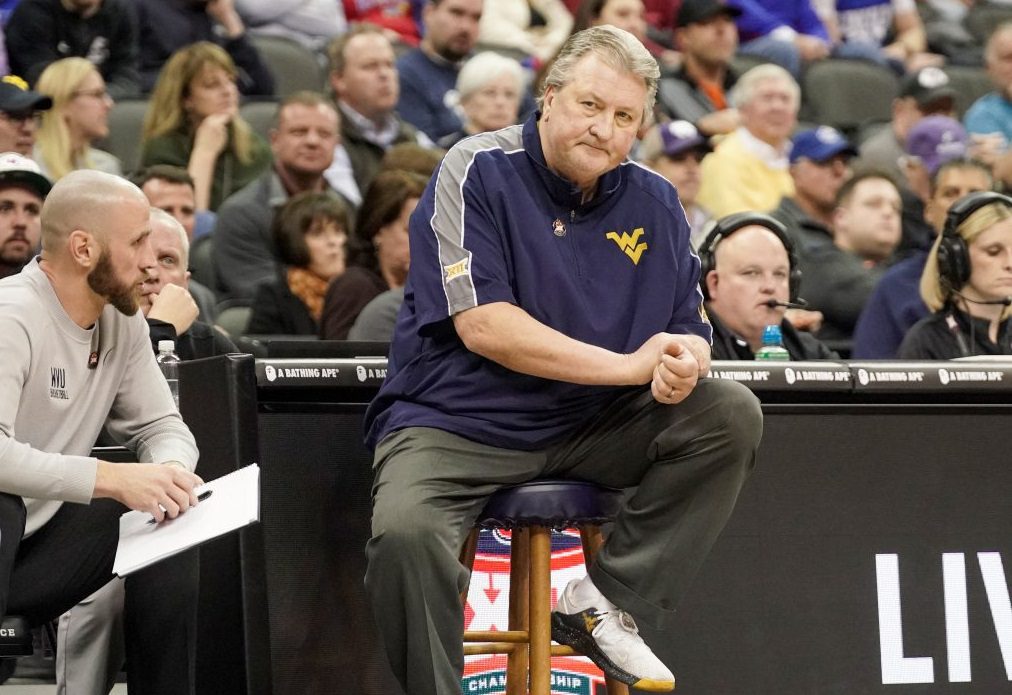 The transfer portal is running full speed in both Big 12 men's and women's basketball the calendar prepares to move from April to May.
Each week I'll have some thoughts on what's going on in the transfer portal from a Big 12 perspective, at least until things settle down. Which, frankly, could be never.
The Big 12 Transfer Portal Winner Is …
Right now, it has to be West Virginia. Frankly, I'm not sure there is a program in the conference that can match what the Mountaineers have done.
Earlier this week WVU secured a commitment from Montana State guard RaeQuan Battle. He averaged more than 17 points last season.
I mean, that in of itself is a great get. But consider the rest:
Center Jesse Edwards averaged 14.5 points and 10.3 rebounds for Syracuse;
Guard Kerr Krissa averaged nearly 10 points each of the last two seasons for Arizona;
Forward Jose Perez — who transferred in from Manhattan before last season but wasn't given a waiver to play — averaged nearly 19 points two seasons ago for the Jaspers.
Guard Omar Silverio — another Manhattan transfer who committed to the Mountaineers in March — averaged nearly 11 points two seasons ago.
The Mountaineers have 71 points coming in the door next season. No wonder 247Sports ranks WVU's transfer class as No. 1 in the nation right now.
It's also possible the Mountaineers aren't done.
ISU Women Starting to Import Talent
Nearly all of Iowa State's outgoing transfers have found a home, including guard Denae Fritz, who just committed to Baylor. But what have the Cyclones brought in so far?
ISU has two new players. Guard Hannah Belanger is from a Division II school, Truman State. But, like last year's sub-Division I transfer, center Stephanie Soares, she has a track record of high success. Last season she averaged 21.3 points per game and shot 47.1 percent from the 3-point line. The latter is a perfect fit for what ISU likes to do offensively.
She was also a two-time WBCA All-American for Truman State and she left the program with 1,882 career points, third-best all-time.
Isnelle Natabou is the other transfer. At 6-foot-5, she could be a capable replacement for the size Soares brought to the roster last season. She was the Big Sky Newcomer of the year two seasons ago and an All-Big Sky First Team selection last season. She averaged 15.8 points and 9.4 rebounds for the Hornets, who went to the NCAA Tournament for the first time. Natabou has two years of eligibility remaining while Belanger has one.
ISU still has more room to maneuver, but snagging an outside shooter that can hit the 3 efficiently and a productive inside presence is a good start to portal season.
Texas Tech Men Getting Some Help
Texas Tech and new coach Grant McCasland are out looking for new talent to replace all of the players that have hit the transfer portal, including Elijah Fisher, who really opened up about what happened last season in a recent podcast with Hip Hop Hoops.
That talent is starting to fliter in. First, McCasland hasn't lost the one transfer the program took in before he took over, former Georgia forward KyeRon Lindsay.
Since McCasland arrived the Red Raiders have taken in two transfers.
Darrion Williams, a forward that played at Nevada last season, averaged 7.6 points and 7.3 rebounds per game for the Wolf Pack.
Then Grand Canyon guard Chance McMillian committed to the Red Raiders. He averaged more than 11 points for the Lopes last season.
The Red Raiders aren't done. But it's a start.
Cowgirls Picking Up Steam
For most of the offseason it's been about what the Oklahoma State Cowgirls have been losing to the portal. Now it's starting to become what the Cowgirls are gaining through the portal.
OSU has gotten commitments from two players of late. First, Rylee Langerman committed earlier this week. Langerman is a Norman, Okla., product who was Arkansas' first player off the bench averaging more than 17 minutes per game. The guard averaged just 2.3 points last season, but OSU coach Jacie Hoyt is hoping to get more out of her.
OSU landed another guard, Quincy Noble, who was at North Texas. She's coming off an All-Conference USA First-Team selection. In fact, it was her third selection. Last season she averaged 17.1 points and has 1,302 points for her career.
Like ISU, it's a good start for a team that needs more talent out of the portal to build on what it did last season.
You can find Matthew Postins on Twitter @PostinsPostcard
Big 12 Basketball Transfer Portal
(as of April 19)
Men
Outgoing — Baylor: G Dale Bonner (to Ohio State),G L.J. Cryer (to Houston), F Zach Loveday, G Jordan Turner; Iowa State: G Eli King (to North Dakota), G Caleb Grill (to Missouri); Kansas: F Cam Martin (to Boise State), F Zach Clemence, G Bobby Pettiford Jr. (to East Carolina), G M.J. Rice (to NC State), G Joseph Yesufu; Kansas State: G Peyton Ackerman, F Ismael Massoud, G Anthony Thomas; Oklahoma: G Joe Bamisile (to VCU), G Bijan Cortes (to Wichita State), F Jacob Groves (to Virginia), F Jalen Hill (to UNLV), G C.J. Noland (to Saint Louis), G Benny Schroder (to George Washington); Oklahoma State: G Avery Anderson III (to TCU), F Kalib Boone (to UNLV), F Moussa Cisse, G Woody Newton, F Tyreek Smith (to SMU). TCU: F Souleymane Doumbia (to Sam Houston), G P.J. Haggerty (to Tulsa), F Eddie Lampkin (to Colorado), G Michael Niemann (to Division II Rollins), G Shahada Wells (to McNeese State); Texas: G Rowan Brumbaugh (to Georgetown), G Arterio Morris; Texas Tech: F Fardaws Aimaq (to Cal), F KJ Allen, F Daniel Batcho (to Louisiana Tech), G Ethan Duncan, G Elijah Fisher, F Robert Jennings (returning to Texas Tech), G Jaylon Tyson, G Corey Williams Jr.; West Virginia: G Josiah Davis,F Jamel King (to Kennesaw State). Cincinnati: G Jeremiah Davenport (to Arkansas), F Jarrett Hensley; Houston: G Tramon Mark (to Arkansas), C Kiyron Powell (to Southern Indiana), G Mylik Wilson; UCF: G P.J. Edwards (to Bowling Green), G Tyem Freeman, F Brandon Suggs, C Lahat Thioune, G Jayhlon Young.
Incoming — Baylor: G Jayden Nunn (from VCU); Iowa State: G Keshon Gilbert (from UNLV), G Curtis Jones (from Buffalo), G Jackson Paveletzke (from Wofford); Kansas: G Nicolas Timberlake (from Towson); Oklahoma: F John Hugley IV (from Pitt), G Javian McCollum (from Siena), G Rivaldo Soares (from Oregon); Oklahoma State: G Javon Small (from East Carolina); TCU: G Avery Anderson III (to TCU), F Essam Mostafa (from Coastal Carolina),G Jameer Nelson Jr. (from Delaware), G Trey Tennyson (from Texas A&M-Corpus Christi); Texas: C Kadin Shedrick (from Virginia); Texas Tech: F KyeRon Lindsay (from Georgia), G Chance McMillian (from Grand Canyon), F Darrion Williams (from Nevada); West Virginia: G RaeQuan Battle (from Montana State), G Kerr Kriisa (from Arizona), C Jesse Edwards (from Syracuse), F Jose Perez (from Manhattan), G Omar Silverio (from Manhattan). Cincinnati: G C.J. Fredrick (from Kentucky), F Jamille Reynolds (from Temple); Houston: G L.J. Cryer (from Baylor), G Damian Dunn (from Temple).
Notes: Perez transferred to WVU in November but didn't get a waiver to play in 2022-23. Silverio transferred in March and needs a waiver.
Women
Outgoing — Baylor: F Kendra Gillispie; Houston: G/F Paris Netherly; Houston: G/F Paris Netherly; Iowa State: G Lexi Donarski (to North Carolina), G Maggie Espenmiller-McGraw (to Montana), G Denae Fritz (to Baylor), F Morgan Kane (to D-II Nova Southeastern), F Maggie Vick; Kansas: F Ioanna Chatzileonti, F Katrine Jessen (to Missouri State), G Sanna Strom, G Bella Swedlund (to Toledo), G Mia Vuksic (to San Francisco); Kansas State: G Mimi Gatewood, C Taylor Lauterbach (to Virginia); Oklahoma: G Kaley Perkins (to Kent State), C Emma Svoboda; Oklahoma State: F Taylen Collins (to Auburn), G/F Macie James (to UNLV), G Lexy Keys (to Oklahoma), G Neferatali Notoa (was not listed on OSU's 2022-23 roster), F Makyra Tramble (to Oral Roberts); TCU: G/F Evie Goetz (to Louisiana Tech), G Roxane Makolo; Texas: G Kyndall Hunter (to Texas A&M), F Femme Masudi; Texas Tech: F Lana Wenger; West Virginia: F Isis Beh (to Arizona), G/F Wynter Rogers (to Arkansas State), G/F Savannah Samuel (to Boston College); BYU: G Amanda Barcello, F Alyssa Blanck (to Utah), F Lauren Gustin, G Sophia Lee (to Sacramento State); UCF: G/F Tiana Abrams, F Destiny Thomas (to Georgia); Cincinnati: G Lojain Elfatairy, G Dais'Ja Trotter (to Illinois-Chicago); Houston: G De'Myla Brown, G Kendall Brown, G/F Paris Netherly, G Tiara Young (to SMU).
Incoming — Baylor: F Madison Bartley (from Belmont), G Yaya Felder (from Ohio), G Jada Walker (from Kentucky), G Denae Fritz (from Iowa State); Iowa State: G Hannah Belanger (from D-II Truman State), C Isnelle Natabou (from Sacramento State); Kansas State: G Zyanna Walker (from Louisville); Oklahoma: G Lexy Keys (from Oklahoma State), G/F Payton Verhulst (from Louisville); Oklahoma State: F Hannah Gusters (from LSU), G/F Rylee Langerman (from Arkansas), G Quincy Noble (from North Texas); TCU: G Madison Conner (from Arizona), G Una Jovanovic (from Cal State Fullerton), F Sedona Prince (from Oregon); Texas Tech: F Jordyn Merritt (from Florida); West Virginia: G Lauren Fields (from Arizona), G Jordan Harrison (from Stephen F. Austin), G Zya Nugent (from Stephen F. Austin); BYU: G/F Jennah Isai (from Oregon); Cincinnati: G/F Aicha Dia (from Penn State); Houston: G N'Yah Boyd (from UTEP), G Gia Cooke (from Maryland), F Maliyah Johnson (from Pitt), C Peyton McFarland (from Utah); UCF: G Ashley Foster (from Georgia State), G Kaitlin Peterson (from Indiana), G Timia Ware (from LSU).
Sources: Players' social media accounts, Verbalcommits.com, 247Sports.com, Wbbblog.com