Big 12 News
Daniel Jeremiah Says Perception of Big 12 Defenses Impacts NFL Draft Selections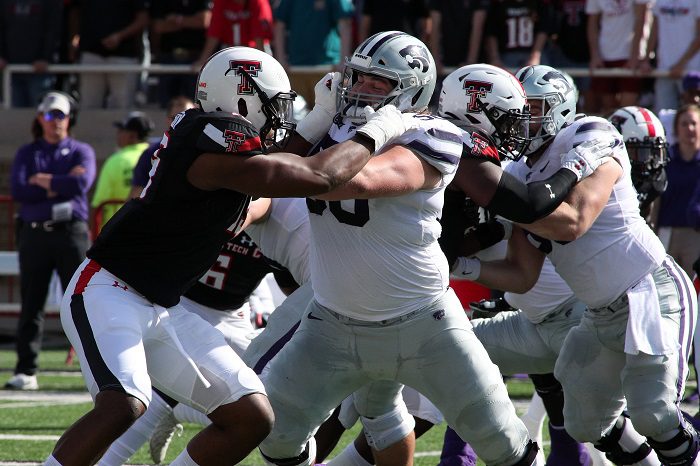 The perception that the Big 12 is bad defensively has somehow persisted past the point of reality, and really, it has been that way for years now.
Sure, five or six seasons ago, defenses in the Big 12 were just trying to keep up as revolutionary offenses gave way to legends like Patrick Mahomes and Kyler Murray. Heck, the wide-open air-raid style offenses that minds like Lincoln Riley and Kliff Kingsbury built were so good that other conferences started to take notice and follow suit.
Defense though, has won the day in the Big 12 over the past few seasons. Baylor in 2021? Defensive stalwart. Just ask Lane Kiffin and Ole Miss. Kansas State last season? A strong defensive team with a stronger identity for who it is.
You and I may know this, because we follow this conference on a daily basis, but folks that cover the NFL don't see it that way. NFL expert Daniel Jeremiah recently discussed the narrative on Pardon My Take, saying that the perception certainly affects draft positions.
"I think it does," Jeremiah said. "I think teams are lying if they say it doesn't. You know, I would have to go back to Zach Thomas for the last great Texas Tech defensive player. I'm sure there's somebody in between those two, but I can't think of it off the top of my head."
However, Texas Tech defensive end Tyree Wilson is hoping to change that narrative, and both Mel Kiper Jr. and Todd McShay expect him to be a top-ten pick.
"I like him a lot, I like him a lot as a player, but where I would say that school thing comes into play is if you give the same grade to Will Anderson as you gave to Tyree Wilson. Then you're in the room and somebody is a Tyree Wilson guy, they're gonna talk about how he's taller, he's longer, he's a little more athletic. And then my comeback in that room would be, 'Yeah, I've seen Will Anderson play against NFL players for three years and he's dominated in that conference,'" Jeremiah explained.
"And, literally, you go back and you watch the cut-ups. Last week, I went back and watched some of his production from previous years. And it's like, there's Jamaree Salyer, he started like 14 games at left tackle in the NFL last year. It's just one player after another you're like NFL player, NFL player. Like, that has to factor in. I think it makes the evaluation, I think you eliminate some of the low-end floor of a player when you see him play there."
Wilson hopes to hear his name called early, and Big 12 fans and players alike hope that he can knock the outdated narrative around Big 12 defenses.