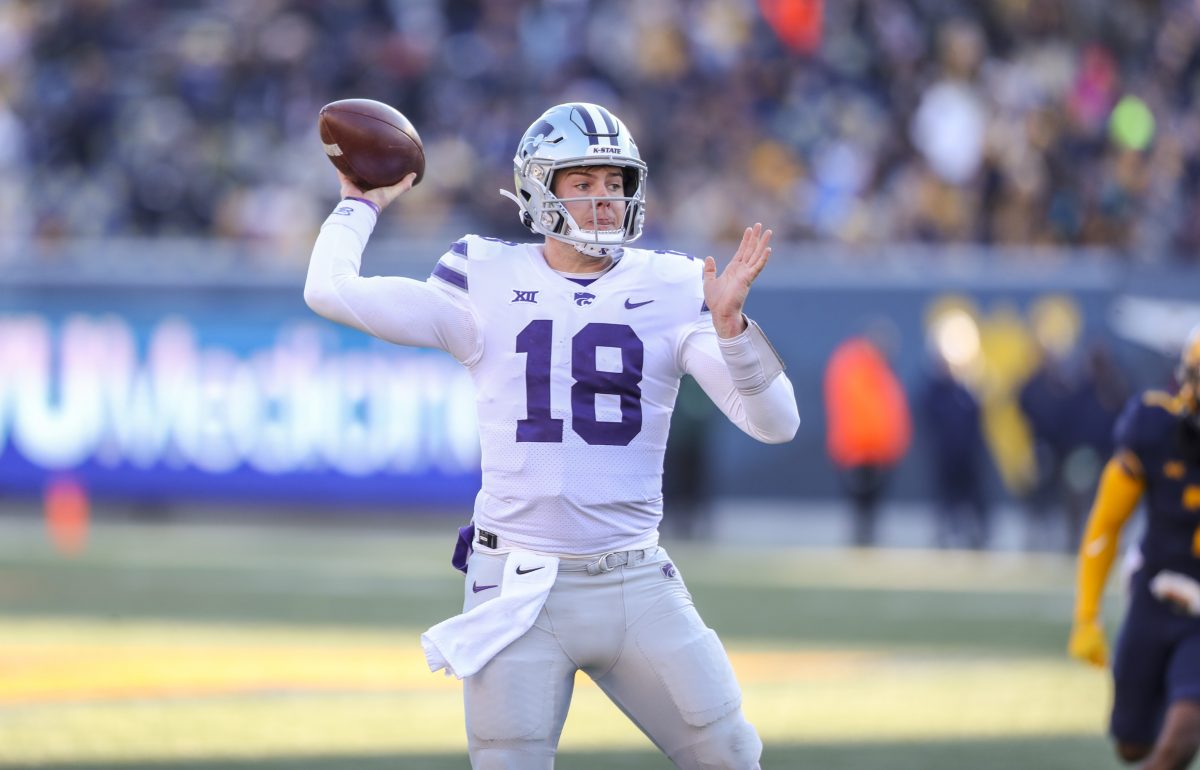 As I drove by the venue of the NFL draft that begins Thursday night, I wondered just how many K-State players will hear their names called over the loudspeakers at Union Station in Kansas City this weekend. According to most mock drafts, defensive end Felix Anudike-Uzomah, cornerback Julius Brents, and running back Deuce Vaughn are the most likely Wildcats drafted. (On a side note, am I the only one that gets a headache perusing mock drafts online? I cannot make it very far before my eyes gloss over. But I digress….)
It also got me wondering if K-State quarterback Will Howard will be drafted in 2024. He has the size and arm strength, but does he have the other desirables that NFL teams are looking for in a quarterback? I thought I would do some digging and compare his statistics with some of the quarterbacks expected to be drafted in this year's draft to see where he stacks up.
Five quarterbacks in the class of 2023 are expected to be drafted in the first round or are at least considered first-round caliber. Since Will Howard has three years of starting experience under his belt, I decided to take the year three stats of the five quarterbacks and compare them side-by-side. Here they are:
Bryce Young, Alabama 5'10", 204 lbs.
Games: 12
245 attempts/380 completions, 64.5%
3,328 yards, 8.8 yards per attempt
32 TD/5 INT
163.2 rating
CJ Stroud, Ohio State, 6'3", 218 lbs.
Games: 13
258/359, 66.3%
3,688 yards, 9.5 yards per attempt
41 TD/6 INT
177.7 rating
Anthony Richardson, Florida, 6'4", 236 lbs.
Games: 12
176/327, 53.8%
2,549 yards, 7.8 yards per attempt
17 TD/9 INT
131.0 rating
Will Levis, Kentucky, 6'3", 222 lbs.
Games: 13
233/353, 66%
2,826 yards, 8.0 yards per attempt
24 TD/13 INT
148.3 rating
Hendon Hooker, Tennessee, 6'4", 218 lbs.
Games: 13
206/303, 68%
2,945 yards, 9.7 yards per attempt
31 TD/3 INT
181.4 rating
Now, lets take a look at Will Howard's projected stats, if he were to have played a complete season in 2023.
Will Howard 6'4", 235 lbs.
Games: 7 (12 Projected)
119/199, 59.8%
1,633 yards (projected to approximately 2,798 if playing 12 games), 8.2 yards per attempt
15 TD/4 INT (projected to 25 TD/6.84 INT)
149.6 rating
As I mentioned, Howard stacks up with all five guys' height and weight. Where he does not stack up is in completion percentage. At 59.8%, he is better than Anthony Richardson's 53.8%, but the other four have a completion percentage of 64.5% or above. Howard will likely have to improve his completion percentage to get a serious look from NFL teams next year.
Howard's yards and yards per attempt are in line with the five quarterbacks listed, as is his high touchdown-to-low interception ratio. His passer rating of 149.6 is slightly better than Will Levis' 148.3 and is better than Richardson's 131.0, but falls short of the other three.
Other factors go into an NFL team's decision to draft a quarterback, (winning comes to mind as a big one,) but I do believe in the end that it boils down to the numbers. Howard is close to these guys, and if he has a big season in 2023, we could see him as a first-round draft pick in 2024. If I had said the same thing this time last year, you would have thought I was crazy, and I would have believed you. Will Howard has come a long way in a short time. At the very least, he will be on the radar of many NFL scouts throughout the 2023 season, as he should be.