Big 12 News
Julius Brents Selected No. 44 by Indianapolis Colts in NFL Draft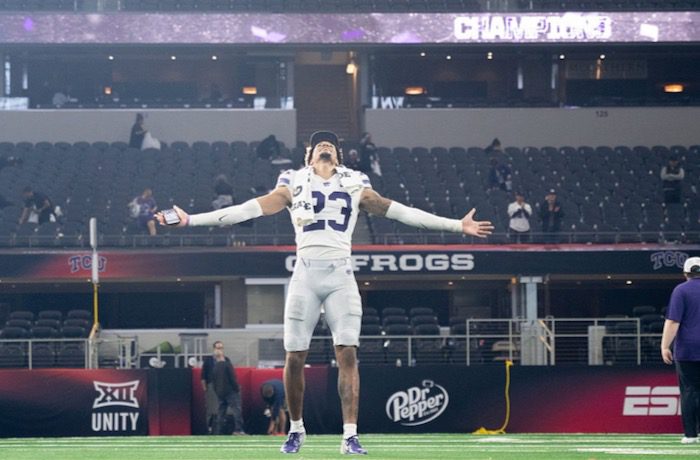 Former Kansas State cornerback Julius Brents heard his name called 44th overall by the Indianapolis Colts in the second round of the 2023 NFL Draft Friday evening in Kansas City.
The 6-foot-4 corner out of K-State is not only a physical presence, but he also has a knack for finding the ball. Brents had four interceptions and a forced fumble last season, and was instrumental in K-State's Big 12 Championship game against TCU battling with projected first-round WR, Quentin Johnston.
Brent's stock saw some major upgrades shortly after the season officially ended, he was first projected as a late fourth-round pick. When Brents quickly became the most impressive cornerback in the Senior Bowl, the Manhattan hero watched his evaluation improve to a mid-second round selection, right exactly where he went.
"Brents is a classic zone cover corner with an outstanding blend of size, length and leaping ability," wrote NFL.com Analyst Lance Zierlein in his evaluation. "He has the disruptive traits to reroute the release and the dog in him to handle his business in run support. He can play some press-man on a vertical plane but lacks the top-end speed and pattern matching to play in that scheme full-time.
"Brents needs to maintain eye discipline from zone but has the ball skills to win a battle for the pass when he's in position. While he's likely to be targeted in the draft as a zone-based corner, he has the instincts and demeanor to make a move to safety if needed."
Brents, who began his career at Iowa and spent two years there, intercepted six passes throughout his career, racking up 111 tackles to go along with six pass deflections. Five of those six picks came over his final two years in Manhattan, during which he had six pass deflections and 94 total stops.