Big 12 News
Marvin Mims Selected No. 63 by Denver Broncos in NFL Draft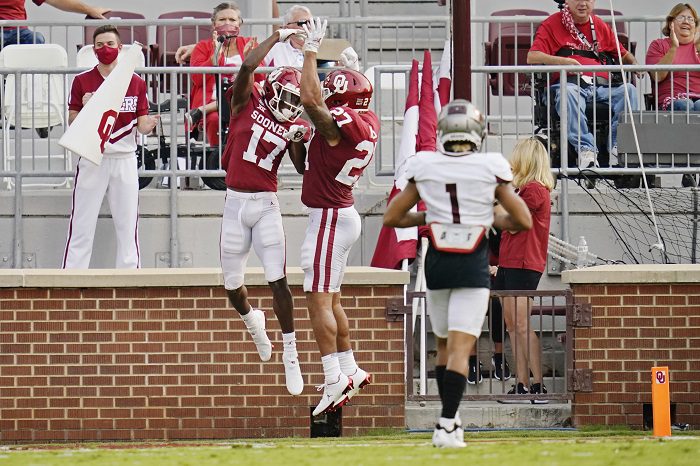 Former Oklahoma Sooners wide receiver Marvin Mims has heard his name called on day two of the 2023 NFL Draft. The Denver Broncos selected him with the last pick of the second round, No. 63 overall Friday evening in Kansas City.
Mims' selection marks the sixth time in the last eight years the Sooners have had a receiver drafted. And it's the seventh time in the last eight the program has produced an NFL pass catcher overall.
Mims received questions at the NFL Combine about his route running ability. He offered a simple answer as to why he's getting those questions and why all of that isn't an issue.
"Yeah, for sure, just like you said, as I was asked to do at Oklahoma," Mims said. "I mean, Oklahoma didn't ask me to run this technical route tree and we didn't have those routes in. But I ran routes. I'm a receiver. I run routes. I have a trainer. I run routes with him, all types of stuff. Some practice tape at Oklahoma, especially in Coach [Lincoln] Riley's offense, I mean we had like comebacks and all that stuff. In Coach [Jeff] Lebby's offense, I just wasn't ask to do it."
Indeed, Lebby's offense is more of a read-and-react type with the quarterback choosing his best option based on reads. So, that lends itself to a thinner route tree.
Mims is also confident in his ability to go up and high point balls, even with his 5-foot-11, 182-pound frame.
"You ask any receiver, I think it's natural and something you work at," Mims said. "I played a lot of basketball growing up, AAU, all that stuff. Never a big guy. I always had amazing jumping skills, so getting rebounds, all that stuff. And just when the football's in the air, I mean, just the way I look at it, I'm going to come down with it no matter what, no matter what I have to do.
"You talk about the Tech catch, sticking a hand behind the guy's back, trying to tip it to myself. And just like crazy stuff, whatever I can do just to get the ball in my hands."
Mims quietly put together his most productive season as a Sooner this past fall, surpassing the 1,000-yard mark for the first time, with 1,083 yards and six touchdowns on 54 catches. That included a couple of extremely competitive catches for 77 yards in the Cheez-It Bowl, one a 46-yard grab on the sideline in the second quarter that served as his 19th of 40 or more yards and placed him third in school history in that regard. He concludes his career as the eighth-most productive receiver in program history, having recorded 123 receptions for 2,398 yards and 20 scores.