Big 12 News
Lance Leipold on College GameDay: 'We've Had a Great Offseason'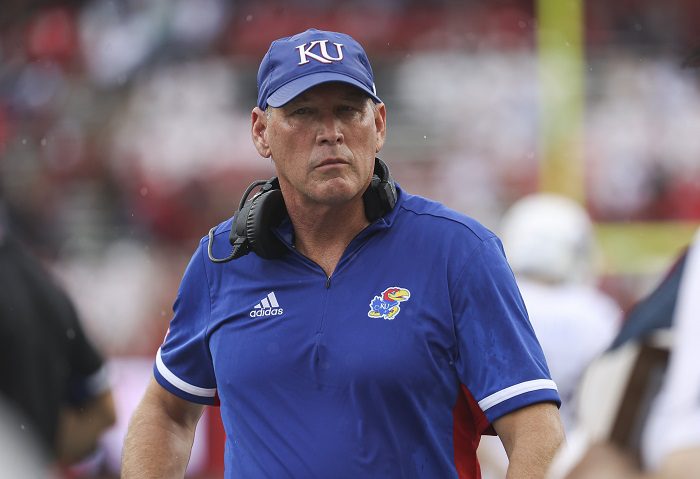 Kansas football has been leveling up under head coach Lance Leipold the past few seasons, and in advance of day three of the NFL Draft in Kansas City, Leipold joined the Cast of College GameDay to discuss his program and the next steps they are taking.
Leipold cited multiple different aspects of their offseason, mentioning that with the recent successes and improvements to the facilities the Jayhawks have become an enticing destination for high school, and transfer athletes combined.
Leipold spoke at the GameDay roundtable saying, "Well, we've been able to talk with a lot of different players right now that are seeing the progress that we've made. I think internally in our program, we've seen confidence build, yet we came up short in that bowl game and that's kind of motivated this group to get back after it, and I think we've had a great offseason right now and I can't wait to get them back this summer."
After last season's viral clip from New York mayor Eric Adams, who mentioned that "Kansas doesn't have a brand," the same question was pitched to Leipold in an effort to discuss the culture shift that the Jayhawks are going through.
"At the beginning, the stability, the continuity, all the things that Kansas was struggling with I think that recruits are seeing that we've brought that there. The play on the field is getting better, and players are listening. Our administration made a great commitment to us, we're going to upgrade some facilities, and all those things start stacking one on another, and like I said I think there are players that are listening a little more in-depth right now."
Lance Leipold has things trending up in Lawrence, and with the first bowl season in over a decade last year, all while working with a roster that was depleted by injuries, Leipold did an outstanding job. The Jayhawks will still have an uphill battle in the fall with new faces joining the Big 12 Conference, but with the right coach steering the ship, the Jayhawks should continue to improve.