Big 12 News
TCU Leads All Big 12 Football Teams in Players Drafted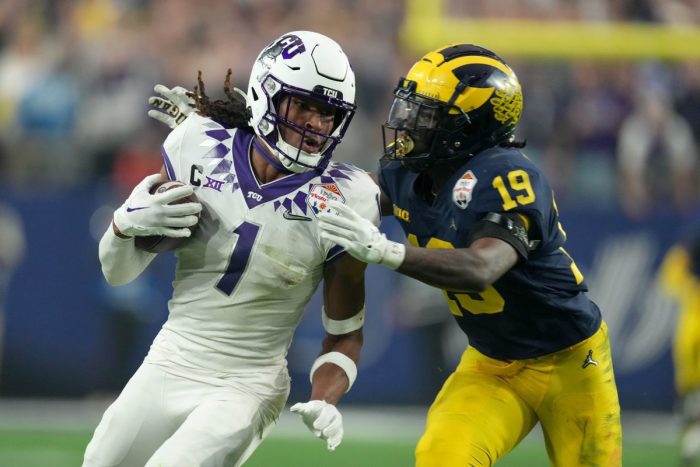 The 2023 NFL Draft is in the books, and when it comes to the Big 12 Conference, the TCU Horned Frogs led the way with eight players being selected this year.
TCU is fresh off a trip to the National Championship Game, which they ultimately lost to the Georgia Bulldogs. However, the Horned Frogs became the first Big 12 team to win a College Football Playoff game this past season.
Here's a breakdown of how many players were selected in the NFL Draft from each Big 12 school.
TCU — 8
Oklahoma — 5
Texas — 5
Kansas State — 4
Oklahoma State — 2
Iowa State — 3
Baylor — 1
West Virginia — 1
Texas Tech — 1 
Kansas – 0
The Horned Frogs were led by Quentin Johnston, who was picked in the first round by the Los Angeles Chargers, in what could be a lethal wide receiver corps with Keenan Allen and Mike Williams.
And speaking of the Chargers, the last TCU player to be picked was quarterback Max Duggan, by the same team, in the seventh round at pick No. 239.
Texas Tech only had one player chosen, but it was the highest-selected player from the conference as linebacker Tyree Wilson went No. 7 to the Las Vegas Raiders.
Overall, the Big 12 had a strong showing with 30 players selected this year, which trails only the SEC and Big Ten on a per team average.
Here's what those numbers looked like.
SEC: 4.4 per team
Big Ten: 3.9 per team
Big 12: 3.0 per team
ACC: 2.4 per team
Pac-12: 2.3 per team
This is a good indication of conference strength and puts the Big 12 where one would expect, behind the SEC and Big Ten, but ahead of the ACC and Pac-12.
The 2023 NFL Draft wrapped up on Sunday from Kansas City, Missouri, with the 2024 NFL Draft set to take place in Detroit, Michigan.