Big 12 News
Chargers Coach Brandon Staley Puts TCU Football on Level of Alabama and Georgia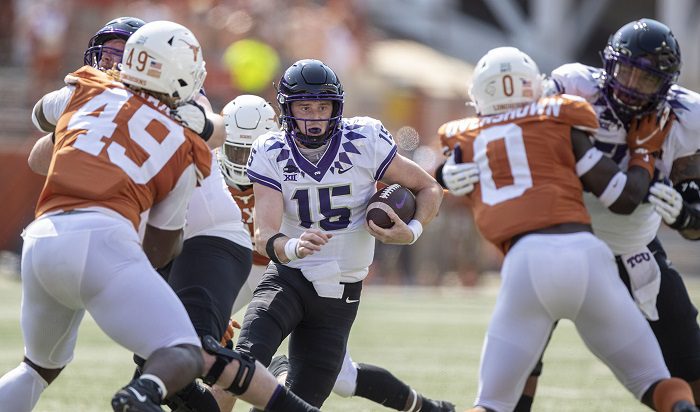 The Los Angeles Chargers love themselves some TCU football.
That was evident after the Chargers selected multiple Horned Frogs in the NFL Draft this weekend, led by wide receiver Quentin Johnston, who was their first round selection on Thursday.
In addition to Johnston, Los Angeles selected wide receiver Derius Davis and quarterback Max Duggan. Chargers head coach Brandon Staley was asked in his press conference about taken so many Horned Frogs, and he had high praise for the program, saying, "Yeah, they've got a really outstanding team. I think it's the same as of the University of Georgia or the University of Alabama, one of the top college programs."
Of course, many have pointed out that Georgia rolled TCU 65-7 in the National Championship this past season.
But it should be noted, TCU led the way in draft picks from any Big 12 team with eight.
Here's a breakdown of how many players were selected in the NFL Draft from each Big 12 school.
TCU — 8
Oklahoma — 5
Texas — 5
Kansas State — 4
Iowa State — 3 
Oklahoma State — 2
Baylor — 1
West Virginia — 1
Texas Tech — 1
Kansas – 0
Overall, the Big 12 had a strong showing with 30 players selected this year, which trails only the SEC and Big Ten on a per team average.
Here's what those numbers looked like.
SEC: 4.4 per team
Big Ten: 3.9 per team
Big 12: 3.0 per team
ACC: 2.4 per team
Pac-12: 2.3 per team
This is a good indication of conference strength and puts the Big 12 where one would expect, behind the SEC and Big Ten, but ahead of the ACC and Pac-12.