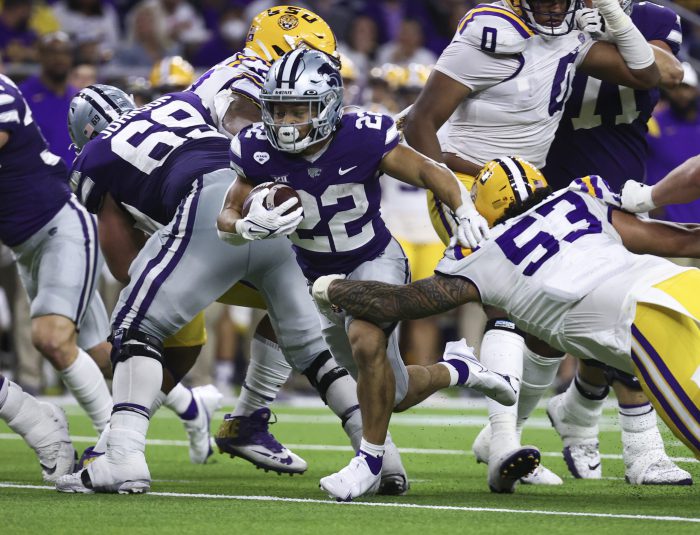 The 2023 NFL Draft is in the books and it was a good showing for the Big 12 Conference. The Big 12 averaged 3.0 NFL Draft picks on a per team average, the number that really matters, which trails only the SEC and the Big Ten.
And as is always the case, there are several players who will be looked back on as steals in the 2023 NFL Draft, including many players who hail from the Big 12 Conference. So here's a look at a few Big 12 players who will be viewed at as steals come next year. Obviously, we are not going to include any first round picks, as none could possibly be considered a "steal".
Marvin Mims, Denver Broncos, 2nd Round
Marvin Mims was taken at the end of the second round by the Denver Broncos. The former Oklahoma wide out finished second in the Big 12 last season with 1,083 receiving yards. He may be a bit undersized at 5'11", but he runs well, sells double moves and tracks the deep ball very effectively. He won't be the main target for any defense playing Denver, that will obviously be Jerry Jeudy, and he has an offensive-first head coach in Sean Payton, who will do everything he can to turn Mims into a productive NFL talent. This is a great landing place for Mims and he is poised to shine in Denver.
Xavier Hutchinson, Houston Texas, 6th Round
Hutchinson has the size, (6'2", 203 lbs), body control and toughness you would want in a wide receiver. Of course, he was also tremendously productive at Iowa State. As a junior in 2021, he broke the school record for the first time, making 83 receptions for 987 yards and five touchdown catches. In 2022, Hutchinson was incredible, despite playing on the worst offense in the Big 12, he finished with 107 catches, 40 more than the next best receiver in the Big 12 Conference. He does not have the top-end speed some teams may want, but Hutchinson was an incredible value pick for Houston in the 6th round.
Deuce Vaughn, Dallas Cowboys, 6th Round
We get it, he's 5'5". You also just have to turn on the tape and realize Vaughn plays bigger than he is, while also being so shifty, he rarely took huge hits that would make you worry about his size. Of course that could change at the next level, but his ability to run and catch the ball out of the backfield or the slot make him the kind of player that any team would be foolish to not take a flyer on this late in the draft. I did not expect him to go in the first two rounds, but I thought the fourth or fifth made sense for Vaughn. The fact that he fell to the sixth is wild, and now he joins his dad, who is a scout for the Dallas Cowboys.
Dante Stills, Arizona Cardinals, 6th Round
Stills was a consistent, bright spot during a rough few seasons in Morgantown. He appeared in more games at West Virginia than any player in history, following in his dad's and brother's footsteps. He appeared in 58 career games, 36 of which he started. Stills' 52.5 tackles for loss are the most of any Mountaineer, while he's fourth with 23.5 sacks. Playing that many snaps will come in handy for any player making the jump to the next level. He may not be the perfect size or fit for the interior of an NFL defensive line, but he will make a quality rotational piece who plays hard, smart, has quick hands and a good first step to get into gaps and disrupt plays.
Max Duggan, Los Angeles Charges, 7th Round
I mean, we had to throw in the Heisman runner-up, right? Duggan may not jump off the page in any specific category, but he is fast processor, better runner than he's given credit for, and was effective in the short-passing game in TCU's RPO offense. He does have plenty to learn to become an NFL quarterback and his accuracy downfield needs improvement, however, let's not overlook Big 12 quarterbacks who are the last quarterback picked in the NFL Draft. While Duggan wasn't Mr. Irrelevant, he was the final QB taken, just like Brock Purdy last year. That turned out pretty well for the 49ers. Just figured we should mention that.