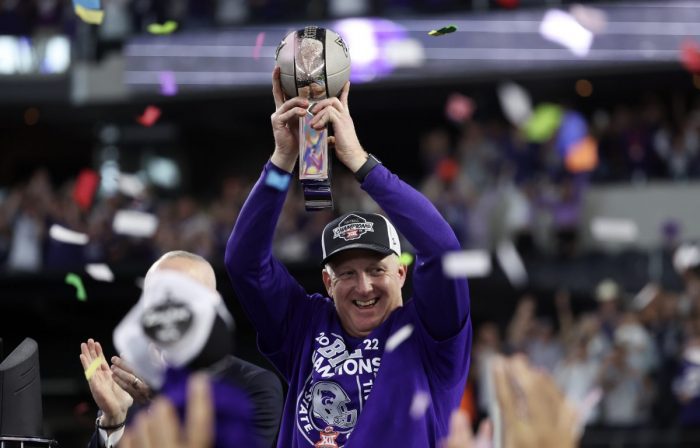 The Big 12 is prepared for life after Oklahoma and Texas as the conference is about to welcome four new members to the conference in just two months' time.
The addition of BYU, Cincinnati, Houston, and UCF will give the Big 12 the solidarity it needs to move forward into a bright and promising future. The "new four" also helped when it came time to get down to the brass tacks. The Big 12's new media rights deal was certainly aided by the conference's new additions, but it appears that one of the original faces in the room was key as well.
According to CBS Sports' Dennis Dodd, Kansas State's national relevance was a key factor in the Big 12's new $2.3 billion deal that extends through the 2030-31 season.
"Media rights sources let it be known that the likes of Kansas State being nationally relevant was key to the Big 12 getting a new, richer TV deal despite the conference losing Texas and Oklahoma," Dodd writes in a feature about former K-State RB Deuce Vaughn. "K-State winning its first outright Big 12 title in 19 years is part of that story. It doesn't happen without Vaughn becoming the soul of a program that has always been developmental. Look no further than last month when 5-foot-7 guard Markquis Nowell led Jerome Tang's Wildcats to the Elite Eight. Notice an undersized underdog trend here?"
K-State is an original member of the Big 12 and in the past several months has been a force in the conference's most relevant sports.
In football, K-State won its first outright Big 12 title since 2003.
In basketball, the Wildcats went to the Elite Eight in Jerome Tang's first year.
With head coaches like Jerome Tang and Chris Klieman, the athletic department's biggest attractions appear to be set up for long-lasting success as the conference enters a new era without two flagship programs. Now, schools are vying to become the next face of the conference, and it appears that Purple and Sliver might be the new standard.
K-State isn't going anywhere, and because of the Wildcats, neither is the Big 12.